The 10-year Treasury bond yields have been fluctuating rather sharply in the recent past. From a high of 2.06% in the first week of March 2013, bond yields declined to 1.63% in the beginning of May 2013. Since then, bond yields have again trended higher to 1.95% in just 11 trading sessions.
This article discusses the reasons for considering the long-term bonds as an attractive buy for the next 3-6 months. Before discussing the short-term trade, I would like to emphasize that investors might be better off in avoiding Treasury bonds for the long-term portfolio.
Coming to the current scenario, bond yields tend to decline with the prospects of deflation or low inflation. Bond yields also tend to decline at a time when economic activity is sluggish as investors seek refuge in a relatively safer asset class. Both these factors are the biggest reasons for considering a short-term trade in Treasuries.
The chart below gives the U.S. headline and core inflation. Clearly, the markets are staring at a deflationary environment more than an inflationary environment. In such a scenario, bond yields will tend to decline as investors switch from risky asset class to relatively risk-free asset classes.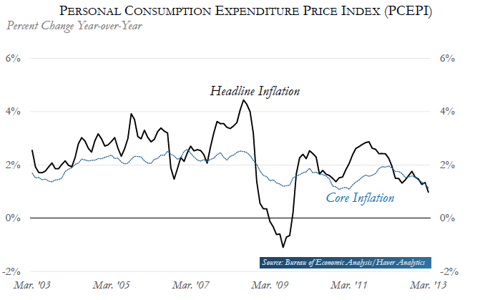 Click to enlarge
The second chart below makes things clearer by giving an indication of global economic activity. The global PMI has started to trend down after a brief recovery and the manufacturing PMI is on the brink of another recession. On relating both the charts, an easy conclusion is that deflation fears are high on the back of weak global economic activity.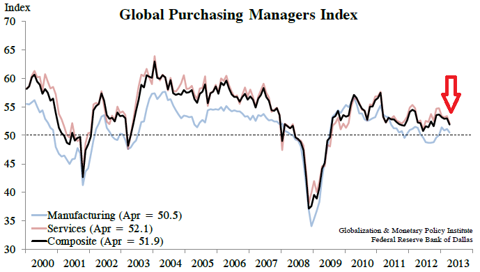 Click to enlarge
It would therefore not be surprising to witness another round of rally in long-term Treasury bonds resulting in yields dropping to 1.6% or even lower. However, I don't see long-term bond yields going to levels below 1.4%. If markets do panic about deflation and there is a broad based sell-off in risky asset classes, the policymakers will step in to expand their asset purchase program rather than moderating asset purchases. Therefore, in terms of trading, investors can consider booking gains if yields again drop to 1.6%.
Another important short-term investment conclusion is to avoid equities. I had discussed in one of my earlier articles on why the S&P 500 index (NYSEARCA:SPY) does look expensive at current levels. Investors can consider exposure to equities on correction over the next three-six months.
Disclosure: I have no positions in any stocks mentioned, and no plans to initiate any positions within the next 72 hours. I wrote this article myself, and it expresses my own opinions. I am not receiving compensation for it (other than from Seeking Alpha). I have no business relationship with any company whose stock is mentioned in this article.