When Microsoft's Windows Phone took the third spot for worldwide market share in the first quarter of this year, it was a bitter sweet moment for Microsoft (NASDAQ:MSFT). Shares traded close to $35, which is near a 52-week high, solidifying Bill Gates with the title as world's richest person. While the loss in market share pushed BlackBerry (NASDAQ:BBRY) to the fourth place spot the 133% growth for Windows Phone also validates Stephen Elop's decision to choose Windows Phone as the platform for Nokia (NYSE:NOK). For BlackBerry, first quarter sales will only include about a month of BB10 sales, so third spot in market share could shift next quarter.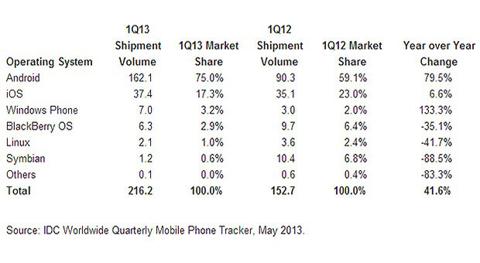 Investors may point to the 79.5% year-over-year growth in the Android operating system as a reason Nokia should have chosen Android, but there is only one vendor that takes 95% of the profits: Samsung. According to Strategy Analytics, Samsung took most of the profits in the first quarter of 2013:
Global Android Smartphone Profit by Vendor: Q1 2013

Operating Profit (US$, billions)

Profit Share (%)

Samsung

5.1

94.744

LG

0.1

2.525

Others

0.58

2.732

Total

5.3

100

Source: Strategy Analytics
Windows Phone Share Set to Rise
The 3.2% market share for Windows Phone suggests further growth is possible. When Android was released, by the end of 2009, the platform was in fifth place with a market share of around 2.5%. The rapid growth for Windows Phone is due to app development for the platform growing faster than for Android or Apple's iOS.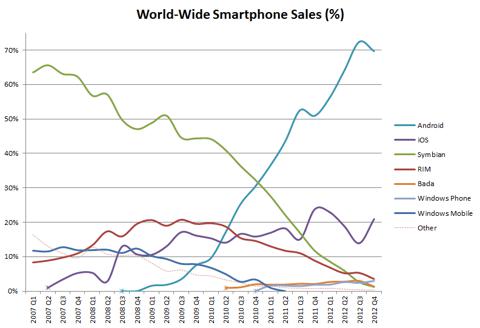 Source: Wikipedia
Google (NASDAQ:GOOG) shares are unsurprisingly performing well following its I/O conference event, but both Nokia and Microsoft shares are up for the month: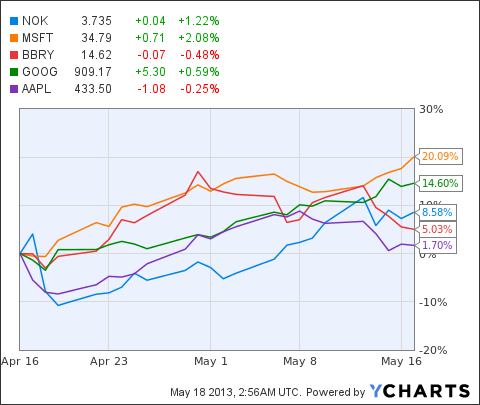 NOK data by YCharts
Nokia Phone Prices Rose
Investors should expect margins to improve steadily over the next few quarters. The average selling price for Nokia phones rose by 34%. In addition, by reducing the number of different phones on the market, Nokia improved its gross margins in Smart Devices from 18% in Q4/2012 to 20.7% in Q1/2013.
Flagship Lumia Device Updated
To maintain an increase in the product mix with premium products, Nokia released an updated Lumia. The flagship premium Lumia device was refreshed with the Lumia 925 (modeled as Lumia 928 on Verizon). The update included a redesigned body, AMOLED screen, and updates to the software. By using an aluminum frame and AMOLED, Nokia was able to reduce the thickness of the phone.
After positive reception to the PureView camera was received on Symbian-based devices, Nokia updated the Lumia 925 with the technology. This will give the company the ability to boast low-light photography.
Effective Advertising
Nokia is aggressively promoting its new camera and is even comparing itself with the hot-selling Samsung S4. Its video teasing Android phones already has over 5 million views on YouTube.
Lumia EOS Rumors Excite Consumers
More rumors about Lumia EOS surfaced. While the device would have cosmetic enhancements over the Lumia 920, the biggest improvements would be in the camera. The EOS could have a xenon flash and would use the 41 megapixel preview sensor (oversampled). A red LED beside the flash would emit light, to assist in focusing. The camera app itself would be redesigned. Called Nokia Pro Camera, the app would support manual focusing.
The continued interest from the marketplace for Nokia to have a competitive edge over other smartphones with a strong camera solution is justified. Nokia could win over many users who demand a phone that supports SLR-like photography.
Conclusion
The bullish thesis for Nokia is supported by recent positive developments. Since reaching a low at nearly $3 in April, Nokia traded recently at $3.78 and could be poised to re-test the $4.50 reached at the beginning of 2013 in the near future.
Disclosure: I have no positions in any stocks mentioned, but may initiate a long position in NOK over the next 72 hours. I wrote this article myself, and it expresses my own opinions. I am not receiving compensation for it (other than from Seeking Alpha). I have no business relationship with any company whose stock is mentioned in this article.