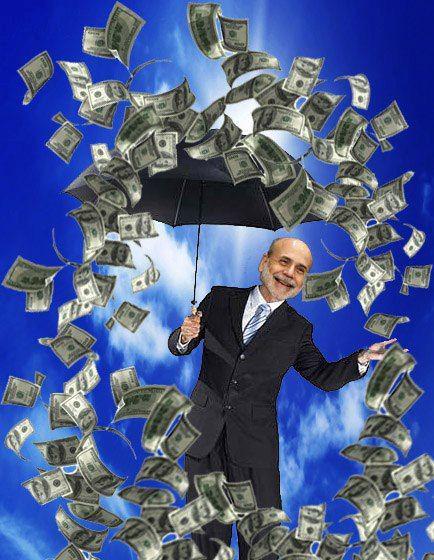 Stocks continue to inch higher as investors remain stumped. This is the most hated rally in my 29 years of managing money. Nothing in the economy supports these new highs, except of course one thing: Ben Bernanke is "making it rain," and so are his good friends at the European Central Bank (ECB) and the Japanese central bank (JCB). As I said last week, Ben is afraid of being lonely, and "You don't fight the Fed chairman."
Most investors feel the Fed will eventually have to quit printing money because it is creating hyper-inflation. The reality is that we are in a negative inflationary, otherwise known as a deflationary, environment. Yesterday's economic reports were eye-opening for many on Wall Street, although certainly not for readers of this newsletter. Factory output, manufacturing production, and industrial capacity utilization, all dropped like a rock as global demand is waning.
The alarming report came from the Producer Price Index (PPI), that shows the inflation level, which came in a massively surprising negative .7%. This was the largest decline in wholesale prices in almost four years. Clearly all of the global stimulus measures can't stand up to the massive demographic headwind faced by the entire developed world, which I explain in Facing Goliath - How to Triumph in the Dangerous Market Ahead.
Although this is harrowing news for the economy, as a whole, it is good news for investors. How can this be, you may ask? Well, said the blind man as he picked up his hammer and saw, this data gives the Federal Reserve incredible leeway to keep stimulating the economy with an easy monetary policy. Or in other words, the world's central banks are making it rain.
My fear continues to be the end of Quantative easing, which does not appear in the cards anytime soon. With global demand waning, and deflation not inflation the fear, money will continue flow and stocks will benefit. This will continue to be the most unloved rally in history, at least for a while. However, when we start to see overwhelming investor pessimism turn to optimism, that will be the signal to run for the hills.
Investor Strategy
With the commitment by global banks to continue the money printing, and with cash and CDs giving a negative return after inflation, investors have to be invested. The "sell in May and walk away" correction was far too expected this year, and has likely been pushed off until later in the summer. The market does not crash when everybody expects it to. Investors should be invested, but very selectively, looking to get decent returns based on your personal needs, and ignoring the averages.
For growth investors, stocks are still the place to be and technology companies that provide innovative solutions will lead the way. Dynamic growth companies will continue to lead the way. Buy Apple (NASDAQ:AAPL), which is coming out with new products this summer and is sure to WOW the world: Google (NASDAQ:GOOG) which has a new "Glass" product that revolutionize the communications market, and the periphery companies that support these new innovative developments such as Intel Corporation (NASDAQ:INTC), Qualcomm (NASDAQ:QCOM), Microsoft (NASDAQ:MSFT), Cisco Systems (NASDAQ:CSCO), and VMware Inc. (NYSE:VMW). For a more diversified approach, buy the broad market ETFs like the SPDR S&P 500 (NYSEARCA:SPY), PowerShares QQQ Trust Series 1 (NASDAQ:QQQ), and iShares Russell 2000 (NYSEARCA:IWM)).
With the end in sight to the Fed stimulus programs, investors should avoid commodities and metals. If you haven't sold your gold and silver such as the SPDR Gold Shares (NYSEARCA:GLD), Power Shares or Market Vectors Gold Miners ETF (NYSEARCA:GDX), do so on any strength.
Disclosure: I have no positions in any stocks mentioned, and no plans to initiate any positions within the next 72 hours. I wrote this article myself, and it expresses my own opinions. I am not receiving compensation for it. I have no business relationship with any company whose stock is mentioned in this article.