All those guys on Wall Street or in the city of London driving Maseratis need to learn how to drive a tractor.
So says legendary investor Jim Rogers, whose friendly advice to the investment banking community reveals his belief that agriculture will be the next great bull market.
For many decades, agriculture has been a declining sector as productivity advances led to falling real prices and low margins for farmers and the firms that supply them. But in 2007-2008, agriculture prices suddenly spiked higher, led by an ethanol fueled near-trebling of corn (maize) from $2.00 a bushel to a peak of $5.50 and a similar supply-driven increase in the price of wheat and rice.
Since last summer prices have fallen back down to earth, with corn currently trading around $4.00, but prices for all crops have still barely outpaced inflation over the past 15 years.
The question today is whether this run-up was simply a short-term speculative bubble, or the beginning of a long-term bull market temporarily interrupted by the global financial crisis. There are good reasons to believe that the former is true and that higher agriculture prices are coming, but the reasons may be surprising.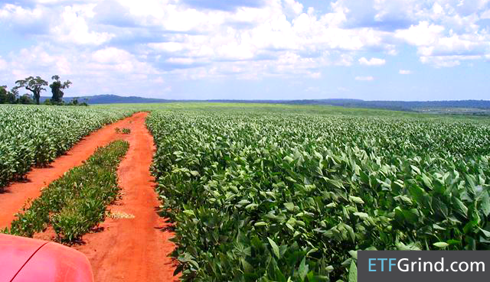 Malthusian Cassandras are fond of invoking the "population bomb" as an explanation for rising agricultural prices. But although world population growth is still positive, it has slowed considerably in the past few decades and some big countries like Germany and Japan are actually shrinking. The global average fertility rate in the 1970's was 4.5, meaning the average woman had more than 4 children in her lifetime. In 2007 that same number was 2.6, rapidly closing in on the 2.1 that would replace the current population, but not grow it.
Emerging Asian nations are near that rate already, and the only region of the world that still has high population growth rates is Africa, whose consumers are for the most part excluded from global agriculture markets.
Population growth will undoubtedly increase demand for food over the coming decades, but not nearly as much as some expect. The main driver of agricultural demand, thus, isn't more people, but dietary change in the richer bits of the developing world. Producing meat takes up to four times as many resources as producing equally nutritious plant-based foods. Increased consumption of meat, dairy and other land intensive products in places like China, India, Latin America, and the Middle East will increase the demand for animal feedstocks like corn and soy, and compete for scarce land, water, and capital with other staple crops.
While demand is rising, supply will struggle to keep pace. In the short term, the credit crunch has restricted the ability of farmers to find financing. This underinvestment is bound to eventually cause a supply-driven rise similar to the one crude has just endured.
In the longer term, the constraints of land and water will begin to bite. Agricultural yields have been largely flat since the "Green Revolution" plateaued in the 1990's. Although the world has a good deal of arable farmland still uncultivated, much of it is in environmentally protected areas of Brazil. Meanwhile the water supplies of existing farms are increasingly menaced by climate change.
Wheat and rice yields in Australia have fallen by over a third in the last five years because of a long period of drought most experts agree is largely due to the effects of global warming. Increased dryness is also predicted to hit China, India, the United States, and Latin America, threatening to decrease global agricultural productivity by up to 30%. These changes are more or less baked in, and will occur with or without reductions in greenhouse emissions.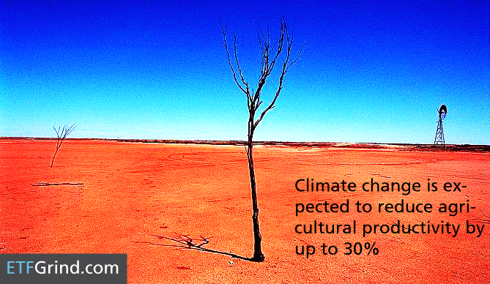 Ironically, efforts to improve the environment will also hurt agricultural supplies. The trend towards foodstuffs grown without pesticides (marketed as "organic") reduces agricultural yields and thus devours more of mother nature's land. And wasteful subsidies for corn-derived ethanol biofuel in Europe and America distorts the prices of all grains upwards, without doing a thing for the environment. New biofuels that don't use or compete with food crops are in development, but may not be ready for years and even then may not be able to compete with subsidized corn.
Finally, agriculture supply will also be hit by a shortage of labor. Not so long ago most people, even in developed countries, had some agricultural experience. Today nearly no one knows how to farm, as young people have exited the business for better opportunities. Which is why Jim Rogers' advice is broadly correct: labor costs in finance are bound to fall, and those in farming are destined to rise.
Overall, the case for a new bull market in agriculture is quite strong. Only a "second green revolution" in agricultural productivity, perhaps through better GMOs, could lower prices in the long term. And such a revolution would likely occur after a bull run-up in prices, not before. This guide will help you thrive in the new agricultural economy by surveying the 3 US listed ETFs that focus on agriculture equities and futures.
Broad Equity
Market Vectors Agribusiness (MOO) +19.82% ytd and 1.14 vol US 45% | Singapore 11% | Canada 10% | Japan 9%| Switzerland 8%
Increasing food prices will lead farms to increase yields through better equipment, materials, and services. The MOO is one of two ETFs that invest in firms who supply such things to agricultural producers. Its 44 names include pesticide and seed giant Monsanto (MON), fertilizer king Potash Corp. (POT), and agricultural machinery maker Deere and Co. (DE). It's a mix of large and medium caps, and is broadly diversified across chemical, equipment, and agricultural operations names such as Archer Daniels Midland (ADM). Although its 45% geographic concentration in United States is a little high, most of those American companies are global multinationals with global revenue streams.
PowerShares Global Agriculture Portfolio (PAGG) +13.05% ytd and .04 vol US 29% | Canada 11% | Singapore 11% | Switzerland 8%| Malaysia 8%
PAGG invests in most of the same names as the MOO, with a more dispersed weighting formula that favors the international players. The fund is lighter on the equipment and machinery names, and heavier on fertilizer and chemical companies. This underweighting of manufacturing explains its relative outperformance year-on-year. However, the PAGG's higher expense ratio (.75% to .59%) and low volume mean that the MOO is a clearly better option.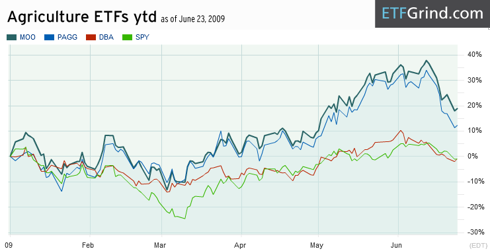 Commodity
PowerShares DB Agriculture Fund (DBA) -0.46% ytd and 2.39 vol Corn 25% | Wheat 25% | Soybeans 25% | Sugar 25%
The DBA is an innovative fund that invests equally in the four most widely traded agricultural commodity futures. It automatically re-balances each holding every quarter back up or down to 25% each. It is the oldest and most widely traded US agriculture ETF, and should benefit handsomely from the rise in agricultural prices. Caution should be urged, however, with all ETFs that invest in futures as all such funds have difficulty tracking the spot price of the underlying commodity over time.
Foreign Listed
The most exciting action in agriculture ETFs is overseas, particularly in Britain. Locally based firm ETF Securities offers an ETF for nearly any commodity on the London exchange, so you can buy or short corn, wheat, cotton, sugar, cocoa, etc through a convenient exchange traded fund.

Disclosure: None