Click to enlargeNOTE: I apologize for my previous article on this subject. It contained several errors based on incorrect reference sources. Luckily, the editors at Seeking Alpha were able to quickly retract the article. This article will set the record straight.
Freeport LNG Receives DOE Approval To Export LNG
On May 17th the US Department of Energy gave Freeport LNG Expansion L.P. conditional approval to export domestically produced liquid natural gas ("LNG") from its Quintana Island, Tex., terminal to countries that do not have a Free Trade Agreement ("FTA") with the United States. Subject to environmental review and final regulatory approval, the DOE's action would allow Freeport LNG Expansion L.P. to export up to 1.4 bcf/day of LNG from its export terminal for a period of 25 years.
It was only the DOE's second approval to export LNG export to non-FTA countries. The first approval went to Cheniere Energy (NYSEMKT:LNG) to export as much as 2.2 bcf/d of gas from its Sabine Pass terminal in Cameron Parish, La.
Will ConocoPhillips (NYSE:COP) benefit from this export license? Good question. ConocoPhillips and Michael Smith, Chairman and CEO of Freeport LNG Development, L.P., are both general partners and 50% owners of Freeport LNG-GP. Freeport LNG Expansion L.P. is a Delaware limited partnership and a wholly owned subsidiary of Freeport LNG Development, L.P. In addition, FLNG Liquefaction, LLC is a Delaware limited liability company and a wholly owned subsidiary of Freeport LNG Expansion, L.P. Confused yet? Good - so am I. This ownership diagram from Freeport LNG's website will help clear things up: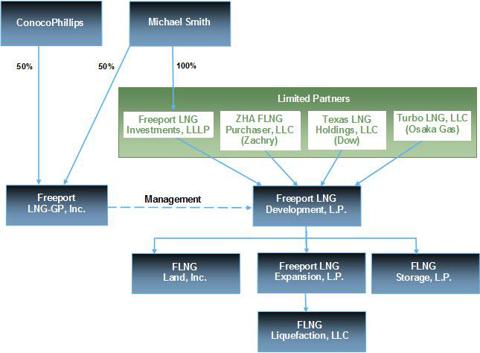 Click to enlarge
While Conoco is a 50% owner of Freeport LNG-GP, Inc. (i.e. a general partner), the export license was awarded to Freeport LNG Expansion, L.P. and FLNG Liquefaction, LLC. This is an important distinction. On the chart shown above, the four limited partners own the entire 100% equity stake in Freeport LNG Development, L.P. and all blocks on the ownership chart beneath it. Freeport LNG-GP, Inc. only manages these companies. While COP also has 2 seats on the Freeport LNG-GP, Inc. board of directors, the bottom line is this:
ConocoPhillips has a 50% interest in the Freeport LNG General Partnership, which manages Freeport LNG Development, L.P. The four limited partners are 100% equity holders in Freeport LNG Development, L.P. After talking with a Freeport LNG spokesperson, my understanding is that COP has no equity stake in the export terminal and will not be on the receiving end of any related distributions from LNG exports.
I have emailed and called ConocoPhillips to confirm my understanding, but I have not yet received a reply. If I eventually hear back from the company, I will leave any information learned in the comment section of this article.
Conoco's History With Freeport LNG
Freeport LNG-GP was originally formed to import LNG. That is, the Quintana Island terminal was designed for regasification, not liquefaction. According to this Freeport LNG webpage, in June of 2003 a "Heads of Agreement" was closed with the Dow Chemical Company (NYSE:DOW) to become Freeport LNG's first customer. Shortly thereafter, Dow purchased a 15% equity stake in Freeport LNG.
In December of 2003, ConocoPhillips became Freeport LNG's second customer, its lender, and co-manager of the project with Michael Smith. In January 2005, Freeport LNG was awarded the permit to construct. Three years later, in June of 2008, the terminal was ready for commercial operations.
But Times Change .... And So Did The Need To Import LNG...
Since the Freeport LNG regasification (import) terminal became operational in 2008, the shale gas revolution has changed everything. Now, the DOE's Energy Information Administration and private analysts predict that the U.S. has sufficient supply of natural gas to last one hundred years or more. Increased domestic natural gas production has caused a dramatic drop in price and US natural gas prices are among the lowest in the world. So now Freeport LNG plans to export LNG and they've been given conditional approval by the DOE to add LNG export capability to its Quintana Island, TX terminal.
Looking at the organizational diagram above, at least one of the Limited Partners (shaded in green) were involved, at least originally, as a purchaser of imported natural gas: DOW Chemical. Obviously, with today's low domestic nat gas prices, DOW is certainly not interesting in exporting domestic natural gas as they know exporting nat gas means higher domestic prices. Also, as a limited partner, Dow has no role in Freeport's day-to-day operations, Dow spokeswoman Nancy Lamb said Friday. Dow has not invested in the export venture "and will not invest" in it, Lamb said.
The Freeport export terminal plans to build three LNG trains requiring a $10 billion investment and will take 4-5 years to build. In July 2012, Freeport LNG executed liquefaction tolling agreements (LTAs) with Osaka Gas and Chubu Electric Power Co. for the volume equivalent of the initial train of the liquefaction project. In February 2013, Freeport LNG executed an LTA with BP Energy Company for the volume equivalent of the second train of the liquefaction project.
The Economics of Freeport's LNG Export Terminal
According to an article by Chris Helman of Forbes magazine, liquefaction and shipping costs will add approximately $4.00 per MMBtu. Even if domestic natural gas prices rise to say $5 MMBtu, this offers an attractive $3 per MMBtu arbitrage opportunity to the $12.00 per MMBtu price currently realized at Europe's LNG import terminals.
Better still would be exports to Asia or South America, where the current price of LNG is around $14 per MMBtu (see slide below). Shipping costs would of course be higher due to the increased distance. So let's add another $1.50 to the liquefaction and shipping costs ($5.50).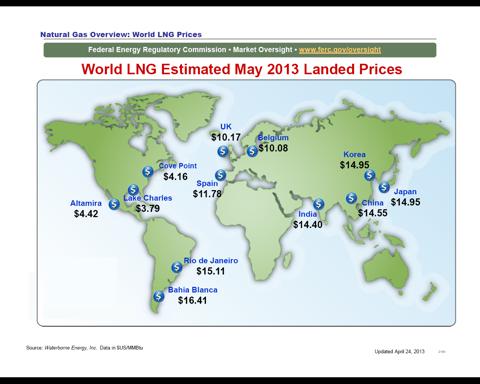 Click to enlarge
So let's say when the Freeport LNG terminal becomes fully operational, half its capacity will go to the EU and half to Japan and South America. Let's also say the cost of US natural gas will rise to $5.50/MMBtu by the time the plant is in operation. The estimated profit potential is:
(Realized Price)-(Nat Gas Price)-(Liquefaction/Shipping Costs)
For the EU:
$12 - $5 - $4 = $3.00/MMbtu
For Japan/South America:
$14 - $5 - $5.50 = $3.50/MMBtu
So if half the terminal's capacity (0.7 bcf/day) goes to each region, and we accept that 1 cf of natural gas equals 1,023 Btu, we have:
For the EU:
$3 profit/MMBtu * 0.7 billion cf/day * 1023 Btu/cf = $2.15 million/day
For Japan/South America:
$3.50 profit/MMBtu * 0.7 billion cd/day * 1023 Btu/cf = $2.5 million/day
So let's call the profit $4.6 million/day. That works out to $1.68 billion per year assuming full capacity shipments every day and a $5/MMBtu price. Very nice.
ConocoPhillips: A Pioneer in LNG
ConocoPhillips has been a pioneer in the LNG industry. According to the company's LNG website, the company built the first LNG carrier for international trade and operated one of the first successful commercial liquefaction facilities. In the 1960s, ConocoPhillips and Marathon Oil (NYSE:MRO) contracted with Bechtel Corporation to construct the first natural gas liquefaction plant based on a new and innovative process designed by ConocoPhillips, the Optimized Cascade® Process. The result was the US's first LNG export terminal in Cook Inlet - Kenai, Alaska. Kenai Began operation in 1969 and exported LNG to Japan for over 40 years.
Today, COP operates an LNG facility in Darwin Australia. Conoco has a 37.5% interest in APLNG along with Origin (37.5%), and Sinopec (25%).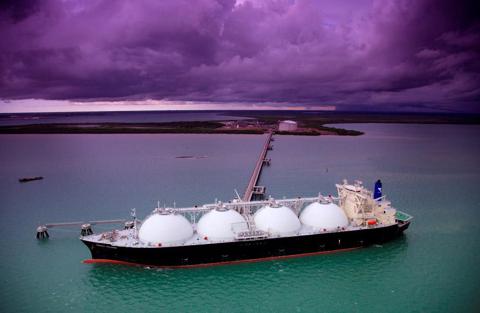 Click to enlarge
LNG Ship Loading At COP's Darwin LNG Facility
COP has licensed its proprietary LNG liquefaction process to operators on three continents. The company's proprietary process is used at LNG plants operating or under construction at Point Fortin, Trinidad; Soyo, Angola; Idku, Egypt; Malabo, Equatorial Guinea; Darwin, Australia; and Gladstone Harbor, Australia.
However, the Freeport LNG plant will not use COP's proprietary liquefaction process. The Freeport trains will utilize a proprietary propane pre-cooled mixed refrigerant process developed by Air Products and Chemicals (NYSE:APD).
What Is COP's Role At The Freeport Export Terminal?
As stated earlier, COP was the lender and co-manager of the original import terminal project. It is not clear at this time, at least not to me, what role COP will play in the LNG export terminal project other than the dotted line "management" role shown in the organization chart.
As a major domestic natural gas producer and marketer, and with significant operations in Texas, it would appear COP is in prime position to supply natural gas to the LNG export terminal.
Will ConocoPhillips Benefit From US LNG Exports?
At year end 2012, Conoco Phillips was the 7th largest producer of natural gas in the US. The company is also one of the largest natural gas producers in Canada. In fact, the Natural Gas Intelligence group reports that COP was the #2 marketer of natural gas in all of North America with 15.69 bcf/day during Q4 2012. As noted before, COP is an LNG technology expert. It would appear COP is in a great position to benefit from exporting LNG from the US. However, I am not aware of any current LNG export applications by the company. Earlier this year COP announced it had no plans to continue exporting LNG from its Kenai, Alaska plant due to inadequate natural gas supplies. It may be the best way COP will benefit from LNG exports from the US is a rise in price of the natural gas the company sells domestically.
Summary & Conclusion
ConocoPhillips has a 50% interest in the General Partnership which manages Freeport LNG Development, L.P.
COP is not an equity holder in the Freeport export terminal; the Limited Partners own 100% of the equity.
The Freeport LNG export terminal will not use COP's proprietary liquefaction process.
COP will not be on the receiving end of any distributions from Freeport LNG exports.
COP is in a good position to supply the terminal with natural gas and would benefit from higher domestic natural gas prices since it is the #7 producer of natural gas in the US.
While the Freeport LNG export terminal will be a huge cash flow and profit machine, it does not appear to be the big positive catalyst for COP I originally thought it to be. However, considering COP's large presence as a domestic natural gas producer and marketer, it would seem likely the company could supply natural gas to the plant and benefit from a general rise the price of natural gas. But exports are not likely to start for another 4-5 years.
Regardless, COP has recently been trading very nicely and is hitting all time highs (post the Phillips 66 (NYSE:PSX) spin-off). The stock's chart is technically bullish and it appears poised for a breakout to the upside. COP yields 4.2%. Note the $0.66 quarterly dividend will be paid to shareholders of record at the close of business on May 24 (Friday).
COP is a BUY.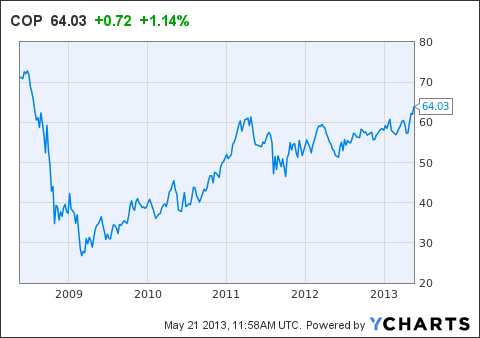 Disclosure: I am long COP, PSX. I wrote this article myself, and it expresses my own opinions. I am not receiving compensation for it (other than from Seeking Alpha). I have no business relationship with any company whose stock is mentioned in this article.
Additional disclosure: I am an engineer, not a CFA. The information and data presented in this article was obtained from company documents and/or sources believed to be reliable, but has not been independently verified. Therefore, the author cannot guarantee its accuracy. Please do your own research and contact a qualified investment advisor. I am not responsible for investment decisions you make. Thanks for reading and good luck!