For the past few years bonds have been amongst the top performers as the flight to safety and falling yields have meant capital returns have been excellent. As central banks embarked on mass monetary easing this acted as the driving force to bond markets, be it government, investment grade or high yield. Now as economic growth looks to be improving, and the ever more hawkish tones from the Fed begin to linger, how can you protect yourself from the inevitable rising yields?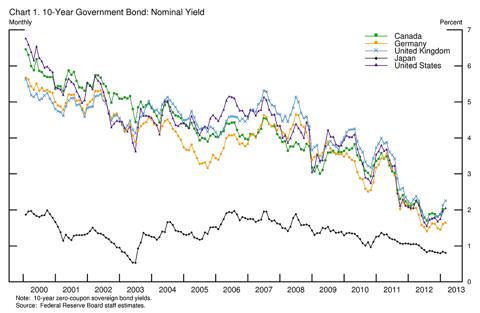 Source: The Federal Reserve
Bonds still play a crucial role in investment portfolios; a diversifier of risk and more importantly for liability matching. While developed government debt offers a very low yield; U.S. Treasuries - 1.94%, U.K. Gilt - 1.89% and JGB - 0.84%, other bond markets still offer a relatively decent yield. The high-yield market is currently yielding around 6%, and while this is very low compared to the historical 10-year average of 10%, a number of strong companies offer fairly secure levels of debt. Other markets, which have seen huge gains and still offer attractive yields are emerging markets. Areas such as South East Asia, and Eastern Europe have solid yields supported by high levels of economic growth.
Long-duration bonds have typically been the way to play the bond market, as it offers the best prospect of capital appreciation and steady yields. However with bond yields at near record lows, is the risk of rising interest rates worth the reward? Short-duration bonds, ideally between 1-3 years will enable you to access the yield and diversification required while maintaining a low interest rate risk. If the Fed were to stop QE4 in the next 12 months, yields could see a rapid rise, and as a result capital value for long-duration bonds may be hit. While short-duration bond prices will still fall, it will not be so severe and can be held until maturity if need be (being a shorter duration, this will not be that long).
Accessing the bond market can be difficult to retail investors, however a number of ETFs and Mutual funds target short-duration bonds for you. As short-duration government debt offers next to nothing in terms of yield, I would suggest looking at either the investment grade debt (still relatively low yields) or more so the high-yield market.
The high-yield bond market is one that still has the potential for capital appreciation, however the attractiveness of short-duration high yield is it allows you to access relatively low-volatility company debt. A proportion of high-yield debt is issued with a long duration of 10 years plus, however by accessing short-duration bonds, these companies have already established a period of coupon payments and depending on the company, have increased their balance sheet strength and grown as a business. In some cases, if these companies were to apply for more debt it will have a much higher credit rating than initially.
Here are two ETFs that provide access to short-duration bonds:
If you would prefer a higher credit rating, iShares offers an investment grade 1-3 Year Credit Bond (NYSEARCA:CSJ), which has an average maturity of 1.9 years and weighted average coupon of 3.19%. Volatility should remain low, even during market turbulence; however yield would be minimal at current interest rates.
SPDR Barclays Short Term High Yield Bond ETF (NYSEARCA:SJNK) has a more attractive yield, currently distributing 6.15%. With an average duration of 3.5 years and average coupon of 7.75%, this is an attractive holding for the more cautious investors and those looking for yield. For one year the fund has returned over 10.04% and year to date it has returned 3.58%.
Summary
Bond yields remain very low and as economic growth gathers pace, investors will be wondering when the Fed will cease QE. Bond yields have already shown signs of rising, and interest rate risk is increasing. Short-duration bonds will provide a level of protection if rates start to rise, and the high-yield market should continue to provide a healthy yield in the meantime.
Disclosure: I have no positions in any stocks mentioned, and no plans to initiate any positions within the next 72 hours. I wrote this article myself, and it expresses my own opinions. I am not receiving compensation for it (other than from Seeking Alpha). I have no business relationship with any company whose stock is mentioned in this article.