Small-cap REIT exchange traded funds have been overlooked by some investors, but their high yields are worth a second look. As many of the large-cap REITs (real estate investment trusts) have reached maturity, small-cap focused REIT ETFs allow investors to take advantage of the current real estate market.
"Though the economic uncertainty and particularly the political situation have been major factors impacting the market, we believe that with the economic recovery gaining momentum, rents and occupancies for most types of properties would improve further," according to Zacks.
The REIT market in the United States has been an investor favorite because of the steady income stream they provide, mixed with the chance for capital appreciation. ETFs that focus on this sector also provide investors with diversification benefits at a reasonable cost.
The residential and commercial real estate market has improved considerably in the United States, creating more demand for REIT investment tools. For this reason, small-cap focused REIT ETFs are positioned to do well, possibly even outperform large-cap counterparts such as the Vanguard REIT ETF (NYSEARCA:VNQ).
The PowerShares KBW Premium Yield Equity REIT Portfolio (NASDAQ:KBWY) has a yield of 4.82%, while the IQ US Real Estate Small Cap ETF (NYSEARCA:ROOF) has a 3.37% yield. KBWY has gained 20.28% year-to-date, while ROOF has earned 18.51% year-to-date.
Small-cap REIT ETFs are a smart option at the time because of the ability of small-cap companies to outperform during a rising market. Also, the smaller companies are able to avoid global stock market volatility unlike large-caps, which are usually tied to multinational firms and are vulnerable to overseas uncertainty.
REITs will continue to be a source of income for investors in 2013. Historically, the small-cap real estate sector can bolster a portfolio with decent yield should any market volatility occur.
PowerShares KBW Premium Yield Equity REIT Portfolio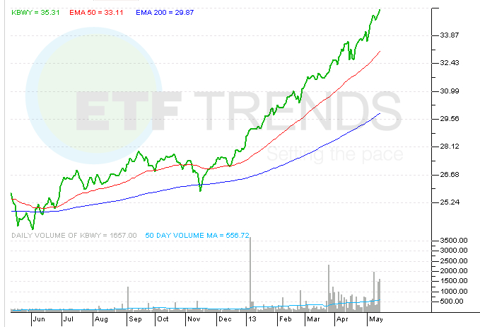 Tisha Guerrero contributed to this article.
Disclosure: I have no positions in any stocks mentioned, and no plans to initiate any positions within the next 72 hours. I wrote this article myself, and it expresses my own opinions. I am not receiving compensation for it. I have no business relationship with any company whose stock is mentioned in this article.