The share price of Potash Corp. (NYSE:POT) has risen by 14% over the past 30 days. At $43.72, the stock is trading near its 52-week high of $46.16 and offers a solid dividend yield at 3.2%. However, due to the recent rally, the stock valuation appears to have reverted back to the fair range, meaning a buy rating is likely not warranted. My view is based on the following five reasons:
1. Potash shares are fully priced relative to its industry peers'. According to the table shown below, the company's two-year consensus revenue, EBITDA, and EPS growth estimates are considerably above the peer averages, but its five-year earnings growth estimate is only marginally better. On the profit side, Potash enjoys higher margins and fairly in-line capital return performance. In terms of leverage and liquidity, Potash carries a relatively higher debt load as reflected by its above-average debt to capitalization and debt to EBITDA ratios. Potash has a slightly lower free cash flow margin. Due to the stronger profitability, the firm is able to maintain a healthy interest coverage ratio. Both Potash's current and quick ratios are below par, reflecting a relatively mediocre balance sheet condition.

The stock's current price multiples at 9.2x forward EBITDA and 14.1x forward EPS (next 12 months) are on average 30% above the peer-average trading multiples. After accounting for the five-year earnings growth estimate, Potash's PEG ratio of 1.7x is still 15% above the group average, suggesting that the current stock valuation has fully reflected the company's better growth potential and profitability over its peers (see chart above).
2. The stock's forward P/E multiple has expanded by 14% over the past 12 months. Nevertheless, the company's consensus revenue, EBITDA, and EPS estimates have experienced multiple downward revisions over the period (see charts below), and their current levels are notably below the historical figures in 12 months ago, indicating that the rise in valuation was not substantiated by any positive fundamental developments.



3. Moreover, Potash's forward P/E multiple is trading at an 8.1% discount to the same multiple of S&P 500 Index (see chart below).

I believe the magnitude of the market discount to be fair provided that 1) the market discount averaged at 9.6% in the past 12 months and there has been no notably positive fundamental developments for Potash over the period, as mentioned before; 2) Potash's consensus five-year earnings growth estimate at 8.2% is in line with the average estimate of 8.2% for the S&P 500 companies; and 3) Potash's current P/E multiple is already markedly above the peer average.
4. Analysts remain generally bullish on the stock. Of the total 32 stock ratings compiled by Thomson One, there are five strong buy and 13 buy ratings. However, the average one-year price target at $46.07 is only 5.7% above the current share price. Given that Potash should command a cost of equity of at least 9.3% based on the capital asset pricing model (see chart below), the average price target actually implies the stock has reached or even exceeded its full value.

5. There has been a technical price ceiling range between $42 and $45 over the past 12 months, and the shares are now trading within that range (see chart below).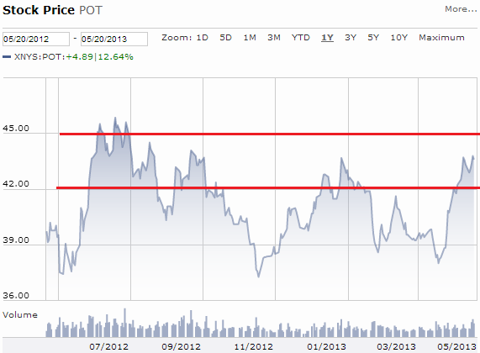 Despite the above concerns, there are still reasons to continue holding the stock:
1) Potash recently announced a 25% dividend hike, which boosted the forward dividend yield to the current 3.2% level. Given the low-interest market environment and that Potash now offers the highest dividend yield compared to its primary peers, I believe the stock would attract decent interests from institutional income investors, thus enjoying some downside price support.
2) In a Cantor Fitzgerald report released on May 1, Peter Prattas commented on the potential price catalyst, which I tend to agree with (sourced from Thomson One, Equity Research):
The biggest potential mover of Potash Corp shares in the near-term is strengthening potash demand. The year has started off well with significant year-over-year growth and a continuance of this trend would be positive. An event too look for is the possible signing of a potash supply agreement with China for the second half of 2013, which could happen within the next two months.
For potential buyers, I would recommend buying at near $40 or selling out-of-money put options with strike price at around $40 for margin of safety reason.
All charts are created by the author except for the consensus estimate tables, which are sourced from S&P Capital IQ, and all financial data used in the article and the charts is sourced from S&P Capital IQ unless otherwise specified.
Disclosure: I am long POT. I wrote this article myself, and it expresses my own opinions. I am not receiving compensation for it (other than from Seeking Alpha). I have no business relationship with any company whose stock is mentioned in this article.