After years of acquiring enormous assets which made Chesapeake Energy Corporation (NYSE:CHK) second only to Exxon Mobil (NYSE:XOM) in natural gas production, CEO and Chairman Aubrey McClendon, who founded the company, was forced to leave April 1, and has now been replaced by Anadarko Petroleum (NYSE:APC) executive Robert Douglas Lawler.
Who you may ask? We'll get into why the question itself, and the answer to the underlying premise of the question is important to this new CEO choice for Chesapeake.
As most readers know, McClendon was pressured out by shareholders Carl C. Icahn and Southeastern Asset Management, with reports stating the unusual deal McClendon had in place which allowed, and still allows him, to acquire rights into wells of the company, being the catalyst.
While that is asserted as the uproar that eventually removed McClendon from his leadership role, it's not the real cause, only the assumed and stated one. The reason I mention that and why it's important to this day is it wasn't until the price of natural gas went south, along with the share price of the company, that activists investors brought the issue to the foreground.
Everybody knew about the deal, but didn't care as long as the company was making them money, was their fortunes drastically reversed, it was at that time the deal was magnified via media outlets. McClendon was cleared of any legal wrongdoing in the situation.
The other actions which caused McClendon to fall out of favor was the enormous debt load taken on by the company to acquire natural gas assets; a problem the company is still unwinding itself from.
Where Chesapeake is Going
Any company with significant exposure to natural gas must employ similar tactics in order to be profitable in a low-price environment. While natural gas prices are rising incrementally, that means raising exposure to oil is the trend of the future for these companies.
Also important is the divestiture of assets in order to cut back on debt. All companies face that, but Chesapeake is among the worst of the energy companies with heavy debt exposure, and it has been selling off assets to deal with the issue. In 2012 Chesapeake sold about $11 billion in assets, and so far this year has sold close to $2 billion. By the end of 2013 it hopes to sell anywhere from $4 billion to $7 billion in assets. Over the last three years Chesapeake has sold off almost $30 billion of assets.
Unfortunately, it hasn't helped the debt level, as it has remained at about $13.5 billion for the last couple of years. That has to change. The reason for the lack of change in debt is the company continues to outspend cashflows. Part of that is selling assets into a weak market.
That will undoubtedly be the priority of Lawler over the next couple of years.
Chesapeake Energy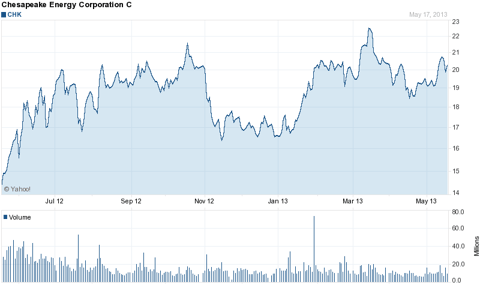 Click to enlarge
In Comes the Unknown Robert Douglas Lawler
The debacle and its consequences, of course, dictated the characteristics of what a new CEO would have to have to be acceptable to interested parties. In other words, he would have to be an anti-McClendon, one who was far more predictable and less apt to take on the independent wildcatter actions of energy men like McClendon.
One important piece of background information on Robert Douglas Lawler is that he is "a petroleum engineer by training," pointing to a more conservative demeanor, and one that does a lot of analyzing. I've been in sales before, and the people we dreaded selling the most to were in fact those that were engineers. Their outlook in general, because of the training they undergo, make them difficult to accept certain things at face value. That's a generality most people don't know, but it's a known fact in the sales field.
As in any area of life there are exceptions to any rule, but with the backdrop leading to the hiring of Lawler, it must be assumed its part of his personal makeup.
Patterns in the Hiring of the New CEO
There are six things I'm looking at that are important in the hiring of Lawler. These would have been the case with any new CEO for the company, so we can count on them being vital to the board and direction of the company going forward.
Experience
We'll start with the most obvious one, which is experience. Any CEO candidate would obviously need to have experience in the oil and gas field, and even though Lawler is only 46-years-old, he has over 20 years of experience under his belt.
His latest responsibilities for Anadarko Petroleum were that of senior vice president for international and deepwater operations. He worked in several major shale fields for Anadarko, including Marcellus in Pennsylvania. Lawler also was over the liquefied natural gas project in Mozambique.
As with any one of the characteristics or patterns presented here, this is one that is crucial, but also which could have been included in the resume of numerous executives in the field.
Looked Outside the Company
Some industry watchers consider the fact Chesapeake went outside the company to hire was a good choice in this particular case. The types of actions being taken now, and needing to be taken in the future, require someone that is very objective in outlook, and won't be hindered by any past associations in the decision-making process.
It also implies a lot of executives in the company have been influenced by the spirit and actions of McClendon, and as mentioned earlier in the piece, this hire was always going to be an anti-McClendon hire.
Going outside of the company was vital to making that happen.
Hiring an Unknown
Possibly the biggest response to the hiring of Lawler was he was not only little known outside the industry by analysts, but he was even very little known within those watching the industry as well.
To me, this is important because the company did not want another flamboyant and well-known personality driving the company. That makes it harder to rein a leader in, when and if he needs to be.
Boring
Part of the unknown factor is also what I call the "boring" factor. I'm not referring to personal characteristics here, but again, a nod towards the desire to place a quiet individual in the CEO role who will go about his business without being a distraction.
This is different than what was mentioned above, because a person can have a low-key personality but still take questionable actions which produce the same type of notoriety - whether positive or negative. Chesapeake, in that regard, simply needs a boring leader at this time.
Age
Also important is the relatively young age of Lawler. Some could come to the conclusion that he was hired at 46 to offer some dynamism and new ideas to the company. In some circumstances that would be a legitimate conclusion, but it's not with Lawler.
He was hired at his age, in my opinion, so he would still be a little unsure of himself in running the company. Chesapeake needs a moldable leader during this period time in the company's history, not one that charges full speed ahead.
Lawler is old enough, as well as experienced enough, to probably successfully run Chesapeake. The board and shareholders don't want a patsy either - it's competency and openness to constructive criticism the company was looking for, and it appears that's what they're getting with Lawler if they've judged him correctly.
The Hiring Itself
Finally, the last element that's important is the hiring itself. Simply getting a replacement for a former CEO like McClendon is important. More importantly, it's how it's done that matters, and the somewhat quiet way it was handled bodes well going forward.
It couldn't have been done immediately after the departure of McClendon, as it would have made things look even worse than they are at the natural gas giant.
There is also the breathing room factor, where people had to digest the departure of McClendon, while preparing for the new leader of the company. While that's never easy, it's particularly hard in the very public manner all of this played out in the media.
Lawler needed that room to provide a little time distance between CEOs.
Conclusion
Any new CEO of Chesapeake had to have some very specific identifiable, measurable qualities if he wanted to get the job. The specific challenges of the industry and the company ensured a man like Robert Douglas Lawler would have to be the next choice to run the company.
Now that he is in place, in the near term he has to deal with cutting back on debt and continuing to divest of assets to help deal with it. The efficiencies at Anadarko point to him being up to that part of the job.
Over the long haul, because Lawler does have international experience in getting deals done, we could start to see him enter into some oil deals. He may surprise us short-term, but the finances of the company make that less probable.
Even if he does though, it would be surprising to see a deal made involving any major debt. The exception to that would be one that would immediately add to the bottom line of the company. It would have to be exceptional to make sense in the short term.
The bottom line is Chesapeake needed a more conservative CEO that would take the company down a more conventional path. They have that in Lawler, and once the drag of the debt load is lightened, along with adding more oil assets under its belt, Chesapeake will be positioned strongly for the long haul.
For long-term investors, it may be time to start considering entry points.
Disclosure: I have no positions in any stocks mentioned, and no plans to initiate any positions within the next 72 hours. I wrote this article myself, and it expresses my own opinions. I am not receiving compensation for it (other than from Seeking Alpha). I have no business relationship with any company whose stock is mentioned in this article.