Last April, a report from Simon Fraser University provided the review of spille stimates for tanker, terminal and pipeline operations associated with the ENGP (Enbridge Northern Gateway Pipeline) project. I will discuss the implications of this project. Then, we will take a look at the conclusions of the Simon Fraser report and its assessment for the entire project. Finally, I will pinpoint the pros and cons of such a plan for Enbridge (NYSE:ENB).
Northern Gateway Pipeline Project
The $5.5 billion ENGP project would provide Canada access to large and growing international markets in Asia and the U.S. west coast. The company has designed a dual pipeline to transport oil and another to transport condensate. Both pipelines would have about 731 miles in length. The oil pipeline would have a diameter of 36-inch wide and transport oil from Bruderheim, Alberta to Kitimat, B.C. (British Columbia). The pipeline would have a capacity of 525,000Bbls/d (barrels per day).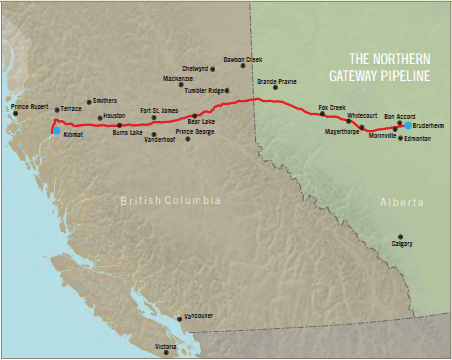 Source: Enbridge NGP
The condensate pipeline would be 20-inch wide and transport imported condensate from Kitimat to Edmonton area with an initial capacity of 193,000Bbls/d. The pipelines would be connected to a new marine terminal located in Kitimat at the eastern end of the Douglas Channel where 14 tanks for oil and condensate would be available as well as two ship berths. The commissioning of ENGP is expected for late 2017.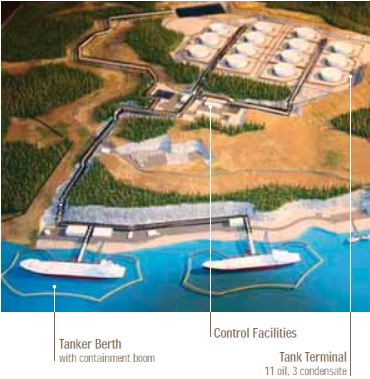 Source: Enbridge NGP Fact Sheet
The Simon Fraser Report And Its Conclusions
The assessment report was done by the School of Resource and Environmental Management of the Simon Fraser University. The objective of the report was to assess whether the ENGP is likely to cause significant adverse environmental effects as defined by the CEAA (Canadian Environmental Assessment Act).
The report claims there is at least a 98.5% probability of an oil tanker spill over a 50 years span if the ENGP project goes ahead.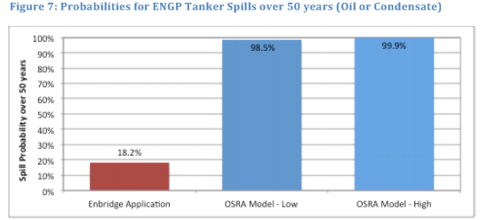 Source: SREM Simon Fraser University Report
The analysis found the likelihood of a tanker spill ranges from one every 23 years to one every 196 years, higher than the one every 250 years estimated by Enbridge. Furthermore, a significant oil spill at the proposed terminal of Kitimat, B.C., as part of the project is possible once every 15 to 41 years compared to Enbridge estimate of once every 62 years.
To arrive at such differences, the report's authors used a standard model employed by the U.S. government for projecting spill risk, and this would explain the numbers which are much higher than those used by Enbridge. The report concludes:
The conclusion of this report is that Enbridge's oil spill risk assessment contains methodological deficiencies and does not therefore provide an accurate assessment of the degree of risk associated with the ENGP. The risk assessment in this report also concludes that the ENGP has a very high likelihood of a spill that may have significant adverse environmental effect.
John Carruthers, President of Northern Gateway Pipelines responded:
Given the timing, we can only conclude this study was purposely kept off the evidence record to avoid being tested in the hearing process. (...) Their study results are not borne out by real world tanker spill statistics. Based on Gunton's estimates we should expect 21 to 77 large spills every year worldwide while in reality after 2000 it has been below 3, and in 2012 was zero.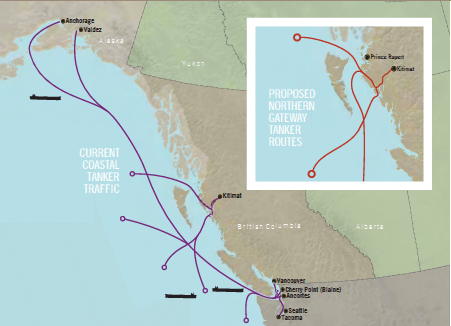 Source: Enbridge NGP Fact Sheet
Bottom Line
For Q1 2013, Enbridge reported 1,783Mbbls/d (thousand barrels per day) for its liquids throughput volume, an increase from year-on-year of 1,687Mbbls/d achieved in 2012. If the ENGP was to be online, the daily throughput would represents about 0.3% of the reported Q1 2013 liquids volume.
However, given the many uncertainties surrounding ENGP, including final ownership structure, the potential financial impact of the project cannot be determined at this time.
Pros
University of Calgary public policy expert Jack Mintz said the pipeline would open up other markets to Canadian oil, strengthening future negotiations with the U.S.
$913 million in tax revenue during construction throughout Canada and $2.6 billion during its operations.
About 1,150 long-term jobs throughout Canada when online
An above-average return potential on investment.
Access to cheaper Canadian oil for the U.S. market, competing with TransCanada (NYSE:TRP) Keystone and Keystone XL Pipeline.
Cons
First Nations spokespeople and business owners are concerned about the devastation that would be caused if there's an oil spill along the pipeline.
ENGP financial impact is not yet determined.
The high-risk of an oil tanker spill at the B.C. coastline as assessed by the Simon Fraser report.
An overall bad spill history: 132,715 barrels of oil spilled, more than half the Exxon Valdez spill of 257,000 barrels.
The ENGP project has its share of controversial arguments. However, every project of this magnitude raises concerns about environmental issues and safety measures that the company is willing to put in place. The project could be an interesting option for the U.S. economy since Canadian oil is cheaper than WTI crude. ENGP like its fellow Keystone XL, is receiving plenty of attention. Will the latter makes a new pathway for ENGP if it receives Obama's approval? No one can be sure. The awaiting decision is keeping nonetheless everyone on its toes.
Enbridge's shares yield 2.67% at this time, slightly above its industry average of 2.18%. On the down side, its long-term debt ratio is at a whopping 192.41 compared to its industry average of 46.91. The company is massively financing several projects rather than focusing on few ones that could generate earnings to be reinvested in future projects.
That said, the stock closed at $46.79 on Monday and according to Morningstar, the stock's fair value is assessed at 54$, suggesting that Enbridge's shares are undervalued. Therefore, I recommend Enbridge for a short position if investors are planning to profit from the discounted price or going long for investors looking for the growth value of the shares once a few projects come online and generate some returns on investment.
Disclosure: I have no positions in any stocks mentioned, and no plans to initiate any positions within the next 72 hours. I wrote this article myself, and it expresses my own opinions. I am not receiving compensation for it (other than from Seeking Alpha). I have no business relationship with any company whose stock is mentioned in this article.