On Monday, May 20, National Oilwell Varco (NYSE:NOV) announced a quarterly dividend increase of $0.13/share to bring its upcoming dividend payout to $0.26/share. It should be noted that this increase represents a 100% increase from its prior dividend of $0.13/share, which was paid on March 29. In the wake of NOV's dividend increase I wanted to not only examine the company's Q1 results, but also highlight some of the key catalysts behind my decision to consider a long-term position in this particular luxury oil & gas play.
Overview
Based in Houston, Texas, National Oilwell Varco provides equipment and components for oil and gas drilling and production, oilfield services, and supply chain integration services to the upstream oil and gas industry worldwide. On Monday shares of NOV, which currently possess a market cap of $29.28 billion, a P/E ratio of 12.28, a forward P/E ratio of 10.46, and a forward yield of 1.51% ($1.04), settled at $70.17.
Trend Status
Based on Monday's closing price, shares of NOV are trading 4.60% above its 20-day simple moving average, 3.65% above its 50-day simple moving average, and 2.41% below its 200-day simple moving average. These numbers indicate a short-term and mid-term uptrend for the stock, which generally translates into two-thirds of a buying mode for traders. Although the company is trading below its 200-day simple moving average, I'm not overly concerned since it's only 2.41%. However, I would watch for any sudden price drops that could make the stock fall even further.
Click to enlarge image.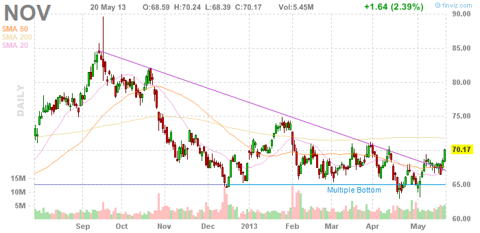 Mediocre Q1 Performance
On Friday, April 26, National Oilwell Varco reported the results of what I believe to be a very mediocre first quarter. The company's Q1 EPS of $1.29/share missed Street estimates by $0.08/share and its revenue of $5.31 billion missed Street estimates by $0.07 billion. During the quarter, the company's gross profit increased 1.25% to $1.287 billion, from $1.271 billion a year ago. Its retained earnings increased 3.91% on a quarter-over-quarter basis to $11.831 billion from $11.385 billion.
According to Pete Miller, chairman and CEO of National Oilwell Varco:
The North American market was softer than anticipated; however, our strong backlog for drilling equipment, coupled with the recent investments that we have made in acquisitions, international expansion and incremental capacity, enabled our company to generate solid earnings in the first quarter.
Even though the company is positioned quite nicely, I still think an acquisition could help enhance performance -- especially in the wake of a fairly poor quarter and soft North American market.
Could an Acquisition Help Boost National Oilwell Varco's Performance?
An acquisition could very well boost the company's performance, and if General Electric's (NYSE:GE) purchase of Lufkin was any indication of how attractive oilfield equipment sector is, a potential bid for Dresser-Rand (NYSE:DRC) could help boost National Oilwell Varco's numbers as well.
On May 7, David Wethe & Brooke Sutherland noted the following:
Dresser-Rand, with a history that stretches back to 1840, is poised to boost revenue by 58 percent from 2012 to $4.3 billion in 2015, a faster pace than 86 percent of U.S. oil and gas services companies valued at more than $1 billion.
Given the fact revenue was one of the areas National Oilwell Varco had struggled with in the first quarter (and could continue to struggle with given the soft North American market), the revenue growth Dresser-Rand brings to the table is certainly worth a serious consideration.
Conclusion
When it comes to those who may be looking to establish a position in National Oilwell Varco, I'd continue keep a watchful eye on the company's dividend behavior over the next 12-24 months. I'd also look for any key developments that may help enhance the company's revenue growth, such as the potential acquisition of an oilfield equipment maker.
Disclosure: I have no positions in any stocks mentioned, but may initiate a long position in NOV over the next 72 hours. I wrote this article myself, and it expresses my own opinions. I am not receiving compensation for it (other than from Seeking Alpha). I have no business relationship with any company whose stock is mentioned in this article.