Continuing the dissection of the Alerian MLP Index, the second largest holding in the index is Kinder Morgan Energy Partners LP (NYSE:KMP), making up 10.2% of AMZ. Kinder Morgan is really a family of companies, with a publicly traded GP, Kinder Morgan Inc. (NYSE:KMI), and a sister company, KMR, that pays distributions in new units. The KMP units pay their distributions in cash, but are otherwise identical to Kinder Morgan Energy Management LLC (NYSE:KMR), which pays distributions in additional units and makes up 3.8% of the Alerian Index. Since each ticker basically represents the same assets, its not as if owning both represents any diversification, so the same pipes in the ground represent 14% of AMZ.
As I said, Kinder Morgan Inc is the GP of KMP, and adds a significant amount of growth opportunities, given its size. KMI also has helped facilitate the biggest development in the MLP space since the last time I did this ranking, by acquiring El Paso. KMI agreed to purchase El Paso for $37.8 billion in 2011, and has been dropping down assets to KMP/KMR since the transaction, including approximately $1.6 billion in drop downs of interests in the El Paso Natural Gas Company and El Paso Midstream assets in Utah and South Texas. At the time of the announcement, the deal was suppose to allow KMP to boost its long-term growth rate from 5% to 7%, and was expected to have drop downs of El Paso's assets from KMI to KMP and El Paso Pipeline Partners (NYSE:EPB) complete by 2015. By acquiring El Paso, KMI acquired the GP of EPB, as well as interest in the MLP. It was also suggested that EPB and KMP could be combined sometime down the road, which is likely a longer-term solution to the issue of having both publicly trade.
Given the size of the El Paso deal, management could have been forgiven for taking a less aggressive approach to growth until the deal was fully dropped down. However, Kinder Morgan's management has gone in the opposite direction, announcing numerous new projects including the recent $5 billion purchase of Copano Energy, which closed May 1. That deal is projected to be accretive to the tune of 10 cents per unit over at least five years beginning 2014.
The closing of the Copano deal allowed KMP to increase the projected distribution for 2013 to $5.33 per unit, from the previous $5.28 projection. That is a 7% increase over the actual declared distribution of $4.98 per unit declared in 2012. KMP has increased the distribution every year since 1996, and has only missed its target yearly distribution once in the last decade -- and that was only by 2 cents over the full year. The acquisition of Copano, coupled with continued dropdowns from KMI of El Paso's assets should allow distribution growth to continue in the 7%-9% range over the next three to five years pretty easily, not including any potential new acquisitions.
Click to enlarge image.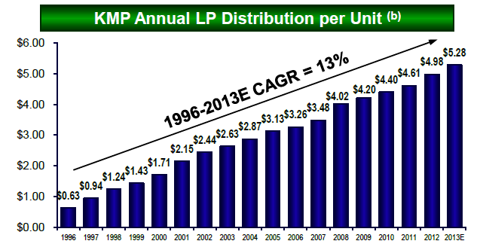 KMP's first-quarter report shows a distribution coverage ratio of 1.12x, which provides adequate coverage of the distribution. The number is a little lower than I would like, but KMP has been aggressive with its growth and nearly perfect on meeting its distribution targets, so the coverage being a little on the low side is not a huge worry. In addition, they are targeting growth of at least 7%, which is very respectable for a company of this size.
Currently trading at $88.22, KMP yields 5.9%. KMR trades at a slight discount, trading at $86.73, or a 6.1% yield. KMR has historically traded at a discount to KMP, likely due to the fact that income investors tend to want the option to receive cash or reinvest in the distributions, and KMR allows only for reinvestment since distributions are paid in units. Management of the Kinder Morgan family of assets has tended to lean heavily towards investing in KMR, likely due to this discount. Since I anticipate at some point liking the option of receiving cash distributions, I'd prefer to invest in KMP at the moment. However, if the discount widened again, I'd consider looking at KMR.
With yields hovering right at 6%, the yields of KMP/KMR are about 4% above that of the 10-year Treasury, which is high by historical standards. Given the strong growth trend, and high yield, I think KMP has room to move higher here, and could easily be over $100 by year-end. Investors looking for a strong MLP with a good growth profile should take a hard look at Kinder Morgan Partners.
Next up in this series will be Plains All American Pipeline (NYSE:PAA).
Disclosure: I am long EPD, MWE. I wrote this article myself, and it expresses my own opinions. I am not receiving compensation for it (other than from Seeking Alpha). I have no business relationship with any company whose stock is mentioned in this article.