The US stock market goes through periods of "quality rotation." In worry times and down markets, high quality tends to outperform low quality on a price basis. In feel good times (at least among investors) and in up markets, low quality tends to outperform high quality.
These days, low quality is outperforming high quality.
When high quality begins a sustained outperformance once again, that may be a sign of the ending stages of a bull market.
This chart is a plot of the ratio of the price of the S&P 500 High Quality Index (Reuters symbol .SPXQRUP) divided by the price of the S&P 500 Low Quality Index (Reuters symbol .SPXQRLUP), normalized to zero from the starting point in 2010. These are market-cap weighted indexes.
A rising line indicates high quality outperforming. A falling line indicates low quality outperforming.
High quality consists of those stocks rated A+, A or A-. Low quality consists of those stocks rated B, B- or C. The B+ rating category is in neither index - that being the mid-quality range that separates high and low quality.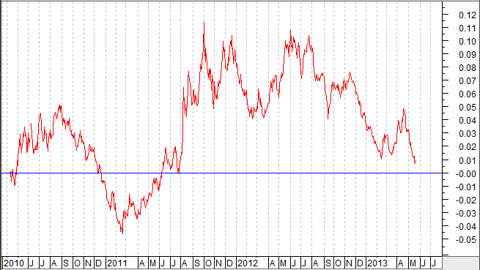 It doesn't take any research to know that equity investors are in feel good times, but it is useful to see the breadth of participation by quality levels, and the relative strength of quality segments of the stock market.
SPHQ represents the high quality index. We are not aware of an ETF that represents the low quality index.
Today, we sorted S&P rated stocks by market-cap and quality rating as provided by S&P to find the average and median YTD price change for each subset when the constituents are equal weighted.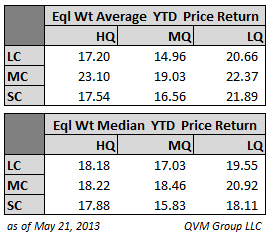 Low quality is outperforming high quality in the large-cap and small-cap segments. Mid-quality is underperforming both high and low quality in those market-cap categories.
Mid-cap is outperforming large-cap and small-cap in all three quality ranges, however high quality mid-cap is still ahead of low quality mid-cap. Here also, mid-quality underperforms.
This overall data pattern is another indication of the strong breadth of this market.
This kind of rotation toward lower quality, as well as toward lower market-cap is one of the signs of a strong up market phase.
Analysts have seen the market exceed their 2013 projections, and are raising them. For example, Goldman Sachs now projects 1750 for the S&P 500 in 2013 and 1900 in 2014. The firm also sees dividends rising by a cumulative 30% over the next two years.
We're still waiting for the statistically likely correction.
All of the segments in the table above are doing well. There is nothing to complain about right now however you are allocated across those categories.
Mid-cap is outperforming large-cap and small-cap at all quality levels. Low quality is outperforming high-quality and mid-quality in the large-cap and small-cap categories, and about matching high quality among mid-caps.
From these data, it would look like the S&P 400 mid-cap ETF (NYSEARCA:MDY) would be a preferred investment at this moment.
For those whose goal is maximizing total return within the US equity allocation, it seems necessary to move allocation more toward mid-cap and to move somewhat down the quality scale.
However, for long-term investors seeking lower volatility and good risk-adjusted total returns (particularly the retired), we think sticking with high quality is just fine.
Disclosure: QVM has positions in SPY and MDY as of the creation date of this article (May 21, 2013). We certify that except as cited herein, this is our work product. We received no compensation or other inducement from any party to produce this article, but are compensated retroactively by Seeking Alpha based on readership of this specific article.
General Disclaimer: This article provides opinions and information, but does not contain recommendations or personal investment advice to any specific person for any particular purpose. Do your own research or obtain suitable personal advice. You are responsible for your own investment decisions. This article is presented subject to our full disclaimer found on the QVM site available here.