CVR Partners (NYSE:UAN) is a partnership formed by CVR Energy (NYSE:CVI). Since its 2011 IPO, CVR Partners has provided its unitholders with over a 50% capital gain plus large amounts of income. CVR Partners does not have a fixed distribution and therefore its distribution rate varies greatly quarter to quarter. The last quarterly distribution for CVR Partners was for $0.61 per unit which at current prices would equate to a 9.25% yield.
After the market closed on May 21, CVR Partners announced that it will sell 12,000,000 common units, plus an option for an additional 1,800,000 common units, representing limited partner interests. The offering is not dilutive for CVR Partners as it will not receive any of the proceeds from the offering and the number of common units outstanding will remain unchanged. Even with the offering not being dilutive, CVR Partners' stock was getting crushed in the afterhours. As of this writing, CVR Partners is trading for $25.00 per unit, down 5.15% from its closing price on Tuesday.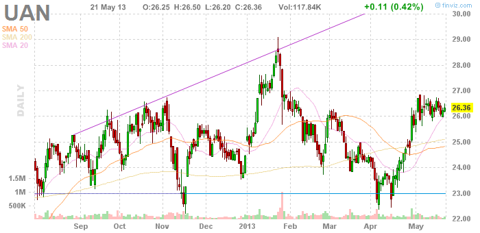 Click to enlarge
CVR Partners manufactures and produces ammonia and urea ammonium nitrate, also known as UAN, hence the ticker symbol for the company. UAN and ammonia are both key components for fertilizer. CVR Partners' nitrogen fertilizer manufacturing facility in Coffeyville, Kansas is located in the heart of the US corn belt and produces around 9% of the total UAN demand in the US. The CVR Partners nitrogen fertilizer manufacturing facility is the only operation in North America that uses a petroleum coke gasification process to produce nitrogen fertilizer, and provided it with a unique cost advantage over competitors who use natural gas. CVR Partners is able to use petroleum coke as its facility is adjacent to a refinery owned by CVR Refining (NYSE:CVRR).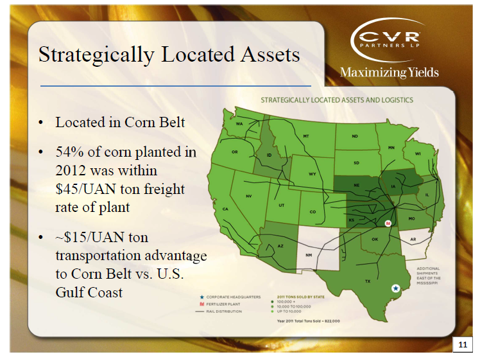 Click to enlarge
UAN is in strong demand worldwide, as the amount of farmland per capita decreases. Since the 1970s, farmland per capita has decreased 36.5%. Consumption of meat products, which requires large amounts of corn and other grains, is growing around the world. The US corn crop consumes one of the largest amounts of fertilizer as farmers are incentivized to use it. Fertilizer demand is fairly stable as it must be applied annually to maintain crop yields.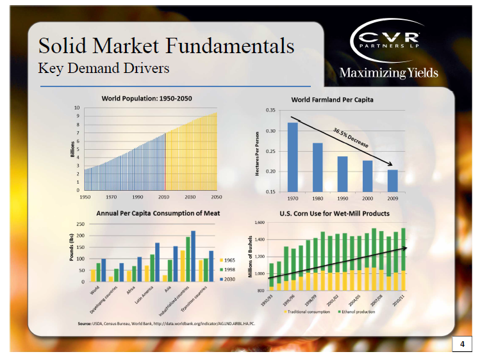 Click to enlarge
On May 1, CVR Partners reported its Q1 2013 results. For the quarter, CVR Partners reported adjusted EBITDA of $43.8M, up 16% from $38M last year. Net income increased to $35.6M, or $0.49 per unit, up 18% from $30.2M, or $0.41 per unit last year. Net sales were $81.4M, up 4% from $78.3M last year.
CVR Partners' average realized plant gate prices for ammonia and UAN were $663 per ton and $295 per ton, respectively. This an increase of 8% for UAN from $613 per ton and a 6% decrease for ammonia from $313 per ton last year. CVR Partners produced 111,400 tons of ammonia in the quarter, of which 30,700 net tons were available for sale, while the rest was upgraded to 196,200 tons of the more profitable UAN. In Q1 2012, CVR Partners produced 89,300 tons of ammonia with 25,000 net tons available for sale with the remainder upgraded to 154,600 tons of UAN.
One of the most attractive aspects of CVR Partners is that it pays out 100% of cash available every quarter, making it a strong income stock. CVR Partners' general partner does not receive incentive distribution rights, or IDRs. Due to the strong demand for UAN, CVR Partners has ample growth opportunities. In March 2013, CVR Partners completed its previously announced plant expansion. This will allow CVR Partners to upgrade 100% of ammonia to UAN and increase its exposure to the UAN market, which trades at a premium to ammonia. The expansion will increase production capacity of UAN to over 1M tons per year. The annualized incremental impact to EBITDA is around $18M and will increase cash available for distribution by about $0.25 per unit.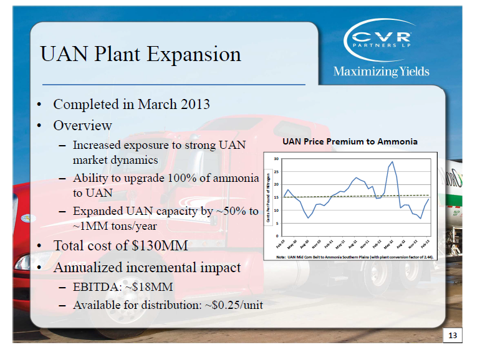 Click to enlarge
CVR Partners also reaffirmed its FY 2013 outlook. The company expects $2.15 to $2.45 per unit in cash available for distribution in 2013. This represents a 19% to 35% increase in distributions compared to the $1.81 per unit paid for FY 2012. If adjusting for the recent Q1 2013 distribution of $0.61 per unit, this leaves between $1.54 to $1.84 per unit in distributions for the remainder of the year, or about $0.51 to $0.61 per unit per quarter.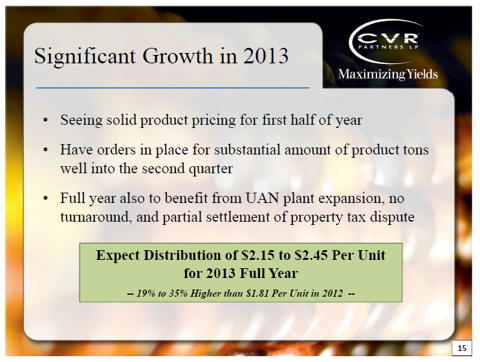 Click to enlarge
Conclusion
In my opinion, the recent decline in CVR Partners due to the secondary may be overdone. The offering, while large at around 19% of float, is not dilutive. CVR Partners has strong demand for its products, a healthy yield, locked-in low cost feedstock due to its location, and major upside due to the recent completed plant expansion.
Disclaimer: The opinions in this article are for informational purposes only and should not be construed as a recommendation to buy or sell the stocks mentioned. Please do your own due diligence before making any investment decision.
Disclosure: I have no positions in any stocks mentioned, but may initiate a long position in UAN over the next 72 hours. I wrote this article myself, and it expresses my own opinions. I am not receiving compensation for it (other than from Seeking Alpha). I have no business relationship with any company whose stock is mentioned in this article.