The Blackstone Group, LP (NYSE:BX) received an important endorsement on Friday which could go a long way towards building confidence with investors and partners. According to Reuters, the China sovereign wealth fund China Investment Corp (CIC) plans to invest $500 million in one of Blackstone's hedge fund units. China has been watching the decline in global markets and is now anxious to put some of their capital to work at historically low prices. The ZachStocks Growth Model currently holds a 3% position in BX and has unrealized gains north of 50%.
While $500 million is a small investment compared to a potential $80 billion which is estimated to be earmarked for hedge fund investments, any investment at all from China is significant for Blackstone. Back in 2007 when Blackstone was preparing its Initial Public Offering, China committed billions in buying a pre-IPO position in the company. The timing couldn't have been worse and as Blackstone traded off sharply due to the global economic slump, China saw its billions evaporate. So a new $500 million investment in one of Blackstone's funds is a meaningful gesture.
Throughout the recession, Blackstone has been relatively successful in attracting new capital for its private equity funds, real estate funds, and other alternative opportunities. However, the challenges have mounted as debt financing has been difficult to find in any significant size. The company will typically raise capital from investors for its funds (for example $5 billion). The business strategy is to then leverage that capital by borrowing another $10 billion and investing the entire amount. Leverage can increase returns for investors and for the company as long as investment decisions are profitable. But if $15 billion is invested in a losing venture, a 10% loss would actually cause the initial investors to lose 30% (and more due to interest on the loan).
Debt financing is a great tool for Blackstone when working well. That is because the company usually gets to keep a portion of the gains on hedge fund assets. So not only is the company collecting a management fee, but for every $1 billion investors make in gains, $200 million is siphoned off the top as Blackstone's incentive allocation. Gains have been hard to come by in recent quarters, which has hurt profits. In some quarters the company has actually reported negative revenue as incentive allocations booked in previous quarters were wiped out by losses. However, the picture appears to be improving for hedge fund returns which should result in profits for Blackstone in the form of investment management fees as well as incentive payments.
In a separate piece of news Friday, the supreme court ruled in favor of Blackstone, upholding a lower court's dismissal of a lawsuit brought by ADS. ADS had taken action against Blackstone after Blackstone backed off an agreement to buy out ADS. As the economy turned lower, ADS' prospects diminished, and Blackstone ran into funding issues, the deal could no longer complete the transaction. ADS wanted Blackstone to pay a breakup fee, but obviously the dynamics changed materially which was cause for termination of the deal. With this court case in the rear-view mirror, hopefully management will be able to spend more resources towards driving profitability for investors instead of playing defense against the lawsuit.
Analysts are calling for earnings of 31 cents this year and 81 cents in 2010. These expectations are very fluid and dependent on both market conditions as well as the skill of managers running the investment programs for Blackstone. I believe after the difficulty during the last year, analysts are overly cautious with their expectations. Blackstone is obviously able to attract capital as alternative investments become more attractive to pension funds and other large institutional investors. Managers are more aware of the risks of the markets and will likely handle investments more conservatively. This means that incentive allocations per $1 billion of investment capital may be lower, but with significantly higher balances in their various funds, the total amount of fees should be attractive with any positive investment performance.
Despite the strong run from the panic-driven lows in March, the stock still appears to be an attractive investment which could be strong regardless of the market direction. The company's real-estate portfolios may still be subject to write downs, but the hedge fund businesses should help offset that weakness. Bottom line, if China is making investments with Blackstone, this is a ringing endorsement and should go a long way towards helping the funds raise more capital, and creating confidence for BX shareholders.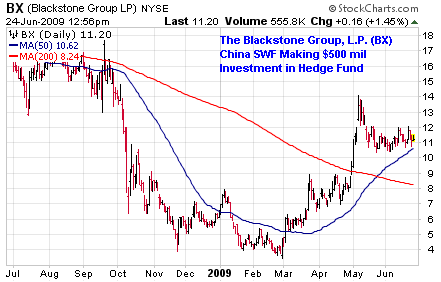 Disclosure: Author has a long position in the ZachStocks Growth Model.