If you are looking to make a purchase in either Altria (NYSE:MO), Reynolds American (NYSE:RAI), Lorillard (NYSE:LO), or Philip Morris International (NYSE:PM) at today's prevailing prices, the last option I would pick would be Reynolds American, driven largely by valuation concerns.
In the last twelve months, Reynolds has generated $2.69 in earnings. It is trading at $49.71 per share. That is a P/E ratio of 18.47. For some historical perspective, let us take a look at Reynolds' average P/E multiple since 2002: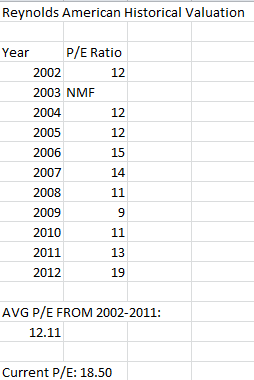 I did not include a figure for 2003 because the company had significant impairments to its earnings per share figure that would make it unrealistic to use it in an extrapolating manner. That year, the company technically reported $0.39 per share in earnings, but that was in no way reflective of the company's long-term earnings power as the 2002 figure of $1.16 in earnings per share grew steadily to $1.41 by 2004.
In the past year or two, the price of Reynolds American stock has advanced at a pace in noticeable excess of earnings growth, causing the company's valuation to trade in a range well above where it has been for the past decade. When you look at the 2002 to 2011 figures, you can see that Reynolds American typically traded at a P/E ratio of 12 before beginning a two-year run up. Perhaps due to lower interest rates, investors' desire for current income, and a steadily advancing "tide that lifts all boats" stock market, Reynolds American seems to be trading at a range that is historically difficult to justify.
Compared to its industry peers, Reynolds does not seem to have as strong of a "story" to explain future earnings growth.
With Philip Morris International, you get a sizable buyback, growth in Indonesia and the Philippines, the potential growth of Marlboro and particular partnerships with the China National Tobacco Corporation in China, and the operational flexibility that comes with making profits in dozens of countries in dozens of currencies (it allows management to choose how it wants "to play" the dollar).
With Lorillard, you get a company that has reduced share count from 521 million shares in 2007 to 377 million shares today. Lorillard is only trading at 14-15x earnings, and management has begun the process of buying back $500 million in stock. Likewise, the company is still in the process of accelerating its payout ratio.
In the case of Altria, you get the 27.0% stake in SABMiller. You get the penetrating market share of Marlboro. You get a company that is retiring 100 million shares from the market. Its valuation is a little bit better than Reynolds, as the company trades a bit over 17x earnings compared to Reynolds' 18.5x earnings.
With Reynolds, you are relying on Camel, Pall Mall, and a 20 million share buyback program to carry the day. There are some small signals that Reynolds management does not quite have the same long-term confidence as Altria's management, and we got glimpses of this when the Reynolds Board froze the dividend at $0.95 during the merger days, and held the dividend steady at $1.70 per share during The Great Depression.
The phrase "past performance is no guarantee of future returns" is the bedrock of all financial planning, and that especially seems to be the case if you try to extrapolate Reynolds' 2003-2013 performance forward to the 2013-2023 stretch.
If you check out one of Chuck Carnevale's F.A.S.T. Graphs on Reynolds American, you will see the image of a dream stock holding: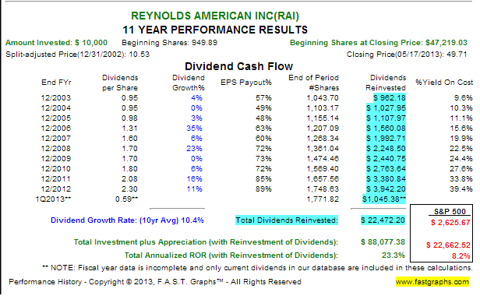 It is not an exaggeration to use the clichéd word "trounce" to describe Reynolds' performance in relation to the S&P 500 over the past ten years. A $10,000 investment in 2003 would be worth over $88,000 today. You would have compounded your money at over 23% annually. You beat the S&P 500 by fifteen percentage points-annually! Your share count would have grown from 949 to 1,771. After the Reynolds Board recently announced a quarterly dividend increase to $0.63 per share, you would be collecting $4,462 in annual dividends. That is a 44.62% annual dividend yield on cost within a decade. These are the kind of results that would you want to salivate at the thought of being a long-term Reynolds shareholder.
But let us look at the things that make Reynolds' 2013-2023 stretch likely to be much different from its 2003-2013 stretch.
-First of all, the dividend payout ratio is much different. Even though the company did not grow earnings at 10.4% annually, it was able to raise the dividend by that much because it increased its payout ratio from 57% in 2003 to 89% in 2012. It is pretty difficult for a company to pay out more than 90% of its earnings as dividends. That means that future dividend increases will likely mirror the earnings per share growth rate.
-The valuation going forward is very different. The company traded at 12x earnings in 2003. Today, it is at 18.5x earnings. Valuation wise, investors today are willing to pay 54% more for each dollar of Reynolds' earnings in 2013 than they were (on a normalized basis) in 2003. It is unlikely that Reynolds will benefit from P/E expansion over the next ten years on a meaningful basis. In fact, it is much more likely that Reynolds shareholders will face some kind of P/E compression over the next ten years as the valuation works its way back towards the 12-14x earnings range. This means that the total returns that Reynolds investors will experience over the next decade have a very high probability of trailing the overall earnings growth rate of the firm.
The good news is that Reynolds is paying a 5% dividend backed by strong cash flow, and I would guess that it will grow by 6-8% annually over the next five years. A growing 5% dividend is a good shield against a lot of market mayhem. But this stock is no value play at the current valuation. That is because: annual sales are stagnating, last year's dividend payout represented 89% of earnings, Reynolds' cigarette volume dropped 6% in the first quarter, the company has lost retail market share for eight years in a row, and the company is trading at a valuation 50% greater than its 2002-2011 average. Those factors would discourage me from initiating a position in Reynolds today at current prices.
Disclosure: I have no positions in any stocks mentioned, and no plans to initiate any positions within the next 72 hours. I wrote this article myself, and it expresses my own opinions. I am not receiving compensation for it (other than from Seeking Alpha). I have no business relationship with any company whose stock is mentioned in this article.