Another day of no economic data left the markets looking for cues. The Nikkei closed with a fractional gain of 0.13%, and the EURO STOXX 50 slipped a fractional 0.10%. So Tuesday's focus was on couple of the more dovish Fed presidents, Bullard and Dudley. For an interesting visual of the Fed Presidents on the Dove-Hawk scale, see this graphic from Thomson Reuters. Bullard's presentation is available here. Dudley's speech is available here. But of course it's Bernanke's testimony to Congress today that will be the main event for Fed watchers. The S&P 500 traded in in a 0.74% range from an intraday low of -0.21% yesterday morning to an intraday high in the afternoon of 0.52%. The index closed the day with a trimmed gain of 0.17%. But any positive number was destined to be a new all-time high.
Here is a 10-minute look at the week so far.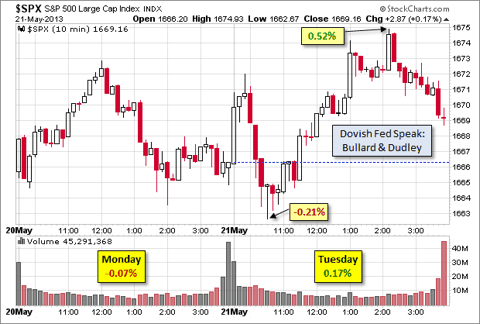 Click to enlarge
Volume yesterday was 5% below its 50-day moving average.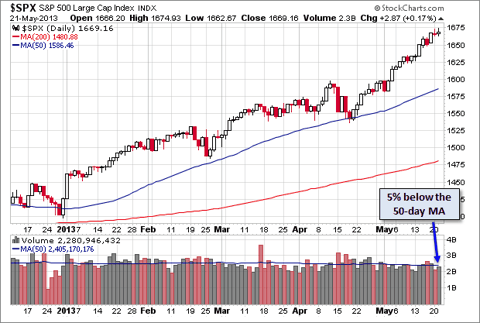 Click to enlarge
The S&P 500 is now up 17.04% for 2013.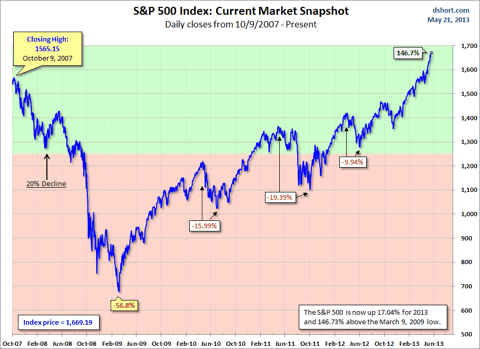 Click to enlarge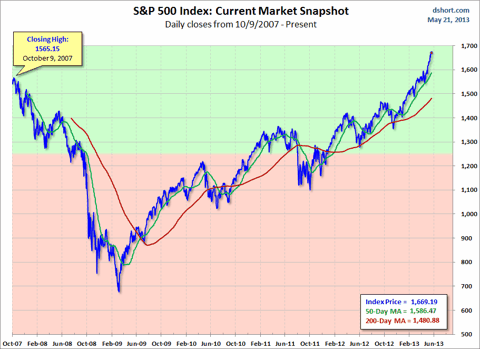 Click to enlarge
For a better sense of how these declines figure into a larger historical context, here's a long-term view of secular bull and bear markets in the S&P Composite since 1871.