Apache (NYSE:APA) is one of the largest independent oil and gas names in the United States. With approximately 3 BBOE in proven reserves and a market cap of $30 billion, Apache is a dominant player in the industry. Historically, Apache has been excellent at discovering and exploiting new resources and their shareholders have benefited immensely as a result. Recently, however, Apache's shareholders have been victim to production disappointments and political turmoil in Egypt. The first problem is being somewhat remedied with strong output in the United States, but Apache's largest problem continues to be Egypt.
The Problem
When political turmoil and protests erupted in Egypt, fears about Apache's assets in the region crushed the stock. While rivals EOG Resources (NYSE:EOG), Anadarko (NYSE:APC), and Noble Energy (NYSE:NBL) soared, Apache plunged. This dichotomy is almost entirely due to Egypt. Approximately 10% of Apache's reserves and 20% of Apache's production are in Egypt, and any disruption in the area fuels the fears about the stability and security of these assets.

Apache's Answer
Apache is aware of their Egypt problem, and management has done its best to quell the fears of investors. Management has met with Egyptian officials, kept production steady, and is actively monitoring the situation. The point that they keep pounding home to investors is that their assets are in very remote areas in Egypt. While protests engulfed the major cities, Apache kept drilling because they are located in remote regions of the nation. The map below shows Apache's assets (in yellow), overlaid on top of a Google map of Egypt. Indeed their assets are far from any cities and thus any protests, but this is not the problem. The problem is the fear of nationalization of the assets. This new Egyptian government is unknown, untested, and erratic. If Apache were to lose these assets, they would lose a huge portion of their reserves, production, and cash flows. Apache acknowledges the possibility of this occurring in their most recent annual filing, but they must take more concrete steps to unlock shareholder value.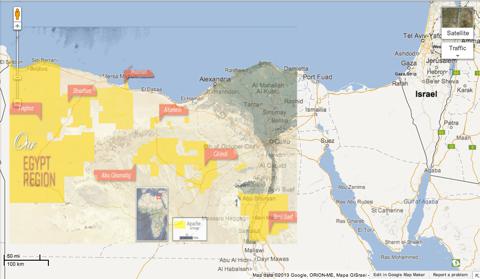 The Real Solution
Apache has a number of options to ensure investors that their Egyptian assets are secure. One option is an outright sale of these assets. This could allow Apache to focus on their booming production in the United States where liquids growth is up 45% year-over-year. Without Egyptian turmoil, Apache would receive a higher valuation as their assets in the United States are predictable and safe. However, Apache has some very productive assets in the region; and other options would allow Apache to keep their profitable venture in Egypt, while also bringing more certainty to this issue.
Apache needs to find a partner. An outright sale of Egypt would be detrimental, but finding a partner to turn Egypt into a joint venture could boost Apache's share price significantly. Should Apache find a partner that has experience in Egypt or the surrounding region, it will give credence to the 'investability' of both the country and Apache's assets. If Apache were to sell 25% of their assets at their current valuation of $7.031 billion, they could net approximately $1.75 billion. Considering Apache nets $658 million of operating income in this region, the potential buyer would receive $164.5 million in operating income, or 9.4% of their investment annually. This is an excellent proposition for any buyer. A joint venture would also help Apache reach their goal of $4 billion in asset sales.
The most important thing for Apache is showing that Egypt continues to be an investable region of the world. However, this may occur without Apache doing anything at all. The IMF is currently considering Egypt for a $4.8 billion loan. This will give much credit to the investability of the region, and Apache's shareholders will benefit as a result.
Conclusion
While many oil names just touched their 52-week high, Apache recently touched its 52-week low. However, there has been some positive news for the company recently. Although they missed their Q1 earnings on both the top and bottom line, management announced a plan for $4 billion in asset sales that will consist equally of debt reduction and stock-buybacks. This caused the share price to bounce because management is finally acknowledging the stock is cheap and should be trading much higher. While this helped Apache rebound from the bottom, in order for Apache's stock to return to its triple digit days, management must go further and deal with Egypt. Ultimately, I believe the stock has much more room to run. Apache's operation in the United States are booming, and this should help cushion any blow to the stock should more turmoil arise in Egypt. Any action taken by Apache, the IMF, or another entity that shows stability in Egypt will be a positive for the stock. Look for Apache to find a partner, the IMF to approve Egypt's loan, and for Egyptian elections to go smoothly -- then Apache will be a very enticing buy.
Disclosure: I have no positions in any stocks mentioned, and no plans to initiate any positions within the next 72 hours. I wrote this article myself, and it expresses my own opinions. I am not receiving compensation for it (other than from Seeking Alpha). I have no business relationship with any company whose stock is mentioned in this article.