Volterra (NASDAQ:VLTR) offers a compelling investment for value investors due to its cheap valuation and compelling near-term catalysts.
Here is the business summary from Yahoo Finance:
Volterra Semiconductor Corporation designs, develops, and markets analog and mixed-signal power management semiconductors for computing, storage, networking, and consumer markets. Its products include integrated voltage regulator semiconductors, integrated power protection and distribution semiconductors, and scalable voltage regulator semiconductor chipsets that transform, regulate, deliver, and monitor the power consumed by electronic systems. The company sells its products primarily to original equipment manufacturers, original design manufacturers, contract equipment manufacturers, and merchant power supply manufacturers directly through its internal sales force, as well as through distributors and outsourced suppliers. It operates in the United States, China, Singapore, Taiwan, Japan, and internationally. Volterra Semiconductor Corporation was founded in 1996 and is headquartered in Fremont, California.
Industry Overview:
I'm not going to pretend that I'm an expert in the analog power management semiconductors industry, but after doing some due diligence, a couple of things stand out. One, the industry is highly fragmented. There are many smaller companies with only a few big customers each and no real dominant players. It seems that customers need a degree of customization in the chips which doesn't allow for a "one-size-fits-all" type of scalability to the product. Two, it's extremely competitive, and constantly evolving technologically. The typical chip design has an average life of only a couple of years which means companies must pour money into R&D to stay in the game. For instance, Volterra has only recently seen its latest chip fully implemented in its customers' servers, yet it has developed a newer chip that is expected to roll out in 2014 which will replace the current one.
On the outset, this doesn't seem like the type of industry an investor would want to enter. I would say a couple of things in response. First, there will clearly always be a need for the product. In fact, the need is ever increasing as the world becomes more digitized. Second, a highly fragmented industry could lead to consolidation which would put premiums on companies with strong balance sheets, like Volterra. Third, there are growth opportunities for this kind of chip, especially in the ultra-hot solar energy industry. Overall, it is a tough industry, but there is opportunity within it, especially for a company with Volterra's discount valuation.
Valuation:
For reference, here is the income statement spread for 2012 and 2013. To the right of the green line are the average Wall St. projections (all numbers in 1,000s).

The most compelling reason to invest in VLTR is its cheap valuation relative to industry peers. The following is a table of EV/EBITDA and P/E multiples of Volterra's competitors. As a note, I'm using a list of competitors that Volterra's management gave in a financial statement.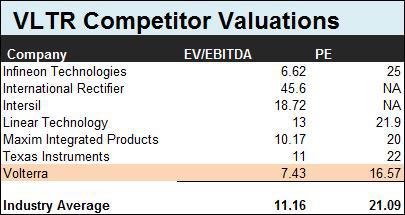 I should also note that in the "EV/EBITDA Industry Average" calculation I excluded International Rectifier's (NYSE:IRF) number because it is such an outlier. This table shows that Volterra trades at roughly a 50% discount based on EV/EBITDA, and a 30% discount based on P/E. Also, Volterra's forward P/E is currently around 14, which would imply about a 50% discount as well. However, I believe the EV/EBITDA measure is the best to use because it takes into account VLTR's $152mm cash on hand and lack of long-term debt.
So what exactly is the reason for this deep discount? The answer is in the deterioration of the notebook market. Before Q1-13, chips being used in notebooks accounted for roughly a third of revenue. In Q1-13 it accounted for just 28% of revenue. To make matters worse, the company guided for even further deterioration in notebook revenue. The following table shows the actual Q1 revenue product mix and my own Q2 projected revenue product mix (all numbers in 1,000s):

In calculating the Q2-13 projected revenue mix, I took VLTR's projected total revenue for the quarter, assumed no growth in its server and networking businesses, and then implied the notebook revenue. Astoundingly, this simple calculation implies a 39% decrease in notebook revenue. This seems like an incredibly pessimistic projection considering that Q4-12 to Q1-13 total revenue only dropped by $1mm. It could be the case that management is aware of some serious deterioration that is going to take place, perhaps the loss of a big customer, or they could be setting the bar particularly low so they can have a good earnings report next quarter.
Admittedly, the notebook is becoming increasingly obsolete because of tablets and will most likely contribute less to revenue over time, but I believe management is being overly pessimistic in the short term. I mean, even if the notebook segment does decline by 39%, there will likely be some growth in the server or networking segments just based on the historical trend. I also believe that some of the deterioration in notebook revenue is mitigated by management's ability to cut expenses. VLTR has scaled back production and is showing a willingness to cut costs as management stated in its most recent earnings call. Even if notebook revenue doesn't recover, there should be some growth in server revenue or networking revenue, and cost cutting will help stabilize the bottom line.
To show just how limited of a downside VLTR has, here is a rough, back-of-the-envelope liquidation calculation using its most recent balance sheet numbers (all numbers in 1,000s):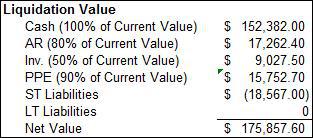 In a liquidation scenario, VLTR is still worth roughly $175mm, half of its $350mm market cap. Of course, with as healthy of a balance sheet as it has, this situation is barely conceivable.
In general, VLTR is trading at a severe discount to peer valuations due to an overreaction in its notebook revenue deterioration. However, as previously mentioned, this risk is mitigated by management cost cutting and growth in the server and networking revenues. I believe the overreaction has already run its course and Volterra will soon start trending towards a more reasonable valuation, implying at least a 50% upside.
Catalysts:
I see a number of short-term catalysts that could potentially boost the stock of Volterra. I've already discussed its valuation returning to normal levels. Certainly beating the low Q2 expectations could be a catalyst as well, but I believe an even bigger catalyst is VLTR's entry into the solar industry. Volterra has developed a solution for solar panels that will increase their energy output by 20%. They are past the design stage and should begin seeing revenue in Q3 of this year. Yet it seems that Wall St. is placing little to no value on this potential growth. I could see that as being reasonable if revenue generation was still a year or two away, but with meaningful revenue just on the horizon, I believe Wall St. is wrong in overlooking it.
Solar is the hot thing right now. Just take a look at Real Goods Solar (RSOL), SolarCity (NASDAQ:SCTY), or First Solar's stock price over the last few months. People have bought into the solar panel movement and it seems to only be picking up more momentum. When Volterra starts seeing meaningful revenue in Q3 this year from its solar panel chip, it gives Wall St. an exciting growth story to latch on to. I believe that if VLTR gets meaningful contract wins in the solar industry, a big premium could be placed on the stock. I know this is speculative, but it seems VLTR's current valuation puts zero premium on it anyway, so it can only be a positive.
Lastly, I also see a chance of industry consolidation taking place. As previously mentioned, this is a highly fragmented space. Volterra seems like an ideal acquisition target with its immaculate balance sheet, strong relationships with IBM and HP (NYSE:HPQ), and growth potential with its chip for solar panels. Of course this is extremely speculative - I don't have any evidence of pending consolidation, but it does seem plausible enough to consider.
Risks:
The biggest risk is Volterra's customer concentration. It relies primarily on relationships with HP and IBM and losing either would be devastating to its business. The following table shows just how concentrated its revenue is (from Q1-13 10Q):

Here we see that almost all of its revenue is made through just several customers. With that said, these relationships have existed for several years and there is little reason to believe they will deteriorate in the near future. Likewise, these customers have fully implemented Volterra's current generation chip, so any customer loss won't take place until next year when the next generation chips roll out.
Another risk is VLTR's exposure to China. About 66% of Volterra's revenue comes from China, so China's current macroeconomic issues could have an effect on revenue if they continue to worsen.
The last risk is deterioration in server revenue. This is nearly synonymous with the first risk mentioned, but it should still be considered since so much of Volterra's revenue is from servers. Any slowdown in that revenue stream will be devastating to its valuation.
Conclusion:
Volterra trades at a deep discount to industry peers because of a market overreaction. As revenue and net income consolidate, VLTR should revert to an industry average valuation, implying a 50% upside. The potential for a home run in its solar panel solution should also begin to command a premium in Q3 of this year. Overall, Volterra is a great value play at its current price and has nowhere to go but up.
Disclosure: I am long VLTR. I wrote this article myself, and it expresses my own opinions. I am not receiving compensation for it (other than from Seeking Alpha). I have no business relationship with any company whose stock is mentioned in this article.