At the time of writing, shares of Cisco (NASDAQ:CSCO) are up 22.73 percent year-to-date (including dividends), which compares to a 17.81 percent total return for the S&P 500. Shares of Cisco are also outperforming the communication equipment industry. With that in mind, it is time to analyze portions of Cisco's operations to determine if it remains a solid investment.
To analyze Cisco, long-term assets and taxes will be discussed. Analysis of long-term assets will provide clues to the company's strategic direction. Analysis of taxes aid in forecasting future net income. Based on the substantial increase in value since 2012, it is probably a good time to start taking profit on Cisco investments. That said, how has Cisco's long-term asset composition changed?
Long-term Assets
Long-term assets are used to gauge the potential future benefits a company could provide to shareholders. This portion of the balance sheet reveals information about the strategic direction of the company. In this case, Cisco made acquisitions to boost its mobile and video offerings. The enterprise is not making additions to plant, property, and equipment.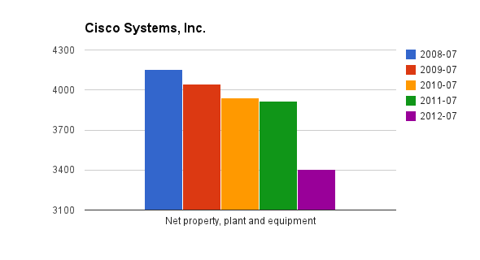 Net property, plant and equipment (PPE) are trending lower: Cisco is not making investments to maintain PPE. Cisco depreciates PPE on a straight-line basis. The useful lives of some of the assets are: Buildings are useful for 25 years; building improvements are useful for 10 years; furniture and fixtures are useful for 5 years; production, engineering and other equipment are useful for up to 5 years. Cisco's estimates of the useful lives of assets are in-line with industry norms.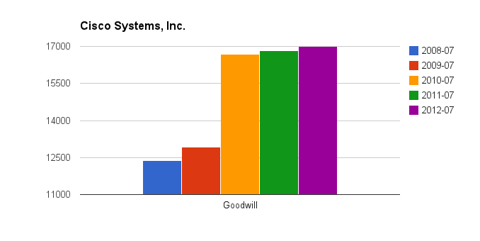 The fiscal 2010 increase in goodwill is partly attributed to the purchase of Starent Networks, Corp., a provider of IP-based mobile infrastructure for mobile and converged carriers. The acquisition enhanced the Company's portfolio of products to provide integrated architecture to offer rich, quality multimedia experiences to mobile subscribers.
That said, the increase in goodwill is mostly attributable to the acquisition of Tandberg ASA, a leader in video communications. The Tandberg acquisition should allow Cisco to combine innovations with multivendor interoperability capabilities to provide a platform significantly more attractive to customers and partners.
Both acquisitions were accounted for under-purchased intangible assets and goodwill; neither Starent nor Tandberg had significant net tangible assets. Assuming that Cisco valued the intangible assets correctly, a significant assumption, the deals are fairly priced; the Tandberg acquisition was border-line expensive.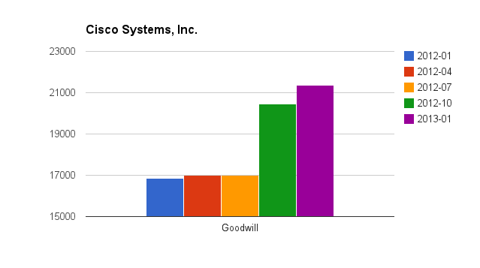 The goodwill increase in the fiscal quarter ending October 2012, is attributable to the purchase of NDS Group Limited, a leading provider of video software and content security solutions that enable service providers and media companies to securely deliver and monetize new video entertainment experiences. The acquisition of NDS is expected to complement and accelerate the delivery of Cisco Videoscape, the Company's comprehensive content delivery platform enables service providers and media companies to deliver next-generation entertainment experiences. With the NDS acquisition, the Company aims to broaden its opportunities in the service provider market and to expand its reach into emerging markets such as China and India, where NDS has an established customer presence.
The $5 billion spent on NDS is almost entirely goodwill and intangible assets. The deal was priced fairly. A significant portion of the intangible assets acquired comprised of customer relationship, with an estimated useful life of just less than seven years.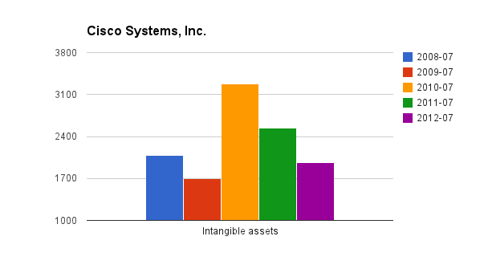 The intangible assets account was trending lower at the end of fiscal 2012.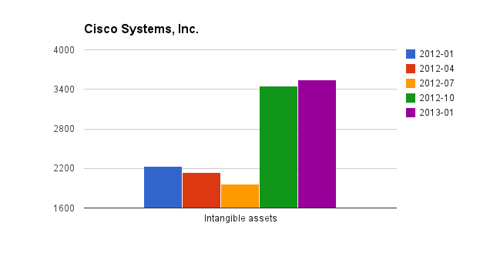 Cisco boosted intangible assets in the first quarter of fiscal 2013. The increase in intangible assets is mostly attributable to the purchase of NDS.
At the end of fiscal 2013's second quarter almost 70 percent of Cisco's long-term assets comprised of intangible assets. Over 50 percent of long-term assets is comprised of goodwill. In terms of business combinations, the firm made solid acquisitions from a competitive perspective. My issue is that a large portion of the goodwill is based on valuing customer relationships; goodwill isn't based on tangible assets. Once those customer relationships are amortized, goodwill will be what remains. In other words, the acquired companies lacked tangible assets.
Taxes
Taxes are often overlooked in equity analysis. However, the tax men and women can take a substantial portion of after-interest income. The net of short-term and long-term tax assets and liabilities will be used to analyze Cisco's future tax liability.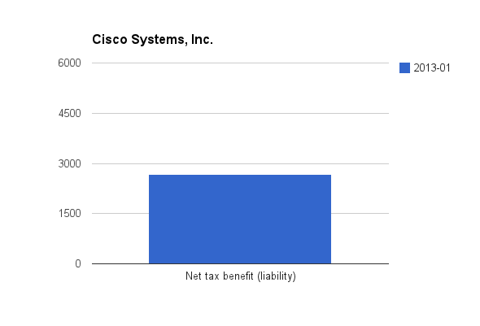 At the end of the 2013's fiscal second quarter, Cisco had a net $2.68 billion tax benefit stated on the balance sheet. Twelve trailing months' net income is about $9.3 billion and the effective tax rate is about 12 percent. Thus, Cisco's shareholders should enjoy the benefits of a low tax bill in the coming quarters.
Conclusion
The strategic direction Cisco is taking is appropriate, but I question the purchase prices paid for the acquisitions given the lack of tangible assets acquired. That said, investors should continue to benefit from a net tax asset. At the end of the day, valuations are critical to an investment's health and Cisco is trading near its 5-year average price/earnings, price/book, and price/sales ratios. The firm is trading above its 5-year average price/cash flow ratio. The valuations suggest taking some profit on shares of Cisco.
Disclosure: I have no positions in any stocks mentioned, and no plans to initiate any positions within the next 72 hours. I wrote this article myself, and it expresses my own opinions. I am not receiving compensation for it (other than from Seeking Alpha). I have no business relationship with any company whose stock is mentioned in this article.