I have been bearish on most large listed American utilities like American Electric Power (NYSE:AEP), Southern Company (NYSE:SO), Atlantic Power (NYSE:AT), Duke Energy (NYSE:DUK) etc. There is frothiness in most utility stocks (NYSEARCA:XLU) as there are very few fixed income alternatives, which give decent dividend yield in the current low interest rate environment. This has led to an overvaluation in the utility sector.
In a zero interest rate environment, everyone is chasing "safe" yields. This has led to overvaluation of many of the consumer goods stocks, as they are perceived to be solid, safe, high dividend yielding investments. The world is changing at a rapid pace leading to destruction of entire industries which were considered safe. The improvement in communications and rise of social networking has led to carnage in traditional print media stocks.
Utilities are considered a very safe investment, as they provide energy in a monopoly like fashion to consumers. Many utilities have become multi-billion dollar giants through M&A and lack of competition. They are reaping massive profits, as they are guaranteed a ROE on their investments in many regulated regions by pliant energy regulators. However, their whole business model is at risk through the rapid development of a disruptive technology - solar PV. Solar energy costs have decreased by more than 80% in the last 5 years through a mix of Chinese low cost and technology improvements. This risk is starting to gain importance as the industry leaders' think tank recently released a report highlighting the risk of distributed solar power.
Distributed Solar Energy is the biggest danger for utilities
The Edison Electric Institute recently published a report that emphasized the risk to utilities from distributed solar energy. Customers are increasingly using distributed solar energy to cut their soaring power bills. U.S. States are starting to allow "Net metering" which is becoming a big danger to utilities as it allows customers to export their surplus solar electricity to the grid. I would advise utility investors to go through the full report as it represents the utility industry's views on the dangers.
According to the Solar Electric Power Association (SEPA), there were 200,000 distributed solar customers (aggregating 2,400 megawatts or MW) in the United States as of 2011.

As previously stated, due to a confluence of recent factors, the threat to the utility model from disruptive forces is now increasingly viable. One prominent example is in the area of distributed solar PV, where the threats to the centralized utility business model have accelerated due to:

The decline in the price of PV panels from $3.80/watt in 2008 to $0.86/watt in mid-2012. While some will question the sustainability of cost-curve trends experienced, it is expected that PV panel costs will not increase (or not increase meaningfully) even as the current supply glut is resolved. As a result, the all-in cost of PV solar installation approximates $5/watt, with expectations of the cost declining further as scale is realized;
An increase in utility rates such that the competitive price opportunity for PV solar is now "in the market" for approximately 16 percent of the U.S. retail electricity market where rates are at or above $0.15/KWh. In addition, projections by PV industry participants suggest that the "in the money" market size will double the share of contestable revenue by 2017 (to 33 percent, or $170 billion of annual utility revenue);
Tax incentives that promote specific renewable resources, including the 30-percent I Investment Tax Credit (ITC) that is effective through 2016 and five-year accelerated depreciation recovery of net asset costs;
Public policies to encourage renewable resource development through Renewable Portfolio Standards (RPS), which are in place in 29 states and the District of Columbia and which call for renewable generation goals within a state's energy mix;
Public policies to encourage net metering, which are in effect in 43 states and the District of Columbia (3 additional states have utilities with voluntary net metering programs) and which typically allow customers to sell excess energy generated back to the utility at a price greater than the avoided variable cost;
Recently a utility expert predicted that California utility Pacific Gas & Electric (NYSE:PCG) may not be able to compete with distributed solar energy as residential solar costs will fall below that of retail electricity by 2020. Even as electricity prices are rising, solar costs are decreasing by an average 10% every year. This means that solar energy cost will go below that of grid price, effectively bankrupting the business model of the utilities.
Based on the falling costs of solar and rising electric prices, Pacific Gas & Electric (PG&E), one of the largest utilities in the country that serves northern California, may not be able to compete with residential solar soon. That's according to a recent piece at think tank, The Energy Collective by energy expert Douglas Short, President of Exas Consulting, LLC and a former Vice President at Constellation Energy.
Recent examples of Solar Energy being a threat to Utilities
a) Georgia Power was forced into building 200 MW solar power capacity after a start-up threatened its monopoly position in Georgia. Utility investors have not realized the massive threat from falling solar energy prices.
b) Australian utilities are also under huge pressure from the growing solar installations, with a Queensland utility being forced to downsize, as demand for power collapsed in its region. Stanwell Corporation was forced to let go of 100 employees, as rooftop solar power boomed in Queensland due to solar subsidies. It is estimated that 1 million homes in Australia have installed solar energy on their homes. The growth rate is not stopping despite reduction in subsidies as solar energy has reached grid parity in many places. Australian electricity distributors are now lobbying to get a utility fee imposed on solar powered homes in order to increase their revenues.
Solar installers like SolarCity (NASDAQ:SCTY) have developed innovative financing models to accelerate Solar power adoption
The high initial cost of a solar power installation has been one of the biggest barriers to adoption of solar panels by households. Big solar installers like Sunpower (NASDAQ:SPWR), SolarCity , SunRun etc. have started a solar leasing model to overcome this barrier. These companies have raised massive funds from financial institutions to start a solar leasing business. These companies also have a business model in which they sell electricity from rooftop solar panels to house owners for a low fixed price. In this model, house owners do not have to pay a single penny for installing these solar panels. Germany has managed to install solar panels on millions of homes through strong government support. USA can easily do the same when you consider the fact that solar panel prices are much lower now and U.S. gets much more solar insulation than Germany does. SolarCity has seen its stock price surge in recent days due to increased adoption of solar energy by commercial and residential customers.
Sell Side Utility Analysts are shortsighted and are not considering the big picture
The majority of sell side equity research on utilities focuses on individual companies and ignores the bigger picture. Analysts are too focused on the quarterly results and have failed to analyze how the industry will look in 5-10 years. This short sighted approach poses a huge risk to utility investors. Even Edison Electric Institute thinks the same as I do.
In reviewing recent sector research reports, the majority of security analysts continue to project future earnings levels based on assumed capital-investment levels and projected costs of capital (a bottoms-up approach). While analysts acknowledge that each rate case carries some degree of uncertainty, there appears to be limited focus in their analysis on service area quality, competitiveness of customer pricing, and the drivers for future service territory growth. No other significant industry is analyzed by Wall Street on a bottoms-up basis; the basis for analysis of non-utility industries is competitive position, sales prospects, and sales margins. In addition, the threat of disruptive forces is given no (or almost no) printed lines in utility sector research. This approach to investment analysis is based upon confidence in utilities' ability to earn a fair return on prudent investment. But, it may expose investors to the future economic risks posed by rapid growth in DER. What will happen as technological advancement in the utility sector provides customers with viable competitive alternatives?
Other Utility Risks
a) Fossil Fuel Dependency - Most of the larger utilities in the U.S. are heavily dependent on coal as their principal power source. This is a big problem as coal is the most polluting form of fossil fuel. It causes thousands of deaths each year, both due to pollution as well as coal mining. While Southern Company is taking steps to reduce the carbon footprint through clean coal technologies, AEP is not doing anything much on this front. Some of the large utilities are being forced to close some of their most polluting thermal power plants as it would be costly for them to upgrade these plants to meet stricter environmental norms. Though a global climate change treaty is unlikely to be passed by a weak global leadership, national and local government are becoming stricter on environmental regulation. While Natural Gas is considered a cleaner alternative to dirty coal energy, it still is a fossil fuel that is a big contributor to global warming. Besides, fracking causes different headaches in terms of water pollution.
b) Deregulation - The utilities have seen their stock prices appreciate as they get their money from regulated electricity markets with no competition. AEP gets almost 85% of its revenues from regulated utility operations. Some states like Ohio are starting to undertake major reforms which will be to deregulate the sector.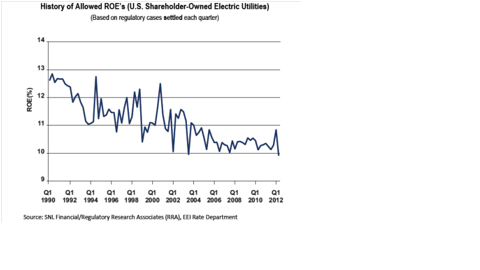 c) Slowing U.S. Electricity Growth - Electricity growth in the U.S. has slowed down considerably and many utilities are experiencing a decline in power demand. Energy efficiency has been improving, which is leading to a decrease in demand for power. Financial results for utilities have not been affected as they get a guaranteed return in the regulated markets. However, a secular decline in their main product is not great news for the sector.
Valuation is Expensive
I have been surprised at the high valuation that utility stocks are currently commanding, with forward P/Es in excess of 15x. These companies are not expected to grow much given that electricity demand remains anemic. I would expect to pay a forward P/E of 10-12x for an industry which is growing at 0-5% annually. However, the valuation multiples have expanded rapidly in the last few years as investors have poured money into the relative safety of dividend stocks. Even without the solar danger, utility stocks are overvalued in my view.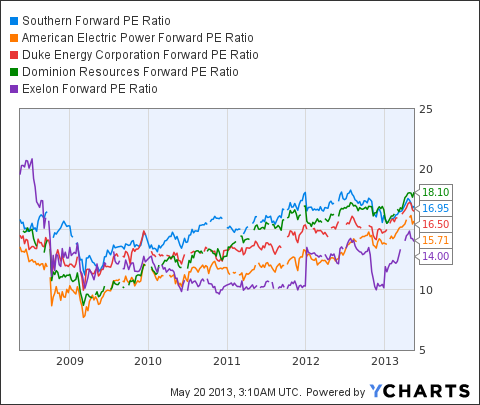 SO Forward PE Ratio data by YCharts
Summary
The trillions of dollars of central bank liquidity have led to an unwanted exuberance in the stock markets, which is not reflected by the global economic malaise. Most of the bears have gone into hibernation, as repeated bailouts and liquidity injections by governments / central banks have prevented the stock markets from falling over a cliff. Utility stocks have soared as investors have migrated to the relative safety of high dividend yielding utility stocks. Low natural gas prices have also helped many utilities by lowering their fuel costs. There is a real growing danger of distributed solar energy generation reducing the demand for utility power. Reforms in regulated electricity markets, climate change regulations and a decline in U.S. electricity demand are also big risks for the utility stocks. I would look to reduce my utility holdings in the face of these growing risks. Alternatively, investors should look at utilities with diversified revenue streams and a bigger, cleaner energy portfolio.
Disclosure: I have no positions in any stocks mentioned, and no plans to initiate any positions within the next 72 hours. I wrote this article myself, and it expresses my own opinions. I am not receiving compensation for it (other than from Seeking Alpha). I have no business relationship with any company whose stock is mentioned in this article.