Bandages, tape, lithium ion batteries, chemicals, paint. You name it, and 3M Company (NYSE:MMM) probably makes it. The diversified technology company was founded way back in 1902, and has been expanding its product line ever since. Inge G. Thulin is currently at the helm, looking to build the business as successfully as his predecessor, George Buckley.
The massive company most recently reported annual revenues of about $30 billion. This number has been climbing steadily for the past 10 years, as shown by the chart below.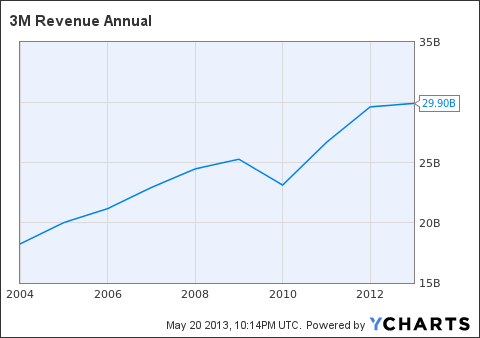 MMM Revenue Annual data by YCharts
Along with the massive revenues, 3M has been increasing its income and cash flows. Net cash from operating activities (according to the 10-Q filing for the quarter that ended on March 31) rose from $828 million in 2012 to $994 million this year. The profit margin is at 14.80%, return on assets is at 12.29%, and return on equity is at 25.70%. Net income attributable to 3M was at $1.61 per diluted share in the first quarter of 2013, compared to $1.59 in 2012. Organic local-currency sales increased in 4 of 3M's 5 business segments:
Health Care: 4.0%
Consumer: 3.7%
Industrial: 2.9%
Safety and Graphics: 2.3%
Electronics and Energy: -2.2%
Geographically, sales growth was most impressive in Latin America/Canada at 7.3%. And for the fourteenth consecutive quarter, sales in the U.S. increased (it was by 2.3% this time). In the 10-Q filing, management remarked, "3M currently expects that sales growth and related incremental income, in addition to other benefits, should more than offset the items that will negatively impact earnings." This company is clearly headed in the right direction, and management is leading with confidence.
This well known company can often be overlooked, as it isn't aiming to make any revolutionary changes. But this "boring" company has been chugging along and bringing in billions of dollars for years. At the most basic level, they are a massive supplier of all of life's daily necessities, which is reflected by their lengthy product line.
Having such an extensive amount of products, 3M has many companies that compete with it in some shape or form. This is one of the few problems the company faces. It has a number of strong rivals, the most dominant of which include Johnson & Johnson (NYSE:JNJ), United Technologies (NYSE:UTX), and General Electric (NYSE:GE). The revenues of all companies are as follows:
General Electric: $145.62 billion
Johnson & Johnson: $68.59 billion
United Technologies:$59.69 billion
3M: $30.05 billion
Although these massive companies clearly are much larger than 3M, this has never stopped 3M from being extremely profitable. Also, 3M has shown consistent growth despite these competitors. There are no indications that a competitive advantage for any of these companies will be extended to the point that 3M is hurt in a major way. 3M has operated for years with this competition, and it will continue to do so with success in the future.
Assuming that the company does not experience any tragedy, the greatest threat to its success would be a general economic recession. Although 3M makes many products that would still continue to be purchased, the company also has products that could experience a sales decline if disposable income fell first. 3M relies somewhat heavily on consumers having disposable income to purchase its products with, and so long as the global economy continues to slowly recover from the recession of 2008, investors should be optimistic about 3M's future.
Another risk that 3M faces is having the company's credit rating lowered, but it does not seem that this will happen anytime soon. 3M is currently maintaining an AA- rating from Standard and Poor's, and an Aa2 rating from Moody's. These ratings have lowered borrowing costs for the company and allowed them to access a number of capital markets. It is critical to the company's success that such ratings are maintained, and there are no indications that 3M will fail to do this.
For these reasons, 3M is undervalued at around $110 per share. The company is trading at 17.62 times earnings. It has a price/sales of 2.56 and a price/book of 4.25. This proven company also offers a reassuring dividend of $2.54 per share.
There may be a few minor risks, but these valuation multiples, along with the impressive fundamentals and future outlook, outweigh the challenges that the company faces.
Disclosure: I have no positions in any stocks mentioned, and no plans to initiate any positions within the next 72 hours. I wrote this article myself, and it expresses my own opinions. I am not receiving compensation for it (other than from Seeking Alpha). I have no business relationship with any company whose stock is mentioned in this article.