By now almost every investor has heard the name Seattle Genetics (NASDAQ:SGEN), a once small, still developmental biotechnology company with a well recognized oncology drug in Adcetris. Many analysts that cover the stock including the well-respected bio-blogger PropThink are concerned these investors are over-valuing the company in light of flat revenue projections for all of 2013.
Apologists, including Prohost Biotech, usually refer to the generous partnership agreements and evolving pipeline of wholly owned compounds to deflect criticism away. That strategy is becoming increasingly more difficult to justify in light of a $4.42bn market-cap that is 21.5x projected 2013 revenues. The question then becomes, are shareholders so in love with Seattle Genetics that they are blind to its bloated figure or are they privy to something the rest of us simply can't comprehend?
To answer this question effectively we would need to find out what's driving the bulls by looking beyond reflexive partisanship and sentimentality. Evaluating an entire pipeline of developmental stage drugs is pure folly. So I looked at the only approved and marketed drug Seattle Genetics has - Adcetris, and what I found surprised me greatly.
Seattle Genetics is executing a carefully conceived plan to conquer an entire oncology sector of healthcare. The ultimate goal is to make Adcetris the standalone therapy in all lines of Hodgkin lymphoma treatment.
Target Acquired: ADC Spawns the Weapon of Choice
It shouldn't surprise anyone that I'm using a military metaphor in seeking to articulate Seattle Genetics' strategy of participation in the war on cancer. Cancer is terrifying. It's a mortal enemy engaging us in a debilitating battle. There's no dreaming it away. To survive, one must endure with courage, draw close to loved ones and fight as part of a greater team.
Science is part of that team and in 1982 a new monoclonal antibody was discovered specific to Hodgkin lymphoma. This transmembrane glycoprotein was given the designation CD-30. It expresses itself predominantly within diseased cells of the lymphatic system and rarely on healthy tissues. Consequently, it became an attractive target of Seattle Genetics' ADC [antibody-drug conjugate] technology.
Over a decade ago, Seattle Genetics crafted ADC which employs monoclonal antibodies much like the infrared homing devices on heat seeking missiles to specifically target tumor related antigens while minimizing peripheral damage to healthy cells.
In traditional chemotherapy, the sky of the human blood stream is lit up with toxins that effectively destroy cancer cells but pollute the body's ecosystem in terrible ways. ADC revolutionizes cancer care by being at once a more effective targeting device and thereby a less damaging one as well.
Adcetris: The Franchise
I don't know when President and CEO Clay Siegall PhD, the $5m man of Seattle Genetics, first started calling Adcetris "the franchise" but I could hear the implication contained within the declaration clearly enough.
Developing Brentuximab Vedotin, code named SGN-35, ahead of all other compounds in the ADC pipeline was no accident. Its most promising indication for therapeutic use was in an area of oncology that hadn't had a new drug approved in over 30 years. Even though these existing therapies worked well enough, placing SGN-35 behind the battle lines of Hodgkin lymphoma would be significantly easier than going head-to-head against troops of more advanced medications in more common theaters of cancer therapy.
Once approved in late 2011, SGN-35 was given the commercial name Adcetris, but its destiny had already been conceived and completely fleshed out. Perhaps this is why Dr. Siegall unabashedly referred to Adcetris as a "billion dollar drug" and then as recently as November of 2012 a "multi-billion dollar drug."
Adcetris, "the franchise" is part of an overall strategy to dominate the entire landscape of Hodgkin Lymphoma treatment. What I'm going to do is reveal to you exactly how that plan has been conceived and how it will be executed going forward.
Additionally, I promise to spur your interest in a strategic discovery I made that, if true, will make Adcetris a legend of sorts in the history of the drug development process.
The Hodgkin Lymphoma War Maps
According to the National Cancer Institute, there will be 9,290 new cases of Hodgkin lymphoma in 2013. How they arrived at such a specific number, I don't know, but it coincides beautifully with Adcetris revenues for 2012 based upon the computations contained within the map below entitled; Hodgkin Lymphoma: Present Day Treatment Grid.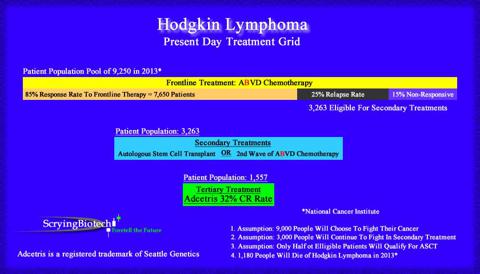 This map stratifies the current patient population into linear therapeutic groups. You will note the small segment of this population that presents itself to Adcetris for therapy. This is because Adcetris has been approved for refractory HL only, meaning only those patients who are resistant to both the front-line and secondary treatments of chemotherapy, radiation and stem cell transplant.
You should also appreciate that these therapies are extremely caustic and that patients do give up on them choosing to focus on living out their lives in less pain rather than fighting in futility. Therefore, just because a pool of patients is present doesn't necessarily mean that they will opt for Adcetris use.
Laying the Groundwork: Adcetris Revenues For 2012 and 2013
Projected Adcetris revenues for 2013 will be between $130m and $140m flat year over year from 2012. To understand how many patients will be treated with the drug we first need to ascertain how much it costs. According to Alina Selyukh of the Reuters' Washington desk, we know that Adcetris patients on average complete 8 cycles of therapy. We know that a vial of Adcetris costs about $4,500 and that 3 vials are used per cycle for a total therapy cost of about $108,000.
Given the higher number of $140m we can surmise that there will be approximately 1,300 patients treated in 2013. Of that total, I'm estimating about three-fourths or 975 patients will come from the HL group as the other approved use in Systemic Anaplastic Large Cell Lymphoma [sALCL] comprises about one-fourth the population size. This figure jibes nicely with a 50-70% market penetration number that Seattle Genetics often refers to when referencing Adcetris sales.
The Aethera Post Transplant Trial is Next and Fraught with Peril
Now please take a look at the second map entitled; Hodgkin Lymphoma: Aethera Post Transplant. This phase III trial has completed enrollment and will report data in the first half of 2014. It's important because Autologous Stem Cell Transplant uses a patient's own healthy cells in draw out and re-infuse operations that are so recovery intensive that traditional ABVD chemotherapy isn't used in conjunction with it. Adcetris, on the other hand, has less deleterious effects on the body and could therefore offer patients another chance to actively support their transplant without relying on "watchful waiting" alone.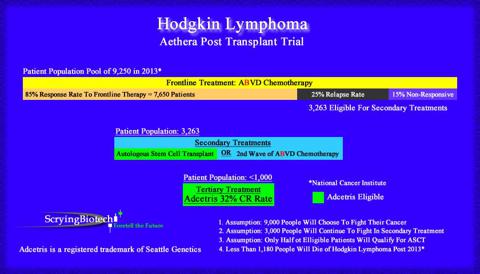 Opening this segment of the secondary treatment population to Adcetris use would potentially add another 1,500 prescriptions or between $113m and $162m of annual revenue.
Regardless, I wish Seattle Genetics had postponed this particular Hodgkin Lymphoma trial until after all other HL trials had been completed. There is substantial risk here because though Adcetris side-effects are less pronounced than standard chemotherapy, they are nonetheless present. Patients who are already compromised physically by having failed one round of ABVD therapy and are now weakened by the transplant process might respond poorly to Adcetris therapy and choose to discontinue it or worse not respond as expected.
The effect on Seattle Genetics stock of such a failure would be significantly negative. Though I believe the FDA would continue the other phase III HL trials unabated, the hit on confidence in the drug would be profound. In such a circumstance, the stock could lose much of the 54% it has gained YTD.
What's interesting about Aethera from Seattle Genetics perspective is being able to see how patients will respond to Adcetris before having already failed two lines of treatment. While Aethera success would open access to the drug and build revenue, Seattle Genetics ultimate success hinges on a much bigger event and much larger population - front-line treatment in Echelon-1.
Echelon-1: Prequel to the Final Act
Now, please take a look at the map entitled; Hodgkin Lymphoma: Echelon-1. This phase III trial is presently under a SPA agreement with the FDA and is enrolling 1,140 patients. To say that this trial is important to Seattle Genetics shareholders is to miss the mark entirely. Echelon-1 will make or break Seattle Genetics. It's the single most important reason the stock is trading at 22.5 times earnings in 2013.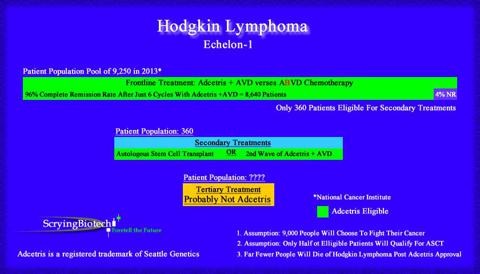 Echelon-1 will be the second opportunity Seattle Genetics has had to treat patients before having been exposed to traditional chemotherapy. Oddly, it will be a hybrid therapy where Adcetris will replace Bleomycin in the chemotherapy cocktail. This trial will be decisive in determining if in the future, Adcetris will be used in front-line HL therapy.
The phase I trial results were impressive to say the least. Traditional front-line chemotherapy is composed of Adriamycin [doxorubicin]; Bleomycin; Vinblastine; and Dacarbazine - known commonly as ABVD. ABVD has a response rate of 80-90%, a complete remission rate of 70-80% and a relapse rate of 20-30%.
In phase 1, Adcetris was used in place of Bleomycin and the results were stunning. The complete remission rate of Adcetris + AVD was 96%. Of perhaps even greater significance, the rate of pulmonary toxicity fell from 10-25% using Bleomycin to nil [0%] using Adcetris + AVD. Pulmonary toxicity is no small matter being related to adverse events such as heart attack, stroke and the manifestation of process related cancers.
If Adcetris were to replace Bleomycin in front-line Hodgkin lymphoma therapy, annual revenues would climb to near $1b in HL alone. That would reduce the market-cap over annual revenue quotient to a reasonable-by-any-standard 5-1 ratio.
Beyond the Veil: The Top Secret Part of Seattle Genetics Strategy
All of these matters are well known to Seattle Genetics researchers and now to you. But I promised you something more and I'm going to deliver on that promise.
You see, there is a seemingly less significant phase II trial in play that few if any are thinking much about. It's simply called; Front-line HL Patients Age 60+. It's being treated as an afterthought by management and has gone relatively unnoticed by those analysts covering the company at professional conference calls.
I bring it to your attention now because I believe it's the Trojan horse being wheeled up to the walls of the Hodgkin lymphoma treatment space. This will be the first trial that Adcetris will be used as a standalone therapy in the front-line setting.
It's been justified because elderly patients often don't have the constitutions to endure chemotherapy and don't qualify for ASCT. And so, Adcetris with its lower side-effect and pulmonary toxicity profile is being given the chance to act in lieu of these more harmful alternatives.
That said, there is a huge unspoken benefit attached to this trial outcome. If Adcetris used alone in front-line therapy proves to be more efficacious than Adcetris + AVD, I believe Seattle Genetics will request and be given yet another phase III SPA agreement to test Adcetris as a standalone therapy in front-line Hodgkin Lymphoma.
If successful this will be the ultimate Coup d'etat, an unbelievable end-around maneuver that will place Adcetris in the position of being the standard of care in front-line Hodgkin lymphoma treatment. All this after having been relegated to the back-line of therapy from the jump.
And what would this mean to Adcetris revenues? Adcetris used in conjunction with AVD would be a 6 cycle therapy totaling $81,000 per patient or $729m in aggregate revenue.
Adcetris alone would be a 16 cycle therapy totaling $216,000 per patient or $1.944b in annual revenue. I think we just found the "wow factor" in the biotechnology sector of healthcare.
Recognize that success on the front-line will dramatically reduce secondary and tertiary treatment regimens and attending Adcetris revenues. And of course, if everything goes swimmingly as I have suggested, Adcetris will still face ongoing competition from new products on the horizon.
Regardless, the bar for success will be set so high by Seattle Genetics that few will find their way to the starting line and fewer still to success at the finish line.
Running the table on all of the above phase trials in Hodgkin lymphoma will propel Seattle Genetics to unheard of highs while revenues likely will remain somewhat flat well into 2014. The end result will be more questions, an increasing disparity between income and market-cap and more good faith investing.
Buyer be well.
Disclosure: I have no positions in any stocks mentioned, and no plans to initiate any positions within the next 72 hours. I wrote this article myself, and it expresses my own opinions. I am not receiving compensation for it (other than from Seeking Alpha). I have no business relationship with any company whose stock is mentioned in this article.
Additional disclosure: The purpose of my article is to provide information the accuracy of which is as good as the public sources it was derived from. If providing my opinions on matters related to any investment has entertained you then I have accomplished my only goal. Do not act on anything I have written. Rather, do your own due diligence and consult an investment professional before making any investment decision. Acting on what any one writer, including me has imparted to you is foolish at best. I have no better access to resources or gift of opinion formulation than you do. Do not act on anything I have written without doing your own research. There are a myriad of things which can happen in lieu of any forward looking statement I have made. Any stock featured in an article I compose is subject to all manner of influences which can change its value in dramatic fashion upwards or downwards. Invest at your own risk and attain the reward your efforts have wrought.