Last Thursday, May 16th, Louisville-based solar installer Real Goods Solar (RSOL) closed at $1.75/ share. Two short trading days later, Real Goods closed Monday at a whopping $6.08/ share.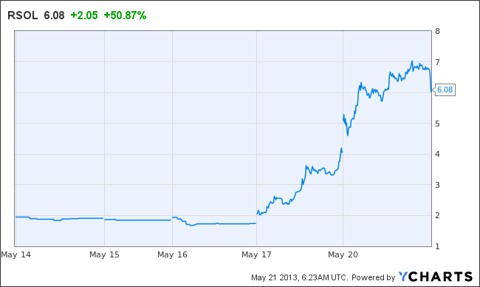 RSOL data by YCharts
Point blank: I do not know why this rally happened.
What I do know is that the Real Goods rally has created a tremendous amount of hidden value at parent company Gaiam, Inc. (NASDAQ:GAIA).
Gaiam spun off Real Goods in late 2008 and still owned 10,062,111 RSOL shares as of April 23rd. This represents approximately 38% of the outstanding shares of Real Goods. Gaiam has rallied modestly alongside Real Goods, but it still appears significantly undervalued relative to the current value of Gaiam's Real Goods holdings.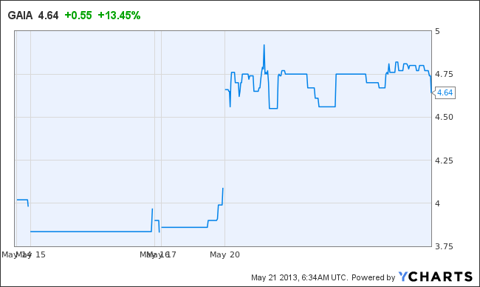 GAIA data by YCharts
Some Quick Math...
Last Wednesday, with RSOL trading at $1.75, Gaiam's stake was worth $17.6 million. Now, with RSOL trading at $6.08, Gaiam's stake is worth $61.2 million. This gives Gaiam a total gain of $43.6 million. Over the same time frame, Gaiam's stock price has gone from $3.83/ share to $4.64/ share. Gaiam's market capitalization has gone from $87 million to $106 million. A gain of only $19 million.
If we assume that Gaiam's stock price, before the rally, could be broken down as $0.78 per share ($17.6 million) attributable to RSOL and $3.05 per share attributable to the rest of the company, then Gaiam's share price would fully reflect the current (as of 5/20 close) RSOL price at $5.75/ share, 24% higher than the closing price.
It's Not Arbitrage, But It's Getting Close
The above calculation makes the assumption that the value of Gaiam's own business is constant. It is not. For this reason, it is perfectly reasonable to expect some degree of divergence between gains/losses in RSOL and theoretical gains/losses in GAIA.
But the value of the rest of the business is quickly becoming moot. Gaiam's enterprise value is only $94.2 million, and Gaiam's RSOL stake now represents 65% of that total. It is now reasonable to expect GAIA and RSOL to trade in tandem, and if RSOL rallies higher, it is reasonable to expect RSOL price fluctuations to effectively become the sole determinant of Gaiam's price.
Look Before You Leap!
The ideal play right now would be to purchase GAIA shares and hedge that position by shorting RSOL with one third as much money, as each GAIA share at $4.64 can be thought of as $3.05 (~66%) worth of GAIA exposure and $1.59 (~33%) worth of RSOL exposure.
But there are a couple of problems with that ideal. One, it may be difficult to acquire shares of RSOL to short. Two, prices of both equities will have changed by the time anyone reads this article. So a more realistic position would be to simply purchase shares of GAIA, after first checking the trading price of RSOL to ensure that GAIA is still trading at a relative discount.
GAIA Is High Reward, Moderate Risk Swing Trade
It is important to reiterate that at the time of this writing, there still has been no real news to justify RSOL's rally.
Here on Seeking Alpha, Andy Zelenak wrote a good and very timely piece on the company on Friday. I would add to Andy's piece that Real Goods signed a $20 million deal with the Stockton California school district in April. But there was no big, recent news that would explain why the stock more than doubled.
For that reason, I consider purchasing RSOL itself to be extremely risky at this time. The rally could be based on nothing more than unsubstantiated rumors that will soon be debunked. In fact, I had previously held RSOL and sold my entire stake on Monday.
But there is also potential for Real Goods to rally much higher. The entire solar power industry appears headed for a turnaround, and the rally could just as easily be based on rumors that will soon be confirmed.
If the RSOL rally turns out to be a head fake, then GAIA will probably fall back 20% to around $3.80 per share. It is possible that GAIA could fall to $3 if RSOL really turns out ugly. But if the rally continues, then GAIA should not only match RSOL's advance, but in fact exceed it by 20-24% just to catch up.
It should not take long for the market to figure out what is going on with RSOL and find an equilibrium with GAIA. This trade should play out for better or worse within two weeks.
In my humble opinion, that makes GAIA look pretty tempting.
Disclosure: I have no positions in any stocks mentioned, but may initiate a long position in GAIA over the next 72 hours. I wrote this article myself, and it expresses my own opinions. I am not receiving compensation for it (other than from Seeking Alpha). I have no business relationship with any company whose stock is mentioned in this article.