The stock market has enjoyed a significant rally in the past few months and that is building on already above-average gains of roughly 15% for the S&P 500 Index for 2012. There is no doubt that the actions by the Federal Reserve have been highly supportive of this market rally and that is worrisome. The rate of climb for the stock market and housing prices appears unsustainable. Furthermore, many believe the government-induced housing and market rally is artificial manipulation based on financial engineering. This is one reason why so many investors do not trust or respect this rally. It is clear that government programs and policies are distorting market prices in many asset classes. While this might be welcomed by many investors and homeowners who are benefiting from it now, the problem is that it has the potential to create another bubble and another financial crisis.
Real growth that is organic and not based on artificially low interest rates, low down payment loans, money printing, and debt-fueled government spending would be healthy, but that is not what we have today. When the Federal Reserve tapers or ends certain programs, it could have a significantly negative impact on the markets and the economy, especially if it is not done in a way that keeps the markets calm. Bernanke is expected to speak on Wednesday, May 23rd and that could provide more insights on this matter. Regardless of the different opinions on this subject, there are major signs of froth in the financial and real estate markets which could be signs of at least a short-term top or a possible looming correction. In addition, with the signs of rampant froth in a number of areas, the Federal Reserve could be forced to tighten sooner and more firmly than the market expects. Let's take a look at the chart of the S&P 500 Index (NYSEARCA:SPY), which shows how extended this market rally is, as well as a number of reasons why this and other markets are showing signs of excess: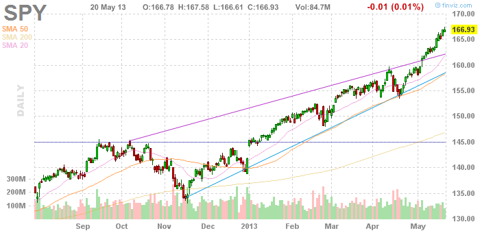 Click to enlarge
(Click to enlarge)
Reason #1: The housing bubble is back: I personally have knowledge of or involvement in recent real estate deals all of which include seemingly reckless overbidding, buyers making offers on properties they have never seen, and major profits being made on remodeled homes. These are the same conditions that were present during the last bubble which created a major financial crisis. This reckless behavior is being fueled by artificially low interest rates, government-backed low down payment loans, as well as a government tax policy that sponsors mortgage interest deduction and tax-free profits after selling a property. A recent article points out that prices have been rising at levels which are not healthy or sustainable. It says that "U.S. home prices are now increasing at the same rate as they did during the 2003, 2004 and 2005 bubble years, Trulia data show," and goes on to state:
"Steep home price gains in certain U.S. markets, including Brooklyn, have some economists worried that the increases are unsustainable for a healthy housing market, forecasting another real estate bubble, Bloomberg News reported.
"If prices keep going up at this rate for another six months, we will have a bubble, and people will get hurt," Dean Baker, the co-director of the Center for Economic and Policy Research in Washington, told Bloomberg.
In Brooklyn, for example, a recent open house for a Crown Heights brownstone listed for nearly $1 million brought in 300 visitors and 50 offers, Bloomberg said."
If that's not enough to convince you of the froth, just look at the parabolic rise in certain mortgage insurance stocks like Radian (NYSE:RDN). In less than a year, this stock has gone from about $2 to a recent $14, a whopping gain of roughly 700%!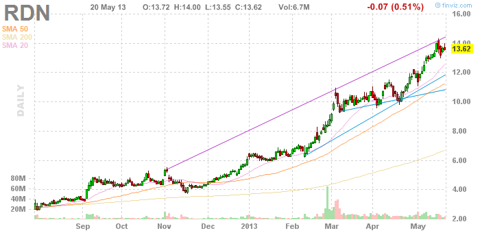 Click to enlarge
(Click to enlarge)
Reason #2: Multiple signs of froth and rampant speculation in the stock market. There have been a number of recent IPO's in which already richly-priced stocks jump on the IPO day. Other stocks like Tesla (NASDAQ:TSLA) have also shown signs of speculation as it has also gone parabolic. A recent article states that Tesla has become a "darling of day traders". This stock has nearly tripled in just a few weeks which could be a sign of speculation and so could the fact that "day traders" are back in full-force. With seemingly cult-like status amongst some investors, Tesla seems to be starting to trade like Apple (NASDAQ:AAPL) did just before it peaked out at over $700. Just take a look at the rise in Tesla: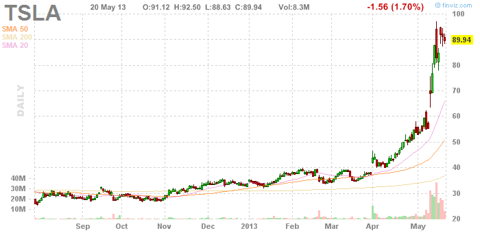 Click to enlarge
(Click to enlarge)
Reason #3: The return of day traders is coinciding with another troubling indicator of speculation and froth-margin debt. This increase in borrowed money to buy stocks explains why stocks have been surging, but in a market correction this debt can exacerbate the decline as well. A recent USA Today article points out that stock market margin debt is now near record levels that were hit just before the last crash; it states:
"Emboldened by soaring stock prices and record-low borrowing costs, stock investors are taking out loans against their portfolios at the fastest pace since before the Great Recession hit.

So-called margin debt hit $379.5 billion in March, the highest level since July 2007 when such debt hit an all-time record of $381.4 billion, according to the most recent data available compiled by the New York Stock Exchange."
Reason #4: Heads you win, tails you win. In recent months, the stock market has gone up when economic news is good and it has gone up when the news is bad (due to hopes that the Federal Reserve will increase or extend the duration of its current QE policies). This seemingly never-ending support by the Federal Reserve has to end sometime, especially as it is obviously fueling rampant speculation that is distorting market prices in both real estate and other financial assets. In the meanwhile, stocks that should be leading the markets higher in a genuine and organic economic recovery are lagging.
Just look at General Electric (NYSE:GE) or Caterpillar (NYSE:CAT), both of which are underperforming the S&P 500 Index as of late. Both of these companies recently reported earnings which failed to inspire many investors and the Caterpillar chart even has a bearish "head and shoulders" formation that could indicate further declines. When major industrial companies are showing signs that the global economy is not that great, while at the same time the Federal Reserve's policies are fueling stock market and housing speculation, it could be a sign that Fed policies are starting to do more damage than good. Bernanke surely sees signs of increased speculation and he could be forced change course because his mandate is not to create reckless speculation, froth or another financial bubble. Compared to the markets, or stocks like Tesla and Radian, General Electric and Caterpillar are relatively weak, and that is a sign that underlying organic growth in the economy is also weak: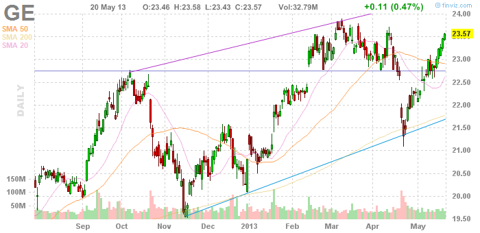 Click to enlarge
(Click to enlarge)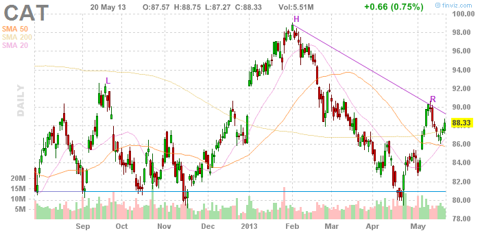 Click to enlarge
(Click to enlarge)
Reason #5: The market is extremely overbought now and many stocks and market indexes are trading at very extended levels. The Federal Reserve can see this and allowing this kind of froth to continue, could be viewed as irresponsible by some and even Bernanke. Lately, the QE policies seem to be doing more to create wild speculation rather than real organic growth in the economy and that is why the Federal Reserve needs to taper these programs soon. As pointed out by "The Fat Pitch" this market run is unprecedented, it states:
"In less than a month, SPX has run up more than 8%, nearly equal to an average full year of gains. In the process, over the past two months, SPX has dodged a stunning number of obstacles: a break down in ex-US markets, lagging domestic growth stocks, weakness in breadth, deteriorating macro worldwide, strong outperformance by treasuries, sentiment in which fund managers had a near record exposure to equities, and revenue and earnings downward revisions.

SPX has now gained an uncorrected 24% since its November low. This is the longest comparable streak in more than 30 years. SPX is up 17% for 2013, over 50% more than its average annual gain. Nasdaq is on pace for a 7th consecutive month higher, an occurrence with just a 3 in 100 probability. "
Reason #6: If this isn't a sign of froth, then what is??? A recent art auction yielded nearly $500 million, and one of the most notable artworks that sold for $1.9 million was a topless painting of Bea Arthur. This was a work done by John Currin in 1991, so it is not even that old. Bea Arthur was great in the Golden Girls and many other roles, but nearly $2 million is downright ridiculous, and to me, just another sign that there is too much loose change floating around in financial hubs like New York City, thanks to the Federal Reserve. Loose monetary policies create bubbles which can and often eventually burst. This is just one of many growing signs that Fed policies are beginning to do more harm than good, and that is why Bernanke may be forced to taper sooner than expected.
Just because the markets are showing multiple signs of excess speculation doesn't mean it makes sense to sell everything and hide in cash. However, it does mean that it probably makes sense to take some chips off the table and review your portfolio. It also makes sense to have some cash ready for the next correction along with a list of stocks that are worth buying at lower prices. Investors who stay fully invested might be wishing they did not stay so long at this party when the next correction occurs. That's why I am being cautious, raising cash, preparing a list of stocks to buy and continuing to focus on short-term trading opportunities and stocks that are still cheap, rather than staying fully invested with a buy and hold strategy. With multiple signs of froth and excess speculation going on, it seems that a responsible Federal Reserve would have to take action sooner rather than later in curbing this behavior and that could spark the next market correction.
Data is sourced from Yahoo Finance. No guarantees or representations are made. Hawkinvest is not a registered investment advisor and does not provide specific investment advice. The information is for informational purposes only. You should always consult a financial advisor.
Disclosure: I am long AAPL. I wrote this article myself, and it expresses my own opinions. I am not receiving compensation for it (other than from Seeking Alpha). I have no business relationship with any company whose stock is mentioned in this article.