Well we have next Tuesday to look forward to and see whether we can make it 20 straight Tuesdays in a row with gains. It is a very impressive streak to say the least and defies almost all logic, especially when one considers all of the random variables associated with the market and that have as yet gone against the streak. With that said the entire market has been Chinese water torture for the bears with the steady gains, as the chart of the day indicates, and the more momentum we gain the more we see capital come off the sidelines and into equities. This is what we have been talking about for well over a year now.
Chart of the Day:
With the Dow Jones Industrial Average up the past nineteen Tuesdays, the market has shown a lot of strength on that day. So much so in fact that we wanted to point out that nearly 80% of the Dow's gains have come on Tuesdays since January 15th, the date the streak began.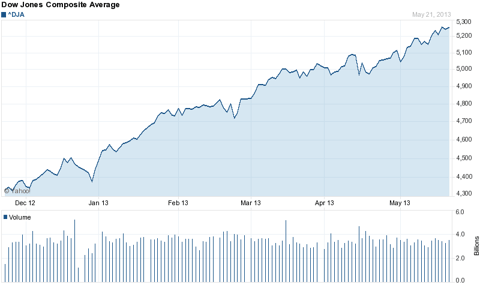 Click to enlarge
Chart courtesy of Yahoo Finance.
We have economic news due out today, and it is as follows:
MBA Mortgage Index (7:00 a.m. ET): N/A
Existing Home Sales (10:00 a.m. ET): 4.98 Million
Bernanke Testimony (10:00 a.m. ET): N/A
Crude Inventories (10:30 a.m. ET): N/A
FOMC Minutes (2:00 p.m. ET): N/A
Asian markets finished higher today:
All Ordinaries -- down 0.27%
Shanghai Composite -- down 0.12%
Nikkei 225 -- up 1.60%
NZSE 50 -- up 0.42%
Seoul Composite -- up 0.64%
In Europe, markets are lower this morning:
CAC 40 -- down 0.46%
DAX -- down 0.20%
FTSE 100 -- down 0.18%
OSE -- down 0.18%
Entertainment
With rumors swirling yesterday that Sony (NYSE:SNE) was in fact going to take a look at the merits of a potential spin-off of its entertainment division shares zoomed higher yet again. After trading 22.4 million shares, the company's stock finished the day at $22.91/share up $1.94 (9.25%). It is far too early to declare victory for Dan Loeb at this time, but he has made it further than many who make runs at Japanese companies and that is saying a lot. Shares have risen sharply lately and one has to wonder how much more upside is available should this even pass. For those who got lucky and found themselves involved before Loeb, we would book the profits and move elsewhere because nothing is guaranteed at this point...except the profits should you take them.
This three month chart pretty much tells the story.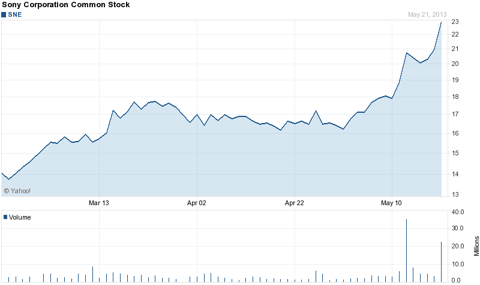 Click to enlarge
Chart courtesy of Yahoo Finance.
It appears that the rough Spring finally caught up with Carnival Corporation (NYSE:CCL), much as we predicted at the time that the issues with their cruises were in the headlines. The stock was very resilient then, however now it is under pressure as it is becoming apparent that the company is under pressure and that those events did have an effect on the business. Shares finished yesterday lower by $1.51 (4.28%) to close at $33.81/share on volume of 22.5 million shares which is well above the daily three month average. We would continue to stay away until it is apparent that the company has seen business pick back up and also confirm that they are not having to increase their maintenance expenses to keep the fleet running. If margins come down the stock will have to stay down as well.
Telecommunications
Following up on a story we had been totally wrong about, it appears that Sprint (NYSE:S) is making a serious go at Clearwire (CLWR) now. Shares in Clearwire rose by $0.14 (4.29%) to close at $3.40/share on volume of 58.5 million shares after it was announced that the annual shareholders' meeting had been pushed back and that shareholders would be able to vote on the new bid from Sprint (see Reuters story here). The new bid is $3.40/share for all the shares that Sprint does not already own and Clearwire's special committee is reviewing the offer and will put it up for vote on May 30th.
It has been a rollercoaster for Clearwire shareholders, and some say $3.40/share is not enough but we do think that it is enough to get the deal done.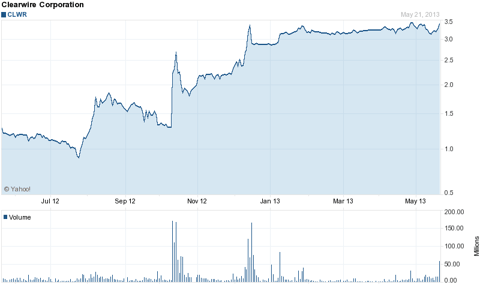 Click to enlarge
Yahoo Finance.
Pharmaceuticals
Shares in Merck (NYSE:MRK) saw interest yesterday with volume coming in just above 47 million shares and investors pushing shares higher by $2.12 (4.69%) to close at $47.33/share. The news which moved the stock was that the company agreed to purchase $5 billion worth of the company's stock from Goldman Sachs (NYSE:GS) as part of the $15 billion stock buyback program announced recently. Investors cheered the deal hoping that this will result in an efficient use of capital as shares have been beaten down lately on generic competition and poor earnings. Buybacks and dividends have been what are powering stocks higher in this market and yesterday's price action in Merck only reinforced that.
Retail
The earnings at Best Buy (NYSE:BBY) left the market a bit disappointed to say the least. Yes they did beat the analysts' numbers when figures were adjusted, however with the shares priced to perfection after a large run-up they needed to do more. We are still intrigued with their price matching policy with online competitors and wondering how much their business can be affected should online retailers have to collect sales taxes but are not buyers at this time. It is hard to see where the growth comes from as they have essentially slayed all of their competitors already and those still around (read H.H. Gregg) are showing pretty discouraging results.
Disclosure: I have no positions in any stocks mentioned, and no plans to initiate any positions within the next 72 hours. I wrote this article myself, and it expresses my own opinions. I am not receiving compensation for it (other than from Seeking Alpha). I have no business relationship with any company whose stock is mentioned in this article.