Four Bagger? Am I Nuts?
No, I am not. Here's why a four-bagger is definitely possible. Celsion (NASDAQ:CLSN) traded at $8 before the Phase III results were announced. After diluting by 50%, if it were to trade the same market cap on the hopes of ThermoDox possibly being approved again, we'd easily be back over $3 heading to $4. If the data continues to come out in favor of ThermoDox, as it has, we could reach these levels simply on the fact that another trial is taking place, with results (that would hopefully be positive) possibly not even being a factor.
Also, directors are buying again. Director Albert Martinez just bought another 10,000 shares this week, following his buys that I pointed out last week. As I pointed out in my last article:
One other new sign this week that I really enjoyed seeing was two open market buys by Board member Alberto Martinez, each for an additional 5,000 shares, purchased at .92 and .96. Nothing says confidence more than open market buys from people that you know are privy to what's going on behind the scenes; it's like a nice warm security blanket when you and insiders are buying around the same price.
The technicals for the short term are lining up and we just crossed our 50DMA. Here is the recent uptrend the stock has been in over the last month, up almost 35% from its lows in the low .70's. Sure, the data so far has seemed to point in that direction, but Celsion longs got another little ray of hope last week.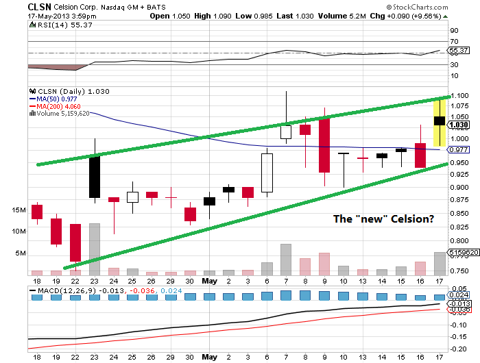 The technicals have snapped back to reality after the crash, and the stock is looking strong with serious support at .95
I've been covering Celsion since the beginning of January 2013, when it was anticipating its Phase III results for ThermoDox with RFA (radio frequency ablation). ThermoDox is a unique liposomal delivery method of getting doxorubicin to the site of cancer tumors being treated. Preliminary trials looked great and the idea behind ThermoDox was one that made sense: delivering a concentration of an often-used cancer drug to the site of the tumor by its liposomal transport system, and using heat to activate it en masse.
What's New
On May 17th, Celsion announced its HEAT study findings that were reviewed at the 9th Annual World Conference on Interventional Oncology. The company announced even more confirmation that there really does appear to be a case for ThermoDox, and that tweaking variables on how the drug is delivered could be tied directly to the success of the drug. The PR stated:
The new post-hoc findings suggest that optimized heating cycles markedly improve radiofrequency ablation (RFA) plus ThermoDox's potential for clinically relevant improved progression free survival (PFS) and Overall Survival (OS) outcomes. Professors Poon and Lencioni both concluded that the findings warrant further investigation and development of ThermoDox as a first line treatment for HCC when combined with RFA. The slide presentations are available on the Events and Presentations page on the Celsion website.
Its goes on to note that it may not even have to do with lesion size, as previously guessed:
The data from the HEAT Study post-hoc analysis presented by Professors Lencioni and Poon demonstrate that ThermoDox markedly improves PFS and OS in patients with a single lesion if their lesions undergo RFA for 45 minutes or more. These findings apply to HCC lesion regardless of size and represent a subgroup of approximately 300 patients or 42% of the patients in the HEAT Study. The post-hoc analysis completed by the Company to-date indicates that there may be a large patient cohort that benefited from RFA plus ThermoDox regardless of lesion size.
It's been three straight weeks of all good news to add to the already bullish sentiments I had regarding Celsion when it was trading under a dollar post-crash. Celsion has money in the bank and gas in the tank. I'm holding long and keeping my eyes peeled in 2013 for:
more ThermoDox findings
another ThermoDox trial with different parameters, focused around the success the company found from the post-hoc "data mining"
continued cost cutting
any of the ten potential acquisitions Celsion alluded to in its earnings call.
How 2013 Has Fared for Celsion
Ignoring the massive implosions the stock took first thing in 2013, let's just focus on the post-Phase III Celsion; a company that is setting itself up to be able to survive with or without ThermoDox. Up to now, Celsion's entire pipeline had been based around ThermoDox. Its last conference call is the first time I heard company executives alluding to acquiring a couple of other "legs to stand on", just in case.
The first thing that happened after the stock imploded in January of 2013 (from $8 to $1) was that the company took a bit of radio silence, claiming it had effectively no idea why ThermoDox didn't reach its primary Phase III endpoint, and saying it was going to have to restructure the company and get it back on its feet.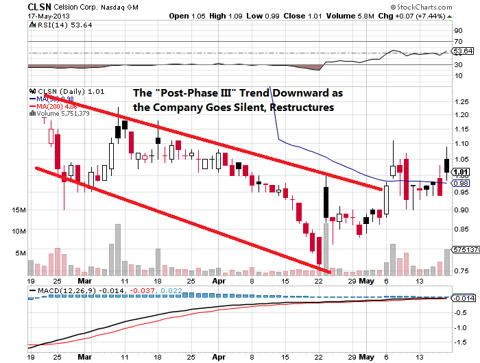 Somewhere around the middle to end of April, the company started to shift gears a bit. After closing a post-crash financing that diluted the company by 50%, Celsion went into the meat of 2013 with a strong balance sheet and a promise to cut spending and shift corporate strategy. Then, about a month ago, shareholders were privy to a bit of treat (or as Adam Feuerstein would call it, "a shameless spin job") from the company: a press release claiming that post-hoc data on ThermoDox's Phase III studies were showing subgroups that had "marked improvement."
Celsion's press release alluded to the fact that it appears to be on the cusp of potentially discovering new and useful data from their Phase III studies:
Celsion has conducted a comprehensive analysis of the data from the Phase III HEAT Study of ThermoDox® in hepatocellular carcinoma (HCC) with key principal investigators, data experts and liver cancer experts including Professors Lencioni and Poon. This analysis followed the announcement on January 31, 2013, that ThermoDox® in combination with RFA did not meet the Study's primary endpoint. Emerging data from the HEAT Study post hoc analysis demonstrates that ThermoDox® markedly improves progression free survival and overall survival (OS) in patients if their lesions undergo RFA for 45 minutes or more. These findings apply to HCC lesions from both size cohorts of the HEAT Study (3-5 cm and 5-7 cm) and represent a sizable subgroup of patients.
I quickly penned an article about it:
On April 23rd, after all was thought to be lost, Celsion reported that after a thorough review of their HEAT study, there was clear evidence that ThermoDox can benefit patients when RFA is optimized. CEO Michael Tardugno commented:

Michael Tardugno, Celsion's Chief Executive Officer, added, "Based on the strength of these findings, the Company will request a meeting with regulatory authorities for guidance on moving forward with our HCC development program. We plan to disclose the details of the HEAT Study data at upcoming medical meetings and in a peer-reviewed publication. We will provide updates on these activities when appropriate."

After this, they also went on to speak about their corporate restructuring and strategic moves dealing with acquisitions they're making to make sure their cash is preserved for the near future. It was the strongest statement the company has made since Phase III trials for ThermoDox came back and disappointed.
After that, Celsion announced on its Q1 earnings call that the plan was going to be to try and revisit ThermoDox under these certain parameters for FDA approval again. On the call, Celsion executives said the company would be doing some animal testing over the summer and hopes to have ThermoDox resubmitted for trials again, with an addendum to its previous trial, by the end of 2013.
Celsion also noted on its conference call that it had significantly cut costs and was working with Cantor Fitzgerald on potential mergers and acquisitions; a step that the company said could bring profitability and give it another leg (aside from ThermoDox) to stand on.
Conclusion
I currently own Celsion at a cost basis of just under a buck, and I also own some long term $1 calls. I have bids in at .95 right now and will be buying more on the next pullback under $1. I am staying long on Celsion until what I feel is going to be an inevitable pop back over $1.50, at least. For all investors, I wish you the best of luck.
Disclosure: I am long CLSN. I wrote this article myself, and it expresses my own opinions. I am not receiving compensation for it (other than from Seeking Alpha). I have no business relationship with any company whose stock is mentioned in this article.