On Friday, March 11, 2011, Japan experienced an earthquake and a tsunami that killed many people and destroyed nuclear power plants owned by the Tokyo Electric Power Company (OTCPK:TKECF). As a result the share price fell drastically by 79% in 20 days, and it became a contrarian play. Comparable situations are few and investors remain cautious. In this article, we are going to look into the upside/downside risk, the change required for success, and the length of time this will take.
Current Share Price
Since the release of last quarter's financial results, the stock has nearly tripled in value from the lows of $2.50. Sentiment is clearly changing, but this needs to be separated from the overall Japanese market sentiment, which includes the Japanese style quantitative easing.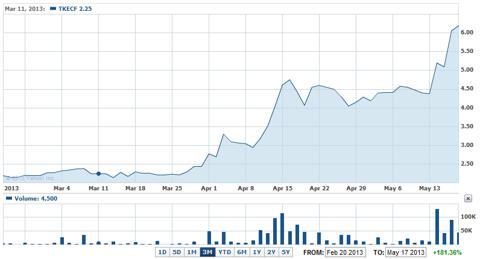 The Japanese yen against the United States dollar has increased crossing the 100 yen mark recently. While significant, the maximum currency change only contributes to 20% of the nearly 200% stock price increase for Tokyo Electric Power.
Volume has also increased significantly due to increased investor sentiment.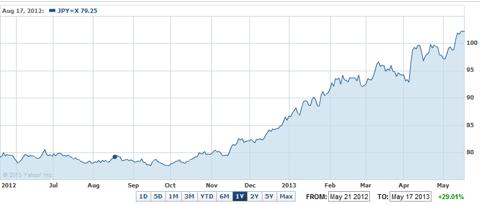 Downside
In 2011, we purchased Tokyo Electric Power in the $4 per share range and assessed the risk qualitatively and not quantitatively as similar situations were not readily available. With the stock price falling drastically and Tokyo Electric responsible for power in Northern Japan as well as in Tokyo, the contrarian play unveiled itself. Tokyo Electric Power is a power distribution company as well as a power generation company. Eventually the company would recover due to its size and dependence on government involvement. The Japanese government would ultimately decide in what form the Tokyo Electric Power Company would survive.
Many banks and investment firms decided to liquidate their holdings as the risk was high that the company may be dissolved and reformed due to public sentiment. There was even a big movement away from nuclear power that would jeopardize the existing nuclear power plants.
Shinzo Abe was elected Prime Minister of Japan in late 2012, and reversed a move away from nuclear power. The current Prime Minister is supporting the rebuilding and support of nuclear reactors with better public discussions.
This is a marked turning point in the downside risk as a commitment has been made to save the nuclear power generating infrastructure. The other downside risk is the financial fundamentals which need to show improvement. And we believe they have.
Fundamentals
The current fundamentals at first glance show a company either going bankrupt or significantly undervalued.
| | |
| --- | --- |
| Tokyo Electric Power Company | |
| Market Cap (intraday)5: | 11.51B |
| Enterprise Value (May 20, 2013)3: | 74.08B |
| Trailing P/E (ttm, intraday): | N/A |
| Forward P/E (fye Mar 31, 2015)1: | N/A |
| PEG Ratio (5 yr expected)1: | N/A |
| Price/Sales (TTM): | 0.13 |
| Price/Book (mrq): | 0.70 |
| Enterprise Value/Revenue 3: | 0.98 |
| Enterprise Value/EBITDA 6: | 14.61 |
Data from Yahoo Fiinance
For comparable metrics of the power generation and distribution sector, some US companies have been used. Due to the fact that Tokyo Electric Power is not turning a profit, earnings metrics were not valuable. The price per book value indicates a fair market value would be approx. 1.0 compared to the US sector. Duke Energy (NYSE:DUK) is a comparable company, and we will look into more detail the specific metrics associated with Duke Energy.
| | | | | | | |
| --- | --- | --- | --- | --- | --- | --- |
| Name | Ticker | % of Capacity From Nuclear | Nuclear Power Cap. (MW) | Dividend Yield | Return On Assets | Price / Book |
| PG&E | (NYSE:PCG) | 31% | 2,240 | 4.2% | 3.2% | 1.5 |
| Duke Energy | | 19% | 5,173 | 5.5% | 3.3% | 1.1 |
| Progress Energy | (OTC:PREX) | 19% | 4,342 | 5.5% | 4.0% | 1.3 |
| Pinnacle West | (NYSE:PNW) | 18% | 1,146 | 5.1% | 3.7% | 1.2 |
| Southern Co. | (NYSE:SO) | 9% | 3,680 | 4.7% | 4.4% | 2.0 |
Source: Investopedia
| | |
| --- | --- |
| Duke Energy Corporation | |
| Market Cap (intraday)5: | 50.35B |
| Enterprise Value (May 21, 2013)3: | 90.47B |
| Trailing P/E (ttm, intraday): | 21.71 |
| Forward P/E (fye Dec 31, 2014)1: | 15.54 |
| PEG Ratio (5 yr expected)1: | 3.93 |
| Price/Sales : | 2.36 |
| Price/Book (mrq): | 1.23 |
| Enterprise Value/Revenue 3: | 4.24 |
| Enterprise Value/EBITDA 6: | 11.88 |
Data from Yahoo Finance
The price to sales and book ratios indicate a tremendously undervalued stock. Raising the Price to Book value from 0.70 to 1.0 would indicate a share price at $8.87. This includes that the book value has also incurred impairment charges since the disaster.
Consensus Estimates
Two analysts are recommending a hold and there have been no upgrades or downgrades. It is important to note that the consensus estimates for FY2014 have been improving since the beginning of this year.
| | | | | | |
| --- | --- | --- | --- | --- | --- |
| Sales in Millions Yen | Current | 1 week ago | 4 weeks ago | 8 weeks ago | 13 weeks ago |
| Year ending Mar 2014 | 6,331,860 | 6,331,860 | 6,319,920 | 6,319,920 | 6,126,520 |
Data: Reuters Fundamentals
Sentiment turning positive
While Tokyo Electric Power Company has not decided when to restart its nuclear power reactors, rumors are circulating that the reactors will be restarted shortly. A Japanese newspaper has even published that the reactors will be starting. Clearly the company is moving towards rebuilding the nuclear power infrastructure. The following is a statement released by the Tokyo Electric Power Company on the Kashiwazaki-Kariwa Nuclear Power Station restart:
The Yomiuri Shimbun writes in its article of May 19, 2013 (morning edition page 1 and 8) that we have decided to apply to the Nuclear Regulation Authority to restart Reactor No 1 and 7 at Kashiwazaki-Kariwa Nuclear Power Station by the end of July, after revised safety standards are implemented earlier that month. The facts are as below.

-We have not decided to apply to restart Reactor No 1 and 7 at Kashiwazaki-Kariwa Nuclear Power Station in July.
-We cannot specify the target completion date of the filter vent, since we're currently in the process of detail design. We are now constructing the foundation.
-We are now checking the compatibility of the new regulation standard (proposal).
-We will keep working on countermeasures to enhance further safety and reliability of the power station.
On April 11, 2012, the Tokyo Electric Power Company announced that the City of Tokyo had become the largest shareholder of the firm with 9.37 percent voting rights. This positive move cements positive sentiment moving forward to the viability of the company following the financial statement releases.
Annual Income Statement
Net income losses have steadily decreased since the disaster improving over 50% from 2011. These net income losses should continue to improve as lawsuit claims would be spread over a larger time frame and would involve other government agencies.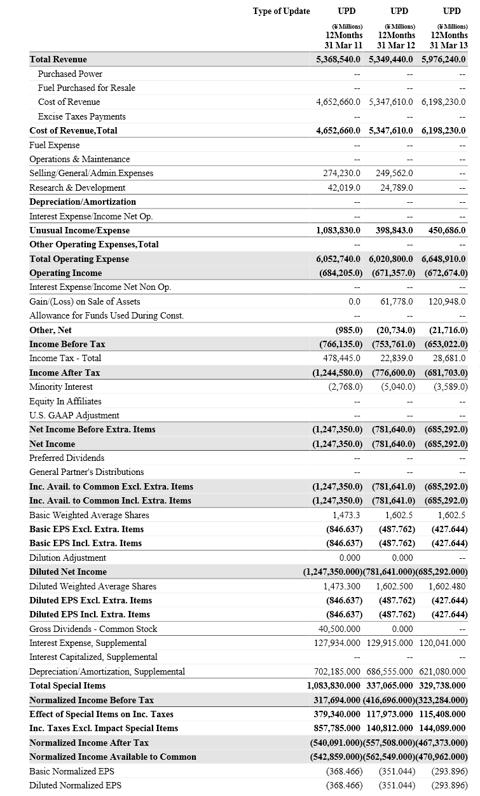 Data: Reuters Fundamentals
Annual Balance Sheet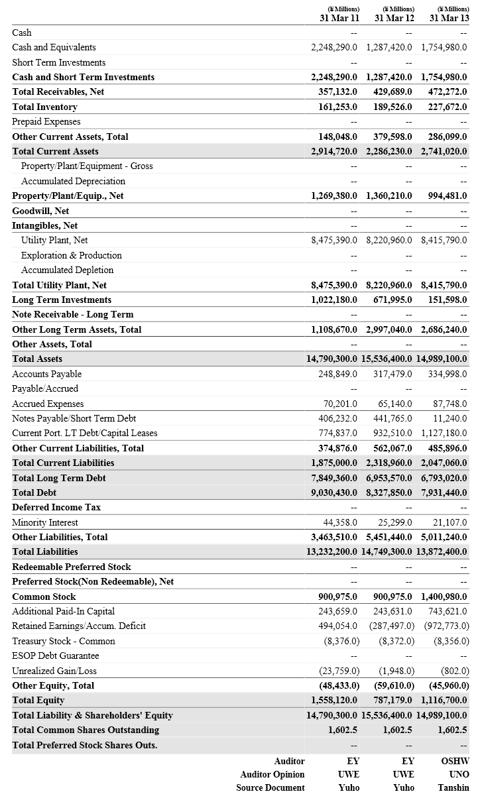 Data: Reuters Fundamentals
Annual Cash Flow
Working capital has improved, turning significantly positive for this fiscal year. The working capital reported for FY2013 was 1.3 trillion Japanese yen, up from 165 billion Japanese yen.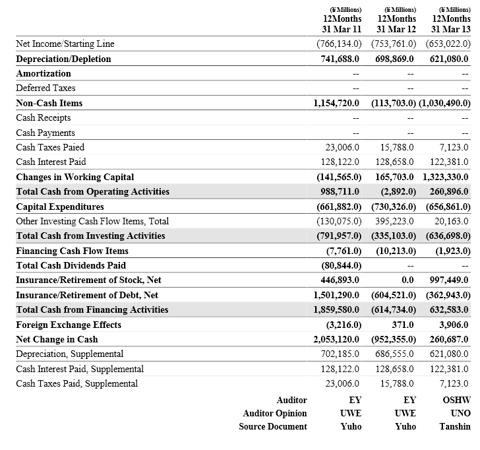 Data: Reuters Fundamentals
Conclusion
We have turned a significant point where the downside risk is being limited with a large upside potential. Returning to its previous trading range would indicate over a 200% increase. The return to this level would inevitably take a long time, most likely over 5 years. But in the near term with the Prime Minister creating stability over the next 20 months, there should be price appreciation. Increasing to the $9 - $10 range should occur within months. I do anticipate a small pullback in this range for profit taking, but it should stabilize near $10 per share. At this point, the rate of increase in the share price will likely level off and with the uncertainty in the Japanese currency, it would be a good exit point.
We have entered this stock in 2011 in the $4 per share range and will likely exit near $10 per share.
Our hearts go out to the Japanese people that are still affected by this disaster.
Disclosure: I am long OTCPK:TKECF. I wrote this article myself, and it expresses my own opinions. I am not receiving compensation for it (other than from Seeking Alpha). I have no business relationship with any company whose stock is mentioned in this article.