It's no secret that biopharmaceutical companies tend to crowd the spotlight in the healthcare field, and with good reason, as the potential of blockbuster drugs can lead to incredible gains for the value investor. Outside this spotlight, many sectors of the healthcare field are often overlooked, and occasionally a company with vast potential is hidden in the shadows.
One company, Nanosphere (NASDAQ:NSPH), is in the process of developing, manufacturing, and marketing what it calls the Verigene System, a new form of pathogen identification. This is an up and coming diagnostic biotech that I would like to bring out of the shadows, and into the spotlight, as I see incredible potential in its technology.
The Problem: Microbiological Identification
When a patient presents to a clinic or hospital with an infection, one of the first steps in treatment is to identify the underlying pathogen so a successful treatment plan can be enacted. While some infectious diseases are distinctive enough to be identified clinically, many pathogens can cause a vast spectrum of symptoms that makes them difficult to distinguish amongst others, and in these situations a technique called microbiological identification is used.
This microbiological identification typically involves a culture being collected from the patient, which is then transported to a decentralized laboratory where a combination of biological and chemical tests are performed ranging across a vast system of chemical analysis, gram staining, taxonomic characterization, and molecular analysis.
This testing, while effective, poses a significant problem in patient outcome based on the time consuming nature. Once the culture is collected it needs to be transported to the laboratory, once there identification time can vary significantly depending on the pathogen and identification technique needed. For example, bacterial cultures are incubated on average for 48-72 hours, and can take even longer for slow growing strains.
The problem here is simple. The delay in pathogen identification with the use of microbiological techniques can hinder effective treatment and worsen patient outcomes.
The Solution: Molecular Identification
Advances in DNA sequencing technology have evolved to the point where it is possible to sequence complete microbial genomes rapidly and efficiently. Using this technology, we now have the capability to analyze and understand microorganisms at the molecular level.
Molecular identification is quick and effective, because each species of a pathogens carries a unique DNA or RNA signature that differentiates itself from other organisms. Using this technique it is possible to easily, and rapidly identify the pathogen, as well as detect any markers present that could indicate a resistance to a particular treatment
Nanosphere's Solution
Nanosphere is attempting to lead the conversion from traditional microbiology laboratory methods by providing a catalyst to the use of these molecular methods through its Verigene System. This molecular diagnostic program enables simple, low cost, and highly sensitive genomic and protein testing, in an easy to use format.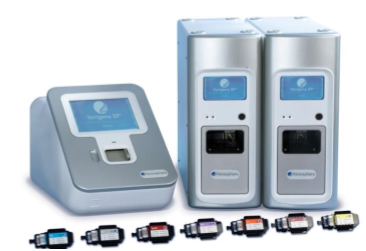 This pictures shows the Verigene System, and test cartridges. Each cartridge has the ability to detect multiple targets using a single test.
Without going into too much detail on the pathogens currently covered, The current FDA Approved cartridges include:
Respiratory Virus+ : (more details)
Influenza (A/B)
Respiratory Syncytial Virus (A/B)
Flu (H1N1/H3/H1/H275Y)
Gram Positive Blood Culture: (more details)
Staphylococcus
Streptococcus
Enterococcus
C. Difficile (more details)
Nanosphere has several other cartridges currently in the works, including Gram-negative blood cultures, enteric pathogens, and even more respiratory pathogens. Clinical results and approval are expected in the near future.
Benefits
The benefits of this system can be looked at from both a medical and technological viewpoint.
Medically:
This system allows for rapid pathogen detection without the need for the previously described culture methods

It has the ability to detect many targets in a single, automated test.

Pathogen identity and drug resistance markers can be detected at the same time. This identification with detection of resistance markers enables clinicians to make informed treatment decisions faster.
Technologically:
Simple design allows clinicians to run test cartridges on-demand, without the need for batch processing, specially trained personnel, or specialized facilities.

Highly automated, reducing the inherent risk of human error.

Highly accurate (> 95% Sensitivity and Specificity)

Time sensitive tests can be processed 24/7 in response to acute medical conditions.
Time Saved = Lives Saved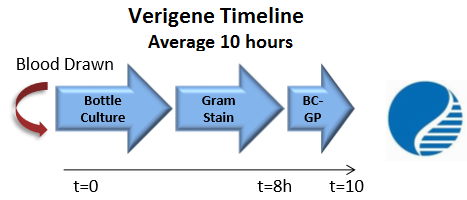 The typical microbiological identification route takes on average 48-72 hours, compared to the Verigene timeline of approximately 10 hours. This rapid reporting has significant benefits which have been detailed in Therapeutics and Clinical Risk Management, Jun 2008
These include:
An average of 25.4-hour reduction in time to optimal antibiotic therapy
A 6.2 day reduction in length of stay, and $21,387 reduction in cost/patient
Outcome reduced mortality reduction in intensive care rates from 47.8% to 9.5%
Market and Profitability
Nanosphere currently has a direct marketing force in the U.S, and globally setup distribution in Europe through Thermo Fisher / Grifols. On May 13th, they've also announced a distribution agreement with Hitachi for Japan.
Much like the printer industry, most of Nanosphere's profits are off the sale of consumable test cartridges, and not the systems themselves. They are approaching this strategy from two angles.
1. Marketing and system sales to increase the placement of Verigene Systems, thereby increasing the consumable volume
2. Increased mass production of cartridges to drive the total cost per cartridge down, significantly increasing margin.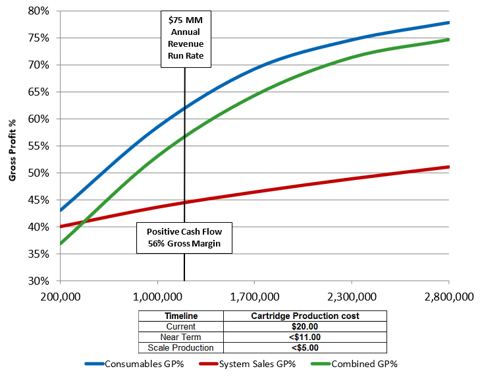 Financials:
As expected, shares saw a rise following the recent distribution deal set with Hitachi on the 12th.
On May 21st, "eleven posters from various U.S. and international medical facilities will presented validation data for the Verigene Gram-Positive Blood Culture (BC-GP) (510(k) cleared; CE Mark), Gram-Negative Blood Culture (BC-GN) (RUO; CE Mark), and Clostridium difficile (CDF) Nucleic Acid (510(k) cleared; CE Mark) Tests" Based on these results I expect to see a run-up this week as well.
With the latest run of good news coming out of Nanosphere, the potential this technology has for other applications such as cardiology, human genetics, and personalized medicine, and the consumable margin strategy in place, I see no roadblocks in the way to its 1 year price target of $5.00-$6.00 set by multiple analysts.
Disclosure: I have no positions in any stocks mentioned, but may initiate a long position in NSPH over the next 72 hours. I wrote this article myself, and it expresses my own opinions. I am not receiving compensation for it (other than from Seeking Alpha). I have no business relationship with any company whose stock is mentioned in this article.