On Tuesday May 21, TJX Companies, Inc. (NYSE:TJX) ) reported the results of what seems to be a very strong first quarter, as the company's Q1 EPS of $0.62/share was in-line analyst estimates and its revenue of $6.19 billion surpassed estimates by a margin of $0.03 billion. In the wake of the company's impressive first quarter, I wanted to examine several catalysts behind my decision to consider a long-term position in TJX.
Overview: Based in Framingham, Massachusetts, TJX Companies operates as an off-price apparel and home fashions retailer in the United States and internationally. The company operates in four segments: Marmaxx, HomeGoods, TJX Canada, and TJX Europe. (Yahoo! Finance)
On Monday, shares of TJX, which currently possess a market cap of $37.01 billion, a P/E ratio of 20.14, a forward P/E ratio of 16.15, and a forward yield of 1.13% ($0.58), settled at $51.35/share.
Trend Status: Based on Monday's closing price, shares of TJX are trading 3.52% above the 20-day simple moving average, 7.55% above the 50-day simple moving average, and 14.50% above the 200-day simple moving average. These numbers indicate a short-term, mid-term and long-term uptrend for the stock, which generally translates into a buying mode for traders.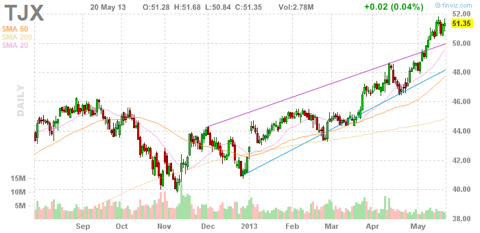 Dividend Behavior: Since February 9th 2010, TJX Companies has increased its quarterly dividend a total of four times by an average of $0.0213 each time. From an income perspective, the company's forward yield of 1.13% coupled with its payout ratio (currently 17.00%) and its continued annual increases could equate into a very viable income option for the conservative dividend investor. The company's most recent increase came on Tuesday April 2nd, when TJX announced a quarterly dividend increase of $0.03/share to bring its upcoming dividend payout to $0.145/share. This increase represents a 26% rise from its prior dividend of $0.115/share, which was paid on February 12.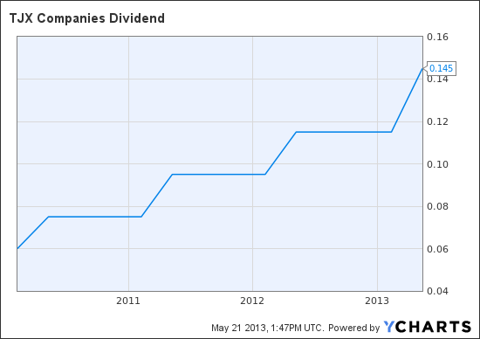 TJX Dividend data by YCharts
Q1 EPS Performance: Although the company's EPS performance and revenue demonstrated a steady quarter for the company, I think it's best to examine some of the other variables behind TJX's performance. The first variable to consider are the company's consolidated comparable store sales which increased 2% over an 8% reported increase last year.
I personally think that any increase is a positive one, but from a comparative standpoint I would much rather have seen an increase of 3% - 4.5% versus the company's demonstration of a mediocre 2%. The second thing to consider is the fact that earnings per share grew 13% compared to last year's adjusted 41% increase. Even though TJX demonstrated double-digit EPS growth, and could continue to demonstrate growth in the upcoming quarters, I'm a bit concerned considering Q2 EPS estimates are slated for $0.61/share to $0.63/share and the company's FY14 EPS has been narrowed to a range of $2.70/share to $2.78/share versus a previous the consensus of $2.82/share.
According to Carol Meyrowitz, CEO of TJX Companies, Inc., "We believe the flexibility of our business model allowed us to achieve this growth despite the unfavorable weather patterns across most of our regions for much of the quarter…The second quarter is off to a strong start and we are in an excellent position to buy into the enormous opportunities for quality merchandise that we are seeing in the marketplace".
One of the more important catalysts pertaining to growth is clearly the company's ability to capitalize on certain types of opportunity and if that can be achieved while weathering unforeseen obstacles as a result of Mother Nature, TJX has the potential to sustain double-digit earnings growth. If, on the other hand, TJX is unable to capitalize on its investment in certain types of enormous opportunities as noted by Ms. Meyrowitz, then the idea of double-digit earnings growth diminishes.
Conclusion: When it comes to those who may be looking to establish a position in TJX Companies, I'd continue keep a watchful eye on not only the company's dividend growth over the next 12-24 months, but any unforeseen catalysts that could hinder the company's earnings growth such as unfavorable weather patterns as they have become somewhat of a problem during the company's first quarter.
Disclosure: I have no positions in any stocks mentioned, but may initiate a long position in TJX over the next 72 hours. I wrote this article myself, and it expresses my own opinions. I am not receiving compensation for it (other than from Seeking Alpha). I have no business relationship with any company whose stock is mentioned in this article.