While the heart of earnings season starts up in 2 weeks (already?) some names with non typical quarter ends (i.e. July instead of June) are out this week. We mentioned Monsanto (MON) Wednesday morning, Darden Restaurants (DRI) reported Tuesday night (not so great on guidance) along with Oracle (ORCL), Riverbed Technology (RVBD) and PMC Sierra (PMCS) Thursday and a few others are also out there.

One small defense firm we still like is AeroVironment (AVAV) - unfortunately in the quest for 'reflation' or 'technology' stocks, this name has sat ignored for a few months as the computers jump in and out of the hot trades, leaving names like this sitting in the dust. Up until now, this stock has done nothing for 2 months. If AVAV can hold this 200 day it just broke out over, it might have a chance to actually begin working again.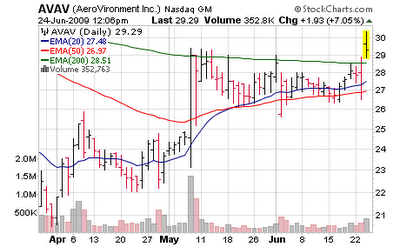 AeroVironment put in a number that was "good enough"
Drone maker AeroVironment Inc (AVAV) posted quarterly results above market expectations, helped by strong sales at both its unmanned aircraft and energy systems businesses, and forecast an 18 to 22 percent growth for 2010 sales.
Profit for the fourth quarter ending April 30 was $5.8 million, or 27 cents a share, compared with $6.4 million, or 30 cents a share, a year ago.
Analysts on average expected earnings of 26 cents a share, before items, on revenue of $71.4 million, according to Reuters Estimates.
Revenue rose 18 percent to $76 million. Sales at the unmanned aircraft segment rose 17 percent to $65.4 million and at the efficient energy systems segment jumped 28 percent to $10.6 million.
"The U.S. government's recent commitments to increase the emphasis on soldier systems and intelligence, surveillance and reconnaissance within the Department of Defense, and electric vehicle infrastructure throughout the country, are positive indications of growing opportunities," the company said in a statement.
For the full year, the company earned $24.2 million, or $1.11 per share, compared with profit of $21.4 million, or $1 per share. Revenue rose to $247.7 million from $215.7 million.
Guidance
Looking ahead, the

company expects revenue to grow between 18 percent and 22 percent in fiscal 2010, implying sales between $292.3 million and $302.2 million. That's above the $290.4 million currently predicted by analysts.
Some analysts seemed not as pleased
Analysts on Wednesday reduced their fiscal 2010 profit forecasts for AeroVironment Inc. after the maker of unmanned aircraft reported its fourth-quarter profit fell on higher costs but still beat Wall Street estimates.
Analyst John M.A. Roy of Janney Montgomery Scott cut his fiscal 2010 earnings estimate to $1.28 per share from $1.56 per share, citing higher operating expenses. He reduced his revenue estimate to $300 million from $307 million.
Analyst Patrick J. McCarthy of FBR Capital Markets cut his earnings estimate to $1.15 per share from $1.21 per share, but raised his revenue estimate to $291.7 million from $276.3 million. McCarthy cited AeroVironment's energy systems business for his increased revenue forecast. Despite the recession, energy test equipment sales "have held up better than we were expecting," he said in a note to investors.
Elsewhere, analyst Howard A. Rubel of Jefferies & Co. wrote in a note to investors that AeroVironment's quarterly results in fiscal 2010 "are going to be particularly lumpy" as the company introduces its Digital DataLink wireless video link product. The second half of the fiscal year could account about two-thirds of the company's revenue, Rubel said.
A lot of moving parts here, but what I see in the quarter is nice revenue gains but as the analysts say, a lot more expenses...
The decrease in income from operations was caused by higher research and development (R&D) expense of $2.3 million and higher selling, general and administrative (SG&A) expense of $1.2 million, partially offset by higher gross margin of $3.4 million.
Backlog does continue to grow...
As of April 30, 2009, funded backlog (unfilled firm orders for which funding is currently appropriated to us under a customer contract) was $114.8 million compared to $82.0 million as of April 30, 2008.
The energy business is not really something I've focused on as its been a smallish portion of revenue (this quarter its up to around 15%ish), but any upside from that would be beneficial.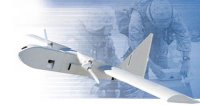 Seems to actually be doing ok - I suppose that's the "Vironment" part of the name.
The stock is actually quite expensive on an absolute basis, but relative to the valuations people are putting on companies that are shrinking, I suppose it's "cheap".
Building on a history of technological innovation, AV designs, develops, produces, and supports an advanced portfolio of Unmanned Aircraft Systems [UAS] and efficient electric energy systems. Agencies of the U.S. Department of Defense and allied military services use the company's hand-launched UAS to provide situational awareness to tactical operating units through real-time, airborne reconnaissance, surveillance, and target acquisition. Commercial and government entities use AV's clean transportation solutions such as electric vehicle test systems and electric vehicle fast charge systems, as well as its clean energy solutions.
Disclosure: No position

[Mar 10, 2009: Closing AeroVironment]
[Feb 5, 2009: Large Contract Win for AeroVironment]

[Oct 30, 2008: Taking Profits on AeroVironment "Cramer Effect"]