In 2012, solar proved once again to be the fastest growing energy source in the U.S. The Solar Market Insight annual addition shows that as a nation, the country installed more than 3.3 GW of solar capacity, an increase of 76% over 2011. In terms of market size, at $11.5 billion, the solar market is 34 percent larger than it was in 2011 and SEIA points out that this figure doesn't include any of the trickle-down industries that also benefit from the increased growth in the solar market (RenewableEnergyWorld.com)
Jobs are growing in the market as well. Another recent report from The Solar Foundation and the third annual National Solar Jobs Census report found that the U.S. solar industry currently employs 119,016 Americans. This figure represents the addition of 13,872 new solar workers and a13.2% employment growth rate over the past 12 months. According to the Bureau of Labor Statistics, employment in the overall economy grew at a rate of 2.3% during the same period, signifying that 1 in 230 jobs created nationally over the last year were created in the solar industry.
On Monday May 20, 2013 the solar sector saw some intense trading action from the OTC up through the Nasdaq. Of the stocks watched, Westinghouse Solar (OTC:WEST) lead the pack in overall gains on the day with a 74.3% jump from $0.03 at the open to a high of $0.0523 with a close second from Sunvalley Solar, Inc (OTC:SSOL) opening at $0.0095 and hitting a high of $0.016 representing a move of 68.42% on the day.
Additionally, XSunX, Inc (OTC:OTCPK:XSNX), a small cap solar company working to commercialize a new manufacturing process to produce low cost, high efficiency thin-film Copper Indium Gallium (di) Selenide (CIGS) thin film solar cells, also saw above average volume on the day. The company has a patent-pending processing technology called CIGSolar®, which focuses on the mass production of thin-film CIGS solar cells utilizing a proprietary multi-area thermal deposition process to minimize processing defects to create highly uniform CIGS films. XSNX came strong off of a support bounce running 55.96% from an open PPS of $0.0109 to a high of $0.017.
Big Boards also fared well in Monday's session. Real Goods Solar, Inc (RSOL) is one of the nation's pioneering solar energy companies trading on the NASDAQ. RSOL also saw a strong push of momentum and after opening at $4.90, the stock went to highs of $7.17; a jump of 46.32%. Recent involvement and success in the education market continue to entice the trading public. In April, the company announced the company _will provide Stockton Unified School District with 5.1 megawatts of solar power, bringing clean energy to 18 schools and facilities in California. The solar installations are expected to save the district $600,000 in the first year (Yahoo!Finance).
SunPower Corporation (NASDAQ:SPWR), designer and manufacturer of high efficiency, high reliability solar panels and systems also fared well during the Monday session. This Billion dollar Company (Market Cap 2.74B) opened the day at $21.54 and saw a high of $23 marking a jump of just under 7%. SPWR may be one of this biggest runners in the last 6 months having moved up more than 468% since a $3.99 closing price on November 20,2012 to today's close of $22.70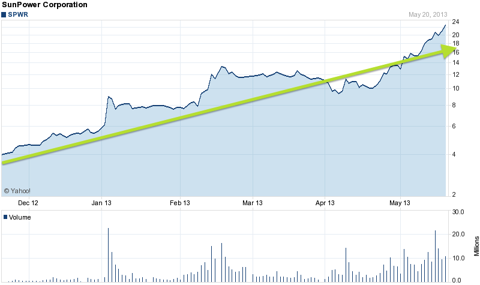 Market Potential
According to Bizmology, businesses are ramping up their solar spending. IKEA plans to double its investment in renewable energy to $4 billion by 2020. The company, which has extensive solar and wind power investments, plans to get 100 percent of the energy consumed at its stores from renewable sources within seven years. Wal-Mart Stores, the leading commercial solar user in the country, hopes to have 1,000 locations using solar power by 2020.
In the residential market, rooftop solar and other green building techniques have grown from fringe practices into mainstream technologies. Falling system prices and new financing options have fueled residential solar expansion, which is expected to continue beyond 2013.
So where do you stand in all of this? Is this just the first spark to solar stocks shining this year or do you think the light might fade as the year progresses into Q3 and 4?
Disclosure: I have no positions in any stocks mentioned, and no plans to initiate any positions within the next 72 hours. I wrote this article myself, and it expresses my own opinions. I am not receiving compensation for it (other than from Seeking Alpha). I have no business relationship with any company whose stock is mentioned in this article.