These days, it's good to be a hybrid. In an increasingly eco-friendly environment, you can't drive a block in most cities without coming across a hybrid car. Hybrid clubs are the latest golf fad, with every amateur hacker out there scooping up one of these 'wonder clubs' to take a few strokes off their game.
And in the ETF industry, preferred stock ETFs, which are a type of hybrid between traditional equities and bonds, are soaring.
Preferred stocks are by no means a new financial innovation, and have been a preferred (excuse the horrible pun) financing source for many financial companies for decades. Among the traditional features of preferred stock:
Usually carry no voting rights
Entitled to dividends (usually at a fixed rates) that are subordinate to debt payments but senior to dividends on common stocks
May be convertible to common stock at a predetermined conversion ratio
Paid out after debt holders but before common shareholders in the event of liquidation
As such, preferred equities are like similar to debt in that they are generally entitled to a fixed dividend payment, reducing the volatility of the cash flows they generate.
But they may also maintain upside potentials typically associated with equities (if convertible), along, of course, with the commensurate risk (potential to be left emptyhanded in the event of a bankruptcy).
Despite its popularity as a means of raising capital, preferred stock investments have been slow to catch on in the ETF world. But these funds have been among the top performers of the last three months, as a broad market rally has reduced fears of a wave of bankruptcies and sent investors rushing back into preferred stocks. Among the most popular preferred stock options on the market today:
PowerShares Financial Preferred Portfolio (PGF): This ETF, which tracks the Wachovia Hybrid & Preferred Securities Financial Index, focuses exclusively on preferred issues from financial institutions and maintains approximately 30 holdings. Since the bear market low in March, PGF has risen by more than 170%, boosted by significant improvements in the banking sector that have reduced the likelihood of widespread bankruptcy filings.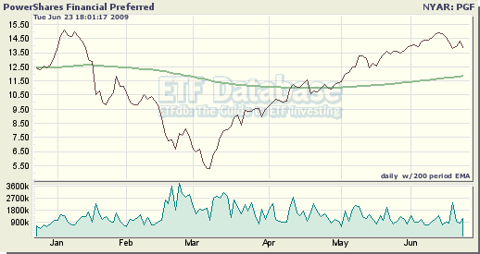 iShares S&P U.S. Preferred Stock Index ETF (PFF): This preferred stock ETF, which is dominated by holdings in financial companies, is the largest on the market, with a market capitalization of $1.9 billion and an average daily volume of more than 1 million shares. Since bottoming out in March, PFF is up more than 100%.
PowerShares Preferred Portfolio (PGX): PGX offers more a lightly more diversified exposure to the preferred stock market than PowerShares' other offering, tracking the broader Merrill Lynch Fixed Rate Preferred Securities Index and maintaining more than 65 holdings. More than 85% of PGX's holdings are in the financial sector. Although it has underperformed PGF, PGX is still up more than 90% from its March low.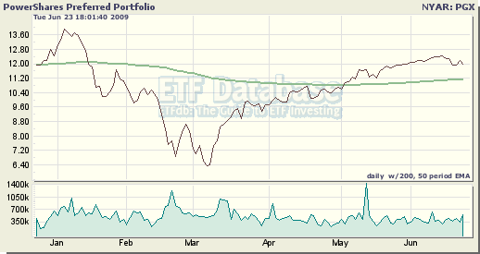 Disclosure: No positions at time of writing.