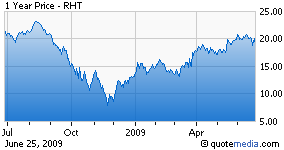 Red Hat (NYSE:RHT) shares are down sharply Thursday following last night's fiscal first quarter earnings report, as Bank of America/Merrill Lynch analyst Kash Rangan cuts his rating on the stock to Neutral from Buy.
While revenue and EPS edged expectations, Rangan found other areas of concern. He notes that sequential deferred revenue growth of $2.4 million was the lowest in the last several quarters. Cash flow from operations fell shy shy of his forecast, due to lower accounts receivable. Billings growth adjusted for currency decelerated to 3% from 11%-13% in the second half of fiscal 2009. Average contract length dropped to 19 months, from 24 months.
Rangan writes that his call is not about demand, revenue or margins, "all of which shine." Instead, he says, the more cautious stance is about "quality of cash flow." He wants to see growth from deferred revenue, rather than better accounts receivable..
Rangan actually boosted his price target on the stock to $21, from $18; the stock closed yesterday at $20.13. But he adds that "multiple expansion will be challenged 'till deferred revenue and billings growth can resume."
Finally, while the company is a frequent subject of takeover speculation, Rangan contends that "RHT's value is best preserved as an independent player," adding that "a potential acquisition could hurt this neutrality, disenfranchise open source developers and potentially fork [Red Hat Enterprise Linux]."
RHT today is down $1.49, or 7.4%, to $18.64.