The effects of the fiscal cliff settlement and the failure of Congress to come to an agreement on resolving the budget will have an effect on U.S. spending across the globe. According to the International Monetary Fund, the cut in spending by Washington, to the tune of around $85 billion this year will affect the growth of many countries including India.
Some experts believe that U.S. spending cuts will not affect Foreign Indirect Investment inflow. However, the cuts will result in something close to 750,000 job cuts, which will require time for that labor to reorganize itself and, given the current environment, will likely happen at lower overall wages. The U.S. consumer will continue to be stretched very thin and this will have spillover effects into the Indian economy.
Total exports from India to the United States rose from 11.3% year over year to 13%. Coupled with the sluggish growth in the Europe and we have seen strong effects on India's exports. Export numbers to the United States have fallen by 5.5% year over year from January to April.
According to an executive at Federation of Indian Exports Organisation, exports from India to the United States are primarily lifestyle products and since these are expensive he expects there to be pressure due to lower purchasing power. So far in 2013, however, there hasn't been much evidence of this in the market. The SPDR Consumer Discretionary Select ETF (NYSEARCA:XLY) has outperformed the S&P 500 (NYSEARCA:SPY) slightly, up 18.5% versus 14.1%. XLY has also seen $726 million in inflows year-to-date - 17.5% expansion of AUM. And there has not been a significant trend change in consumer credit habits yet. What is obvious is that Americans cannot afford to add 11-12% credit card debt but are willing to load up on 4.6% auto loans and HELOCs.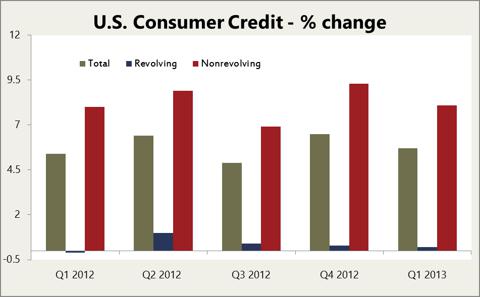 An economist at CARE Ratings thinks otherwise and believes that there will be effect on the export numbers to the United States and in return there will be a slowdown in the growth, though at this point the timing of the impact cannot be determined. GDP growth for the fourth quarter in the United Sates declined 1.6% on a year-on-year basis. As for unemployment in the U.S., while the headline number continues to contract, labor force participation rate continues to drop and assistance rolls continue to expand. And this is a distribution mechanism for a lot of the Fed's quantitative easing. The money may not be turning over yet, as money velocity continues to fall, but with increasing subsidy spending, consumer company revenues are supported by this continued injection of new money via government largesse.
So, while the game is fundamentally unsustainable, it can go on for a very long time. The $85 billion in spending cuts will return that money to the productive portion of the economy and slow the rate of growth of the U.S. government's indebtedness, alleviating some of its cash-flow problems.
There is the specter of the Fed ending quantitative easing that continues to hold sway with a portion of the financial community but, in my view, that talk is nonsense. The U.S. economy can only achieve credit growth with extremely low interest rates. If QE ends or even hints that it will end soon, long rates will rise sharply. Right now the Fed is managing long bond rates in a range and keeping a lid on yields below 3.20% Watch for a break of that level and continue to watch total Fed credit as a proxy for the bond-buying activity.
There will be an adverse impact on the rupee (NYSEARCA:INR) if the U.S. actually goes through with ending QE and pushes through deeper budget cuts - neither of which is likely. However, India can mitigate much of those effects depending on how quickly the Indian government manages to improve its own fiscal house. The ending of diesel subsidies is a good beginning but it is not enough and more structural changes have to be made to improve the Rupee's position. There can also be an effect on remittance from the United States as many Indian ex-pats will consider coming home if the labor situation does not materially improve.
In the near term, according to a report from Bloomberg, information technology spending will likely decrease by $2.5 billion through 2015, attenuating growth prospects for firms like Infosys (NASDAQ:INFY) and Wipro (NYSE:WIT) which are very dependent on U.S. revenues. For now, however, these cuts look like the extent to which the U.S. can handle and policy-makers are willing to go. With the government operating beyond the debt ceiling now without an agreement to raise it only underscores the fact that nothing will be done to fix the fiscal issues facing the country and the only thing keeping things running right now are the strong-arm tactics of its central bank on equity, bond and foreign exchange markets.
The bigger fear facing India is not the $85 billion in sequester budget cuts but rather a more general collapse of the U.S. economy once the Japanese are done debasing the yen (NYSEARCA:FXY) and the U.S. actually has to pay for its QE program and $1 trillion budget deficit.
Disclosure: I have no positions in any stocks mentioned, and no plans to initiate any positions within the next 72 hours. I wrote this article myself, and it expresses my own opinions. I am not receiving compensation for it (other than from Seeking Alpha). I have no business relationship with any company whose stock is mentioned in this article.