After years of slow or negative growth in the region, Asian bulls have finally found a home in Shinzō Abe's resurgent Japan. Japanese equities have soared following the initiation of the prime minister's three-pronged plan, dubbed 'Abenomics', which focuses on revitalizing Japan's long-stagnant economy through fiscal, monetary, and structural policies in the Keynesian style. The plan is most notable for a ¥20.2 trillion stimulus package, around half of which will be spent by the government on infrastructure and other key sectors. The remainder of the package is made up of funds earmarked for open market operations by the Bank of Japan in an attempt to drive up inflation. Japan's economy has been dogged by deflation, a shrinking labor force (relative to retirees), and stalling competitive capacity for the last decade, and drastic change is clearly necessary. These actions have, as of the time of writing, successfully debauched the value of the yen and begun to bolster Japanese firms' competitive capacity in a global market rife with nationalistic currency controls, and has resulted in a skyrocketing Nikkei 225 average and a plunging Yen. The end result of these measures remains a hotly contested and compelling mystery, but the keys to playing 'Abenomics' as an investor could hardly be clearer.
Japanese equities are on an upward tear in the early phase of this experiment in all-out stimulus at a rate in line with some of the more optimistic expectations set forth before the plan's execution. The plummeting value of the yen has improved the outlook for the Japanese export market, as was the goal. An uptick in demand for Japanese exports will increase production and earnings, and result in a wealth effect-driven increase in domestic spending. The price to earnings ratio of Japanese equities is currently hovering around 16 (US equities currently trade at an average P/E ratio of 14), and the Nikkei has jumped 45% in 2013 along a neat, steady, linear path and is currently approaching pre-2008 levels. There is little reason to believe that this pattern will stall, or even substantially slow, in the near term, ceteris paribus. When we consider that even at its highs in 2008-early 2009 the Nikkei was still remarkably low when compared to its all-time peak the relative strength appears much more convincing. The belief that the equity charge could ultimately fail has numerous adherents, however, and the bear camp, unpopular as it may be, has a plethora of valid arguments as to why the stimulus will fail. These ideas can be boiled down to one main point: an economy built on 'Abenomics' is nothing if not precarious and experimental. A recent statement of concern from Akira Amari, Japan's Economy Minister, roused further questions about the extent to which the currency can continue to be devalued before this action will cause irreversible harm to Japanese markets, according to Yoshiaki Nohara for Bloomberg. This and other statements from the Japanese governance bolstered existing bearish sentiments while simultaneously placing a damper on bull's seemingly unlimited upward expectations.
The desire to go all-in on Japanese equities is becoming progressively harder to resist, but for the risk-averse investor there are tools and strategies that can be utilized to minimize risk in an uncertain, but promising, macroeconomic situation. One of the most popular risk to reward builds is embodied in a reasonably new and radically successful ETF, the WisdomTree Japan Hedged Equity Fund (TICKER:DXJ). DXJ is an ETF designed to shelter returns on Nikkei stocks from exposure to the slumping currency, according to Tom Lydon in an article for ETFtrends.com. The DXJ is focused primarily on industrial stocks and exports, and is up an incredible 43% YTD. The makeup of the fund makes it particularly appealing in the near-term, as Japanese exporters have yet to make a full recovery after languishing in a stagnant, deflationary market for nearly two decades. As stated prior, the first phase of the grand economic experiment is designed to stimulate the Japanese export market, and given the enthusiasm to this point one feels that there is still substantial upside for Japanese exporters. Global markets remain somewhat wary of these programs, but a very promising boost in Japanese exports to-date and the inevitability of a lagged response to the current value of the Yen suggests a near to long term boost for the associated industries.
Another family of ETFs that has demonstrated the capacity to maintain a near-constant trend (though in the opposite direction) is that which represents the value of the Yen versus that of the dollar. USD/JPY recently broke the 102 level, a ratio not seen since before the 2008 crisis. Though Japanese officials are now voicing concerns about the lower limits being tested by the Yen, the trendlines and the likelihood that quantitative easing will not simply cease suggest that the Yen will go lower still. The dollar has fluctuated recently, but seems to face a reasonably favorable environment versus the Yen, another factor that will drive the relative value of the Yen lower. The CurrencyShares Japanese Yen Trust (TICKER:FXY) has for some time maintained significantly bearish technicals, and appears to many to be a sure short bet in as Abenomics remains in full-tilt. In many ways shorting the Yen (or risk-mitigating ETFs that are based on the relative value of the Yen) is a safer bet than placing a bet on Japanese equities. The charts, and many traders, remain bullish in the face of uncertainty in the equity market. What they don't know can hurt them, however, as small shock could, for all we know, bring down the delicate and experimental Abeconomy. Either strategy cast in the correct light can be made to sound superior, but both have provided investors with solid returns as the "Abeconomy" burgeons and the Yen pays the price.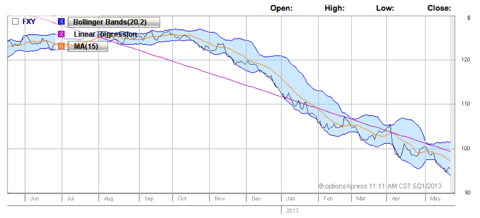 Charts courtesy of Charles Schwab's Optionsxpress.com and FinViz.com
My Trade: Buying the NOV 54-57 Bull Call Spread for $1.10
Risk: $110 per 1 lot
Reward: $290 per 1 lot
Breakeven: $55.10
Greeks of this Trade:
Delta: Long
Gamma: Long
Theta: Short
Vega: Long
Full Disclosure:I do not have this position on it. I will look to put this position on if the DXJ trades back to $50.50
Disclosure: I have no positions in any stocks mentioned, but may initiate a long position in DXJ over the next 72 hours. I wrote this article myself, and it expresses my own opinions. I am not receiving compensation for it (other than from Seeking Alpha). I have no business relationship with any company whose stock is mentioned in this article.
Additional disclosure: Full Disclosure:I do not have this position on it. I will look to put this position on if the DXJ trades back to $50.50