The testimony by Ben Bernanke has gone down well with equity markets and is largely in line with my expectations. I had discussed in one of my recent articles on why there will be no QE exit at this point of time. This article discusses the near-term outlook for US equities considering the latest testimony by Bernanke.
According to Bernanke -
A premature tightening of monetary policy could lead interest rates to rise temporarily but would also carry a substantial risk of slowing or ending the economic recovery and causing inflation to fall further ... We could raise or lower our purchases going forward ...
I am of the opinion that U.S. markets can surge by another 5-10% with the Fed signaling that there will be no QE exit. On the contrary, Bernanke has mentioned that the Fed can expand its asset purchase program further if the economy falters. In all likelihood, the asset purchase program will be expanded as the global economy is showing increasing signs of sluggishness as indicated by the global purchasing manager index.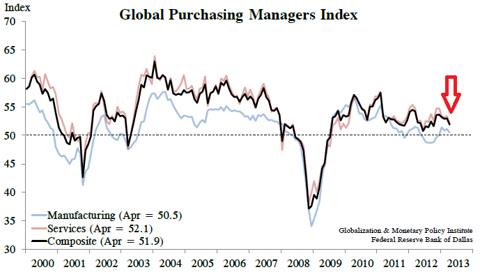 Click to enlarge
(Click to enlarge)
Before I discuss more on the very near-term bullish stance on the markets, I would like to mention here that equity markets will correct sharply in the latter part of 2013. I had discussed the reasons in details in one of my earlier articles. Therefore, investors should use the current rally to book profits than to consider big exposure to the markets.
Coming to the current scenario, the equity market has been driven higher by ample liquidity as the Fed continues to expand its balance sheet. The chart below gives the close positive correlation between the U.S. adjusted monetary base and the S&P 500 index. As the monetary base continues to rise with no termination of the QE program, equities will also trend higher as witnessed in the recent past.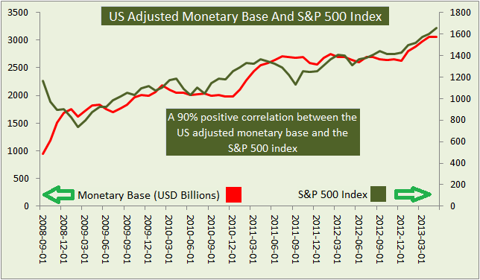 Click to enlarge
(Click to enlarge)
In terms of PE valuation, the market is currently trading at a PE of 19 times trailing twelve month earnings. This is expensive considering the fact that the market was trading at a PE of 24 before a major stock market crash in 2008. The point I am trying to make here is that the Fed's statements have fueled near-term bullish sentiments as indicated by the market. However, the sustainability of this optimism is questionable and investors need to exit and book profits on any further rally.
What Will Trigger Market Correction?
With no major earnings surprises on the downside, liquidity will continue to support equity markets in the near-term. I am of the opinion that an announcement related to expansion of the asset purchase program will trigger a downside for the markets.
On the liquidity front, asset purchase expansion will be positive news. However, it will be negative for equities as market participants realize that the asset purchase program is doing little for the real economy. An overvalued market can steeply correct on any such negative sentiment and a record high margin debt can accelerate the correction.
I am also concerned by a gradually increasing probability of recession in the United States as indicated by the chart below. Investors therefore need to exercise greater caution as equities trend higher. The higher the market goes; the sharper might be the correction.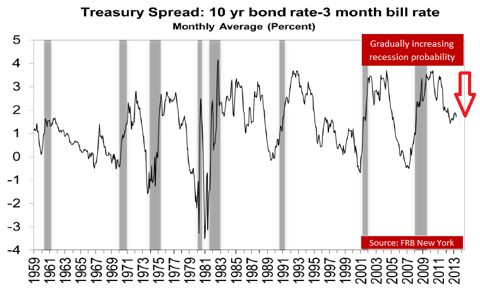 Click to enlarge
(Click to enlarge)
On any steep correction over the next 3-6 months, investors can consider exposure to quality stocks and ETF's as the index will continue to trend higher in the long-term on the back of ample liquidity.
SPDR S&P 500 ETF (NYSEARCA:SPY): It has been proven that beating the index is not an easy task. Therefore, the strategy should be simple -- beat the index or invest in the index. From this perspective, SPY looks interesting. The ETF provides investment results that, before expenses, generally correspond to the price and yield performance of the S&P 500 Index.
Johnson & Johnson (NYSE:JNJ): is a good long-term investment option. I like this highly diversified healthcare company with product as well as regional diversification. Further, the sector JNJ caters to is not very prone to economic shocks. JNJ has been a good dividend payer in the past, with a dividend yield of 3.1%. In my opinion, the stock is excellent for a long-term portfolio. It also commands a higher rating than the U.S. sovereign rating.
Procter & Gamble (NYSE:PG): - is another good stock in the consumer and personal care segment with a good dividend yield of 3.1%. I must mention here that PG has been an investor-friendly company having returned $88 billion to shareholders through dividends and share repurchase in the last 10 years. In terms of business growth, PG revenue contribution from Asia has increased from 15% in 2009, to 18% in 2012. Also, sales have growth at a CAGR of 23%, 25%, 27% and 17% in Brazil, Russia, India and China respectively in the last 10 years. Going forward, emerging markets will continue to be the growth driver for PG.
BP Plc (NYSE:BP) - is an attractive long-term buy due to several reasons: excellent and diversified asset base, presence across the value chain, presence in alternative investment themes and a good dividend yield of 5.0%. Further, the P/E is at an attractive level of 6.07. Overall, BP is well positioned to take advantage of the long-term appreciation in crude oil prices.
Disclosure: I have no positions in any stocks mentioned, and no plans to initiate any positions within the next 72 hours. I wrote this article myself, and it expresses my own opinions. I am not receiving compensation for it (other than from Seeking Alpha). I have no business relationship with any company whose stock is mentioned in this article.