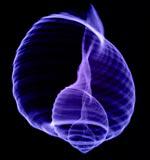 The Permian Basin Royalty Trust's (NYSE:PBT) principal assets are comprised of a 75% net overriding royalty interest carved out by Southland Royalty Company from its fee mineral interest in the Waddell Ranch properties in Crane County, Texas, and a 95% net overriding royalty interest carved out by Southland from its major producing royalty properties in Texas. As a result of a succession of mergers and acquisitions, these properties are now primarily operated by ConocoPhillips (NYSE:COP).
Last month I wrote the article Will Permian Basin Royalty Trust Finally Reap The Benefits of Fracking? If the company's report for the month of May is any indication, the answer is a resounding "YES."
The Merry Merry Month of May
PBT's monthly May report was outstanding and could signal a major turnaround in the Trust's distributions and stock price. I have summarized year-to-date results in the following chart: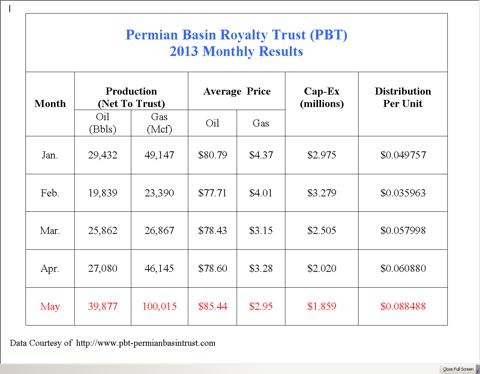 It's hard to find anything negative in the report:
Oil production (net to trust) increased 47%
Gas production (net to trust) increased 117%
Average realized oil price increased 8.7%
Cap-Ex is trending down
The monthly distribution increased 45%
OK, I will admit there is one negative: natural gas prices were down month-over-month. But who cares? PBT is an oil dominated trust: $3,367,000 for oil versus $295,044 for gas.
Reserves Growing
According to the company's 2012 annual report, total proved reserves are increasing as a result of the increased levels of capital expenditures by operator COP. Estimated quantities of proved oil were as follows:
Oil (Barrels):
Jan 1, 2010: 5,495,000
Jan 1, 2011: 6,178,000
Jan 1, 2012: 6,202,000
Jan 1, 2013: 6,429,000
So oil reserves have increased by 17% (net of production) since 2010. Not bad for a "depleting" trust.
PBT is up nicely on the heels of the bullish May report, and is now up 7.7% since my article was published last month.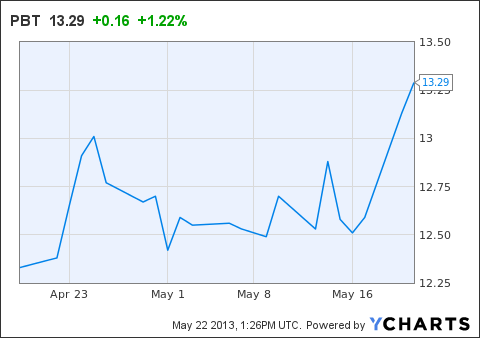 Summary and Conclusion
PBT is beginning to show the benefits of operator ConocoPhillips' increased capital expenditures to reverse the underlying property's production decline curve. Oil production and realized prices were both up significantly in May, as was the monthly distribution. PBT has turned the corner. It is a BUY. Although the trailing twelve month yield is only 5.8%, I believe the opportunity for capital appreciation vis-a-vis the stock price could outstrip the dividend yield. Total return for PBT in 2013 could approach 20-25%.
The large increase in PBT's realized oil prices in May is also a very bullish indicator for other Permian producers. Occidental Petroleum (NYSE:OXY) is the largest producer of Permian Basin oil. ConocoPhillips also has significant oil production from the region. Those stocks are worth considering.
Disclosure: I am long PBT, COP. I wrote this article myself, and it expresses my own opinions. I am not receiving compensation for it (other than from Seeking Alpha). I have no business relationship with any company whose stock is mentioned in this article.
Additional disclosure: I am an engineer, not a CFA. The information and data presented in this article was obtained from company documents and/or sources believed to be reliable, but has not been independently verified. Therefore, the author cannot guarantee its accuracy. Please do your own research and contact a qualified investment advisor. I am not responsible for investment decisions you make. Thanks for reading and good luck!