The rural economy is still the bright spot as the Rural Mainstreet Index (RMI) strengthened to its highest level since December 2012. Strong farm income and high commodity prices have driven the farmland price index above growth neutral for the 42nd consecutive month.
The RMI increased to 58.8 from 58.3 in the April survey. Bankers were asked what the biggest risks were to the rural economy and 60% indicated a decrease in commodity prices was the biggest risk for 2013.

Click to enlarge
Agriculture
The farmland price index decreased to a still strong 62.1 from 66.9 in April but has decreased five of the last six months. Ernie Goss, the Jack A. MacAllister Chair in Regional Economics at Creighton University, commented, "Since the beginning of the year, the U.S. dollar has climbed in value by 5 percent, this has been a factor pushing farm commodity prices downward. For example, corn prices have slumped by almost 10 percent since December of last year. This trend, which I expect to continue in the months ahead, has taken a bit of the air out of farmland price growth and farm-implement-sales growth."
Bankers pointed fingers at federal policy makers and their impacts on the economy, "The Healthcare Reform Act will likely affect employment in this area in the months ahead. The Dodd-Frank regulations will adversely affect community banks," said Michael Flahaven, president of Wenona State Bank in Wenona, Ill. Some bankers went into more detail, "Dodd-Frank and new regulations from the Consumer Financial Protection Board are strangling us. New regulations are going to cause us to quit making residential real estate loans hurting the people these regulations are supposed to be helping," remarked Larry Rogers, president of the First Bank of Utica, in Utica, Neb.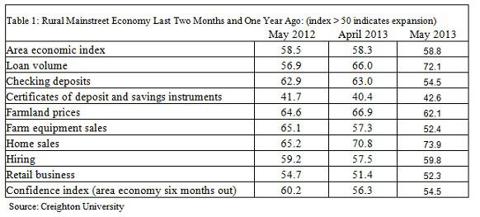 Click to enlarge
Survey
This survey represents an early snapshot of the economy of rural, agriculturally and energy-dependent portions of the nation. The RMI is a unique index covering 10 regional states, focusing on approximately 200 rural communities with an average population of 1,300. It gives the most current real-time analysis of the rural economy.
Disclosure: I have no positions in any stocks mentioned, and no plans to initiate any positions within the next 72 hours. I wrote this article myself, and it expresses my own opinions. I am not receiving compensation for it. I have no business relationship with any company whose stock is mentioned in this article.