Apple (NASDAQ:AAPL) was a stock market darling for the past several years running from under $80 in 2009 to $700 in 2012. The company continues to report massive profits but the shares have taken a holiday, dropping over 35% since last fall.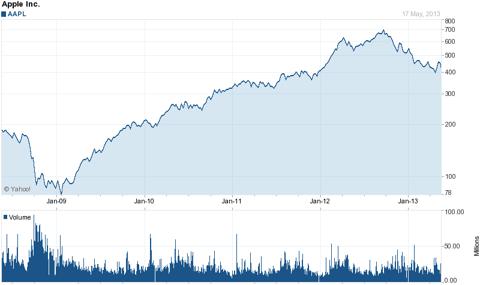 Source: Yahoo Finance
A likely reason for the decline has less to do with Apple and more to do with its competitors. First, Samsung (OTC:SSNLF) opted to use Google's (NASDAQ:GOOG) Android operating system and developed a wide range of attractive products at all price points, displacing Apple from the lead spot in the market it had created in Tablets and pushing Apple into second place in smartphones, a market Apple had taken by storm largely at the expense of BlackBerry (NASDAQ:BBRY). Now, Microsoft (NASDAQ:MSFT) is taking a serious charge at the mobile space with its partnership with Nokia (NYSE:NOK) showing strong growth in Windows 8 phones (albeit from a small base) and a resurgent BlackBerry moving steadily forward with very nicely designed smartphones backed by a new and powerful operating system.
Apple could quite readily hold onto a large and very profitable share in the higher end of the tablet and smartphone market with its outstanding designs and features and vast ecosystem, which have engendered an almost cult-like loyalty among its users. The real threat to Apple today is emerging from Intel (NASDAQ:INTC), not because it is developing its own phones or tablets but because it is giving Apple's competitors the ability to supply more powerful, lighter and faster devices with smaller form factors and longer battery lives.
Intel has been barely evident in mobile with the exception of its sizeable share in the server market so necessary to support the cloud computing on which mobile depends. That is about to change. Intel has released dramatic advances in microprocessors codenamed Haswell and Silvermont which promise power and battery life not heretofore present in mobile. Intel's design reference for tablets, hybrids and ultrabooks called North Cape shows the future of these devices and they are pointed directly at Apple's key markets. Already, Windows and Android-based competitors such as Hewlett-Packard (NYSE:HPQ), Lenovo, Dell (NASDAQ:DELL), Samsung, Toshiba, Sony, Acer, Asus and Microsoft have unleashed over 200 variants of Windows 8 and Android touch screen devices based on Intel microprocessors and these will only become more compelling when they offer traditional Intel processing power with very long battery lives in a small footprint. Intel powered phones are already in the market and more are not far behind.
Smartphones with Intel Inside® the company that revolutionized computing technology is now powering smartphones

Now amazing technology that drives some of the world's fastest computers is now enhancing your smartphone experience. Whether you're watching an HD video in the park, or playing a game while waiting for a flight, smartphones with Intel Inside® give you the power you need to do amazing things anywhere.
Apple needs to do something to fend off this threat. In my personal opinion, it should consider shifting to Intel processors at a minimum, or even consider acquiring Intel. A shift to Intel processors is certainly possible. What about the strategic merits of acquiring Intel?
From a financial point of view, the numbers work. Let's look at the 2012 income statements as a reference. Based on a cash bid of $30 financed virtually in its entirety by Apple's cash holdings, the combined company would earn $56.34 per share. I have ignored goodwill amortization and a minor amount of interest expense for simplicity.
Economics of an Intel Takeover by Apple

(millions of dollar)

Intel

Apple

Combined

Revenue

$ 53,341

$ 156,508

$ 209,849

Operating income

$ 14,638

$ 55,241

$ 69,879

Other income

$ 376

$ 522

$ 898

Taxes

$ 3,868

$ 14,030

$ 17,898

Net Income

$ 11,146

$ 41,733

$ 52,879

Earnings Per Share

$ 2.00

$ 41.90

$ 56.34
Source of data: Yahoo finance
Not all of Apple's cash is resident in the United States and there will be tax and other issues that make the transaction more complicated than it might appear on the surface, but the idea is not complex. Apple simply bids $30 per share for all issued and outstanding shares of Intel.
The resulting balance sheet is not stretched. Combined cash and investments drops from a $144 billion positive balance to a nominal $5 billion of short-term debt, likely retired with weeks of closing.
BALANCE SHEET OF MERGED APPLE AND INTEL (Pro Forma December 31, 2012)

(millions of dollars)

ASSETS

Intel

Apple

Combined

As acquired

Cash and investments

$ 23,079

$121,251

$ 144,330

-$ 4,770

Receivables

$ 5,950

$ 21,275

$ 27,225

$ 27,225

Plant and equipment

$ 27,983

$ 15,452

$ 43,435

$ 43,435

Inventories

$ 4,734

$ 791

$ 5,525

$ 5,525

Other assets and goodwill

$ 22,605

$ 7,295

$ 39,900

$ 189,000

$ 84,351

$176,064

$ 260,415

$ 260,415

LIABILITIES

Current

$ 12,898

$ 38,542

$ 51,440

$ 51,440

Long term

$ 20,250

$ 19,312

$ 39,562

$ 39,562

Equity

$ 51,203

$118,210

$ 169,413

$ 169,413

$ 84,351

$176,064

$ 260,415

$ 260,415
The strategic significance of such a move is compelling. Rather than sourcing components from Samsung and others and paying royalties to ARM Holdings, Apple becomes basic in the state-of-the art technology fundamental to its success. Alliances between Microsoft and Intel are weakened, and Apple becomes a beneficiary of the success of Android by supplying Android assemblers the chips they need.
If Apple did acquire Intel, it would be more like Samsung - both a supplier of devices with a major market share in phones and tablets, and a supplier of components such as those Samsung supplies to Apple. Apple's competitors might not like it, but they would be no worse off than those who rely on Samsung for components today yet compete against Samsung.
As an alternative, but by no means as compelling, Apple can shift to Intel-based processors for its phones and tablets. In my view, as more and more power is available on the mobile device more functions can be performed powered by the phone or tablet. The future of computing is mobile. Microsoft sees it and embraces it. Intel sees it and embraces it. Apple created it. But unless Apple can match the power, performance and battery lives of the emerging competitors it risks becoming less competitive and over time could become an also ran in this game.
One way or another, Apple cannot sit back and let Intel empower its competitors with unmatched performance and battery life while relying solely on its own ARM based designs - unless ARM has something up its sleeve we don't know about.
I believe Intel's advances pose a real threat to Apple and to ARM Holdings (NASDAQ:ARMH). In my view, Apple needs Intel while Intel can live without Apple.
As a result, I am long Intel and BlackBerry and recently closed out a very profitable holding in Microsoft. I am also short ARM Holdings and from time to time short calls on Apple.
Disclosure: I am long INTC, BBRY. I wrote this article myself, and it expresses my own opinions. I am not receiving compensation for it (other than from Seeking Alpha). I have no business relationship with any company whose stock is mentioned in this article.