Shares of Regeneron Pharmaceuticals, Inc. (NASDAQ:REGN) have been dazzling investors by soaring to new all-time highs that are approaching $300 per share.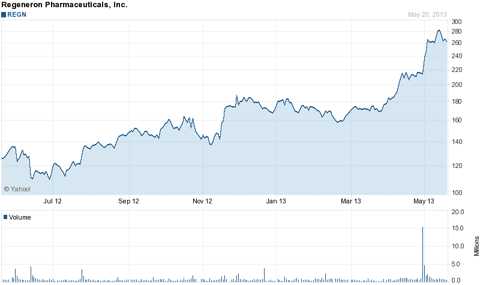 The reason for the excitement is that its FDA approved drug, Eylea, for Age Related Wet Macular Degeneration, is already generating over $1 billion in sales. As exciting as this amazing performance for Regeneron's shares is, however, some shareholders are beginning to look over their shoulder at a potential rival that could unseat its lead drug, Eylea. Eylea makes up the vast majority of Regeneron revenues and a disruption could be catastrophic for share prices.
Regeneron's lead drug Eylea
Eylea is an anti-VEGF drug used to treat Age Related Wet Macular Degeneration that is also comparable to Diabetic Macular Edema, DME. Lucentis, owned by Roche and Novartis AG (NVS), and Regeneron's Eylea dominate the market for these indications and generate combined revenues of over $3 billion annually.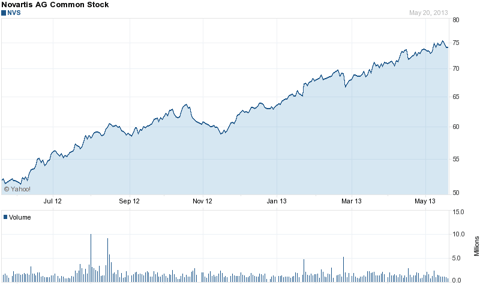 Unfortunately, Eylea and Lucentis are both undesirable injections directly into the eyeball and both with serious adverse side effects. Both drugs are also very expensive with Lucentis costing close to $2,000 per treatment and Eylea only a few hundred dollars cheaper. Eylea also has the advantage over Lucentis that it is only injected once every two months as opposed to Lucentis that is injected once every month and this advantage may allow Eylea to overtake Lucentis. These are very serious reasons for Regeneron shareholders to be concerned about Optina.
How Eylea and Lucentis Work
Anti-VEGF drugs like Eylea and Lucentis do not correct the underlying problem of leaking blood vessels in the retina but they can reduce the growth of new blood vessels and help reduce retinal swelling. Their efficacy is also not reported to be all that great. For example, Dr. Bandello, a well-known eye surgeon and medical professor, is quoted in Opthalmology Times, "With regards to the second therapeutic option, anti-VEGF therapy, I have to say that, in my hands, many of my patients appear to be unresponsive to this mode of treatment; around 50% of patients show some sensitivity to anti-VEGF therapy while the remaining 50% are totally unresponsive."
The side effects of VEGF eye injections do not impact every patient the same, but to some, they can be severe, not to mention that an injection directly into the eyeball is a very unpleasant experience, to say the least. The most frequently reported ocular adverse reactions from VEGF injections into the eyeball following injection of Lucentis are: eye pain, ocular hyperaemia, increased intraocular pressure, vitritis, vitreous detachment, retinal haemorrhage, visual disturbance, vitreous floaters, conjunctival haemorrhage, eye irritation, foreign body sensation in eyes, increased lacrimation, blepharitis, dry eye and eye pruritus.
Optina
Optina is a pill being developed by Ampio Pharmaceuticals, Inc. (NASDAQ:AMPE) and it works with an entirely different mechanism where it actually repairs the leaking blood vessels by restoring the cytoskeletal system of the cells making up the leaking blood vessels in the eyes.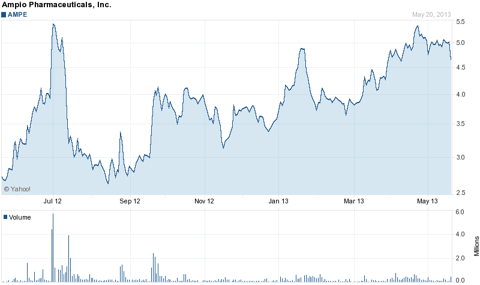 This strengthening of the cytoskeletal system allows the cells making up the blood vessels in the retina to anchor together tighter thereby stopping the leaking of blood and fluids. And it does so without any adverse side effects. Retina Today, a prominent scientific publication in ophthalmology, published a cover story titled, "Oral danazol (Optina) for DME." Shareholders are also concerned because Optina is in the 12th and final week of a pivotal trial and results will be known in the next month or two.
If trial results are favorable, then the likelihood of an FDA approval is very high because Optina is a repurposed drug. Optina is repurposed from an older drug called Danazol that was used to treat endometriosis. Danazol was FDA approved and found to be safe at a dosage of 800 MG per day. Optina is repurposed Danazol and is dosed at only between 20 to 40 MG per day meaning that it has no adverse side effects and safety has already been proven to the FDA. Earlier trials have shown efficacy and the current trial is expected to demonstrate both efficacy and safety.
Keep in mind that last year, after reviewing what must have been compelling data on Optina, the FDA assembled a large panel of 18 of its leading experts in this area and provided guidance to help structure the pivotal trials the drug is about to conclude.
If Optina is approved, it doesn't take a rocket scientist to figure out what will happen to Eylea and Lucentis sales. If you were suffering from Diabetic Macular Edema, and if Optina could treat you just as good or perhaps even better than Eylea or Lucentis ... and with a pill instead of a needle in the eye ... and cheaper ... which would you choose?
Regeneron shareholders have enjoyed an amazing ride, but now it is time to think clearly about the implications of Optina and to watch its progress very carefully.
Regeneron
Regeneron has become a $25 billion market cap company and it seems prudent to want to protect your profits by watching any event that has the potential to impact shares dramatically such as Optina.
I am not recommending selling Regeneron short because stocks like this can continue to rocket to even higher highs.
However, it is definitely prudent to keep a very close eye on the progress of Optina that is now completing a Phase 2B clinical trial that can be quickly rolled into a pivotal phase III if results are as good as Ampio's shareholders are expecting.
If Optina succeeds, Regeneron may tumble and Ampio may become the new Regeneron.
Disclosure: I have no positions in any stocks mentioned, and no plans to initiate any positions within the next 72 hours. I wrote this article myself, and it expresses my own opinions. I am not receiving compensation for it. I have no business relationship with any company whose stock is mentioned in this article.