This article will look at the sustainability of three media companies to determine which represent the best investment.

Click to enlarge
Source: Yahoo Finance
The One To Buy: Gannett Company (NYSE:GCI)
Gannett Company is a media and marketing solutions company. Gannett Company's circulation has been declining by 9% over the last quarter for home delivery, down by 11% overall due to price hikes, compared with its long-term historical trend of negative 4% to 5%. Even if the company is able to achieve its guidance of new incremental subscribers in the next year or so, the revenue gain would not be sufficient to offset the declines in circulation volumes.
In this challenging environment, there is no anticipated positive trend in circulation revenue to offset the continued pressure on advertising revenues any time soon.
The chart below reveals that GCI subscriber trends are still negative: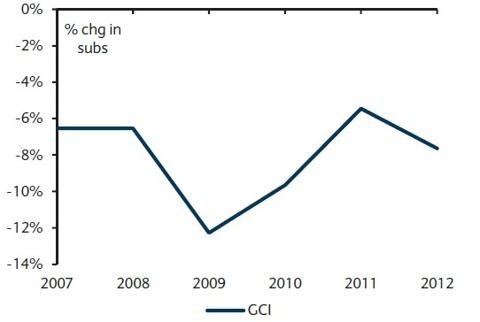 Click to enlarge
Source: Company Reports
Advertising Revenues. GCI's publishing business continues to be largely dependent on advertising, which still accounts for 64% of publishing revenues and 41% of GCI's overall revenues. The secular decline in print advertising will continue to be an issue for investors over the medium term, as some of the recent declines in newspaper advertising have been driven by the weaker macroeconomic environment.
Digital Revenues. The bulk of the company's digital revenues was being generated by CareerBuilder.com, of which the company owns 53%. While CareerBuilder's trends have been better than its competitors like Monster.com, revenue growth at this segment has lagged the previous company guidance. Growth in fourth quarter of 2012 was only 3% year-on-year versus its guidance of around 6%.
Costs. GCI expects to spend $35 million to $40 million in new initiatives throughout 2013, about $10 million of which will be realized in first quarter of 2013. Additionally, it expects to incur about $7 million in stock compensation expense this year.
Subscriber Losses. Gains in digital subscribers will not be enough to offset the losses in print subscribers. Publishing still accounts for 65%, 48% and 47% of the company's revenues, EBITDA and cash flow, respectively.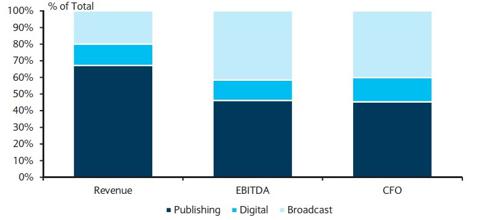 Click to enlarge
Source: Company Reports, Barclays Research
Due to the staggered manner of price increase roll-outs across the company's newspapers, publishing revenues will be sustained for most part of 2013. However, the company will face tough comps in 2014 because of these price increases.
Revenue Guidance. GCI disclosed earnings guidance to an implicit increase of $200 million in digital circulation revenues, and a $100 million increase in publishing EBIT by the end of 2013. The effect of the digital pay wall price increase will fade away toward the latter part of this year.
While another price increase is anticipated, it is unlikely to be a sustainable source of cash. Digital circulation revenue growth also appears to be sluggish with limited visibility. The longer-term strategy is to stem declines in publishing, which is still GCI's biggest revenue and EBITDA contributor. Beyond that, however, the growth in the broadcast segment may not be enough to support the negative trends in its publishing business given that broadcast accounts for only 16% of the company's revenues and 34% of its EBITDA.
Dividend Yield. GCI yields are above the 4% mark based on its quarterly dividend (annualized to $0.80).
Rating. A Buy rating. Upside potential expected from sustained publishing revenues for the rest of the year.
The One to Avoid: The McClatchy Company (NYSE:MNI)
The McClatchy Company is engaged in newspaper publications and digital marketing.
Financial Flexibility. The McClatchy Company will remain focused on debt reduction. MNI offers a more balanced liquidity story with a continued debt reduction partly offset by a lack of near-term catalysts, a tougher set of comps and tighter trading levels (albeit in a tighter high-yield debt market).
Digital Strategy. The company's digital investments continue to perform well and provide downside support for stock investors. Digital advertising has benefited from new initiatives including Dealsaver, MNI's local daily deal product, and continued success at Cars.com.
Advertising Revenues. Despite declining 6.0% year-to-date, MNI's ad performance actually represents its best run in recent years with an improved rate of decline over the past three quarters.
Direct Marketing Business. The Direct Marketing business, which is 14% of ad revenue, has seen flat growth year-to-date.
Rating. Although the stock may look cheap by this account, it would be prudent to wait for an improvement in its fundamentals before jumping in. Recommending to avoid it.
The One To Hold: A.H. Belo Corporation (NYSE:AHC)
A.H. Belo Corp. publishes newspapers, local news and information.
Losses. A.H. Belo Corporation reported higher quarterly net loss due to lower advertising revenue. Net loss for first quarter 2013 was $8 million, or 37 cents a share, versus net loss of $3.9 million, or 18 cents a share, last year. Total revenue dropped 5% to $99.3 million.
Advertising Revenues. Advertising revenues declined by 4%. Declines at The Providence Journal in Rhode Island, and The Press-Enterprise in Riverside, California, pulled down gains at The News.
Digital Revenues. Digital revenue rose 12%, due to larger automotive revenues generated at The News, which earns income by charging readers for online access to news content. Revenues from digital subscription revenues are allowing the company to offset continued drop in newspaper advertising.
Below is the chart that shows historical dividends prior to the most recent $0.06 declared by AHC: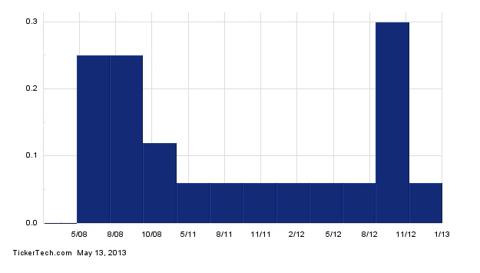 Click to enlarge
Rating. Recommending a Hold on AHC stock due to weaker circulation outlook.
Disclosure: I have no positions in any stocks mentioned, and no plans to initiate any positions within the next 72 hours.
Disclaimer: Black Coral Research, Inc. is a team of writers who provide unique perspective to help inspire investors. This article was written Hans Centena, one of our Senior Analysts. We did not receive compensation for this article (other than from Seeking Alpha), and we have no business relationship with any company whose stock is mentioned in this article. Black Coral Research, Inc. is not a registered investment advisor or broker/dealer. Readers are advised that the material contained herein should be used solely for informational purposes. Investing involves risk, including the loss of principal. Readers are solely responsible for their own investment decisions.