The share price of General Electric (NYSE:GE) has risen by 24% over the past 12 months. At $23.66, the stock is trading near its 52-week high and offers a decent dividend yield at 3.2%. Despite the notable price appreciation, I believe GE shares continue to be an attractive dividend investment and should deserve a spot in your income portfolio. My opinion is based on the following 4 reasons:
1. From a historical standpoint, GE shares are trading at a reasonable level. The stock's trailing P/E multiple is currently trading in line with its average level since 2010, but notably above its five-year historical average (see chart below).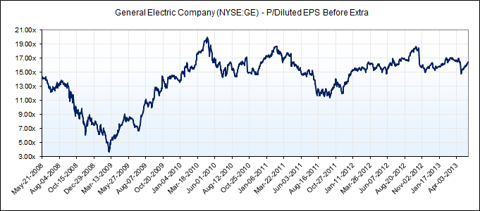 The current valuation appears to be supported by the solid fundamental developments over the past five years:
1) GE's ROA and ROIC ratios have fully recovered from their trough levels since 2009 (see chart below);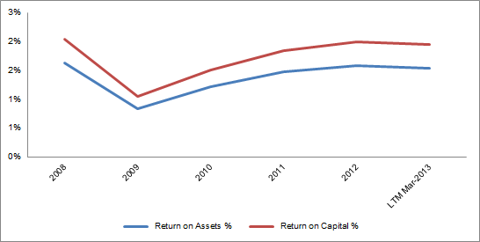 2) The company has also been able to slightly drive up its profitability margins (see chart below); and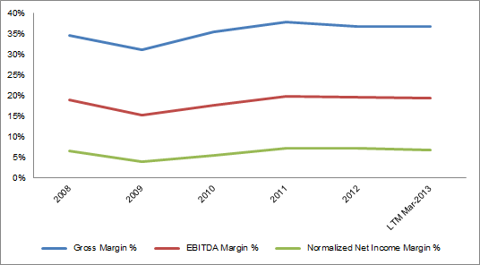 3) GE's revenue, EBITDA, and EPS growth rates have recovered from the trough levels reached in 2009 and the consensus estimates for the current and next two fiscal years are showing a stable trend (see chart below).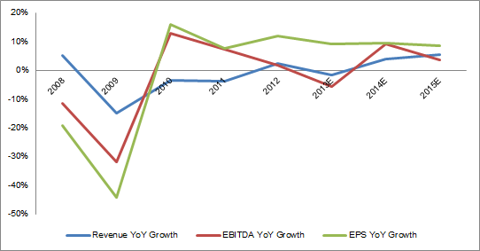 2. GE's forward P/E multiple of 14.2x is now trading at a 7.5% discount to the same multiple of S&P 500 Index, which stands at 15.4x at present (see chart below).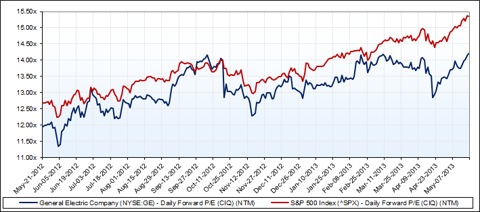 This relative valuation level presents a good buying opportunity as the market discount is somewhat exaggerated provided that 1) GE shares have historically been tracking closely to the S&P 500 valuation level as the market discount averaged at just 3.4% in 12 months prior to March 2013, when GE's valuation started deviating from the market level; 2) GE's consensus five-year earnings growth estimate at 10.2% is markedly above the average estimate of only 8.2% for the S&P 500 companies; 3) the company enjoys a 24% free cash flow margin on trailing 12-month basis, which is significantly above the market average; and 4) GE stock's dividend yield at 3.2% is above the 2.5% S&P 500 average and the company also has a buyback program in place to provide additional downside cushion.
3. GE's dividend yield and its growth prospects provide a solid downside share price support. The company's commitment to dividend growth is reflected by its track record of dividend hikes. Since 2010, GE has raised the dividend per share for 5 times from $0.10 to $0.19 with the growth rates generally ranging from 10% to 20%. Given the company's 20% plus free cash flow margin, I believe the current pace of the dividend growth can be sustained at least in the near term. Additionally, given the current low-interest market environment and the fact that more than 40% of GE's shares are owned by retail investors, the yield's upside would appear to be limited. As such, assuming a target dividend yield range from 3.2% to 3.8% [the assumptions are supported by the strong yield demand from income investors and the fact that the yield has been fluctuating within that range since 2011 (see chart below)], and supposing that the dividend per share would be raised by 10% from the current annualized level at $0.76 to $0.84 in the December payment period, this scenario would yield a target price range from $22.11 to $26.25, or a tempting return band from -6.6% to 10.9% even without considering the 3.2% dividend income in the holding period.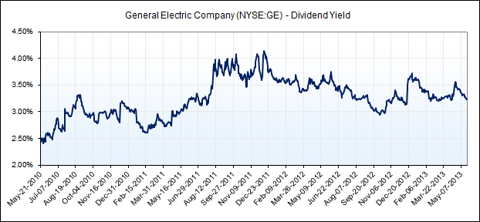 4. Sell-side analysts are generally bullish on the stock. Of the total 17 stock ratings compiled by Thomson One, there are four strong buy and seven buy ratings. In a Deutsche Bank research note released on May 1, John Inch commented on a few positive dynamics/catalysts for GE (sourced from Thomson One, Equity Research). Below are the two points I strongly agree with:
1. Since the financial crisis, GE has been meaningfully selling GE Capital assets…The company is targeting the future Capital mix to be roughly 30% of earnings…We believe the environment is increasingly optimal for additional financial asset divestitures against a backdrop of a slow growth economy and increased global financial services regulations…As GE continues to shrink its financial services assets, we expect the market to progressively shift its valuation framework for GE away from (simplistically) 50% financial and 50% industrial toward a higher-value pure industrial blend - a potentially meaningful opportunity for valuation re-rating, again unique to GE.

2. GE reports that orders pricing was up 60bps - up progressively over the past 2 quarters. Major equipment orders were up 10%. Equipment book-to-bill accelerated to 1.3x. Total backlog increased by $6bn sequentially to $216bn. To qualify an order to be put into backlog, GE typically requires the customer place a down payment. Consequently, we view GE's published backlog to be a firm number subject to only minor cancellation risk.
Bottom line, in the light of the solid company fundamentals, promising prospects, and sustainable dividend yield, income investors should consider adding GE shares given the inexpensive valuation.
All charts are created by the author and all financial data used in the article and the charts is sourced from S&P Capital IQ unless otherwise specified.
Disclosure: I am long GE. I wrote this article myself, and it expresses my own opinions. I am not receiving compensation for it (other than from Seeking Alpha). I have no business relationship with any company whose stock is mentioned in this article.