Considering the year it's had so far, Bank of America (NYSE:BAC) should count itself lucky. Even after missing earnings by more than half in its March quarter, the banking giant finds its stock up by close to 16% on the year - within striking distance of the performance of the S&P 500, which has returned close to 17% in the year-to-date.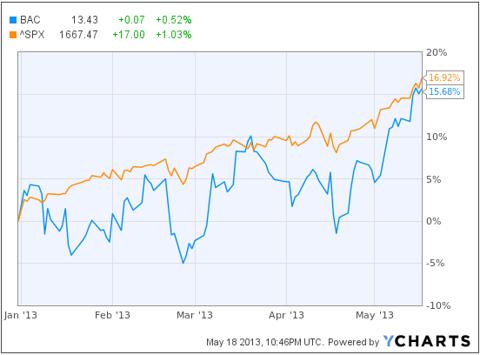 Other than missing earnings, Bank of America finds itself still dealing with the aftermath of the financial crisis, most recently coming to a $1.6 billion settlement with MBIA Inc. over faulty mortgage securities and derivative instruments it had sold to MBIA during the housing boom. That settlement will require Bank of America to take a 10 cent per share charge against its first-quarter earnings - which it had not provisioned for - so its actual earnings miss was even wider and Bank of America finds itself not having earned anything in the first quarter of 2013, compared with 3 cents a year earlier.
The silver lining to Bank of America's settlement is that the termination of its credit default swaps with MBIA reduces the risk-weighting on its assets. Consequently, Bank of America now has an improved Basel 3 Tier 1 Common Capital ratio of 9.52% compared with the 9.42% that it reported on April 17. While this a small comfort for its shareholders, who find the bank's trailing 12-month earnings reduced to 22 cents, it nevertheless helps Bank of America move further away from its "legacy" transactions under former CEO Ken Lewis.
More importantly, the deal gives Bank of America warrants equivalent to a 4.9% equity stake in MBIA. Considering that the monoline insurer has beaten estimates by an aggregate multiple of 13.1x over its past two quarters, Bank of America's "investment" in MBIA may prove to be the rare feather in its cap. In fact, MBIA's shares rose dramatically in the wake of the settlement announcement since the deal effectively erased MBIA's solvency concerns. MBIA is now up 95% in the year-to-date and Bank of America's is now sitting on $51 million of gains on the warrants it received.
The next crucial date on Bank of America's calendar is May 30, when a New York state judge is expected to rule on its $8.5 billion settlement with mortgage security investors. A positive ruling is essential for Bank of America as, similar to what happened with MBIA, it would mean putting further distance between itself and its past legal troubles - something that is has spent more $3.4 billion on over the past two quarters (inclusive of the MBIA settlement).
With these distractions receding in the distance, should investors consider picking up Bank of America shares? We take a look:
Earnings
Bank of America reported a 13% decline in mortgage revenues in 1Q 2013, which is consistent with the experience (if not the magnitude thereof) of its competitors such as JPMorgan (NYSE:JPM) and Wells Fargo (NYSE:WFC). One positive development is that the recent mortgage bankers survey suggests that second-quarter mortgage activity is improving at a 12% annualized pace, which should enable money center banks to recover lost ground.
Indeed, Bank of America is expected to see earnings of 97 cents this year, though that may be adjusted down to 87 cents following the MBIA settlement. Even using the lower figure, however, its annual earnings improvement would be in the magnitude of 248%. This earnings recovery is expected to persist into 2014: earnings per share are expected to rise to $1.27, an improvement of between 31 and 46% over 2013's expected number.
Including 2014, earnings per share are expected to grow by an average of 23.4% over the next five years - an impressive turnaround from the average contraction of 21.4% in the previous five years. This compares favorably to the 8.5% growth expected from the banking industry as a whole for the same period, which also trails the 9.4% earnings growth rate anticipated for the S&P 500.
Ostensibly, Bank of America will gain traction not only from the continued recovery of the mortgage market but also through a combination of the expansion of its investment banking activities, in which it is currently ranked second in terms of global investment banking fees, and wealth management, where its revenues are at their highest since Bank of America acquired Merrill Lynch.
At the risk of overstating things, this is why Bank of America's settlement with MBIA and other legacy claimants is important: management can focus on the more substantive (to shareholders, anyway) parts of managing its business of banking rather than dealing with regulators or aggrieved parties.
Related to this renewed focus, Bank of America has already moved forward with its "New BAC" project, which it now expects will save it $8 billion a year by 2015. In our view, the biggest danger for Bank of America going forward is not litigation so much as execution: it cannot afford any further bungles such as imposing a $5 surcharge on debit card transactions.
Valuation and Fundamentals
On the face of it, Bank of America is currently expensive. After adjusting for the MBIA settlement, its stock is now trading at 61x its trailing 12-month earnings. Yet Bank of America's earnings are impaired by its legacy costs and up-front restructuring charges, which have taken a huge amount away from its bottom line. By the less-cluttered measure of its price-to-sales, Bank of America is actually trading at a discount: 1.45x to 1.8x for its industry.
The same relationship holds on a price-to-book value basis: Bank of America is trading at 0.66x compared with 0.98x. Considering that the typical rule-of-thumb valuation for a financial entity is 2x book value, it is evident that the market is still wary of financial institutions in general and of Bank of America in particular. In that sense, and coupled with its future earnings prospects, it can be said that there is a much better company hidden beneath the uncertainty of litigation.
Moreover, Bank of America shareholders can take comfort in the fact that certain of its key metrics are trending in the right direction: its current net income margin is now at 5.7%, better than a four-fold improvement over its performance over the past five years - and far better than its industry's 0.12% margin. At the same time, its return on investment should improve further if its bet on MBIA proves correct - something that it could use given its break-even ROI over the past five years.
Conclusion
Bank of America is making significant progress in working its way out of the hole that its previous leadership had dug it into. Its restructuring efforts and the wave of settlements it's made over the years, of which the MBIA transaction is the latest, demonstrates that management is committed to moving away from the company's legacy and focused instead on bringing Bank of America back to its historic levels of profitability. Meanwhile, the recovering mortgage market and the fertile capital markets augur well for the company's earnings going forward.
Given these factors, we believe that Bank of America will not trail the S&P 500 for long and could see its shares above $18.50 by year's end.
Disclosure: I have no positions in any stocks mentioned, but may initiate a long position in BAC over the next 72 hours.
Disclaimer: Black Coral Research, Inc. is a team of writers who provide unique perspective to help inspire investors. This article was written by Jonathan Lara, one of our Senior Analysts. We did not receive compensation for this article (other than from Seeking Alpha), and we have no business relationship with any company whose stock is mentioned in this article. Black Coral Research, Inc. is not a registered investment advisor or broker/dealer. Readers are advised that the material contained herein should be used solely for informational purposes. Investing involves risk, including the loss of principal. Readers are solely responsible for their own investment decisions.