The China syndrome is a hypothetical sequence of events following a U.S. nuclear reactor meltdown in which the core melts through its container and deep into the earth toward China. As we all know, a nuclear accident has fallout effects that can potentially spread around the world depending on its magnitude and severity. And when it comes to investment markets, one has to wonder about the potential for a reverse China syndrome increasingly taking hold. For while all is apparently well in U.S. markets, the same cannot be said for China, as the fallout effects from its weakening economy are already being felt in many parts of the globe.
It was not long ago during the post crisis period that the U.S. and China markets were moving as one. Both had sustained the earth shattering shock from the initial market meltdown in late 2008 and early 2009. And both were rallying smartly on the tailwinds of increasing stabilization and unprecedentedly aggressive policy stimulus. But toward the end of 2010, this relationship suddenly started to change as the pace of economic growth began to cool in both countries as well as around the world. And while the U.S. stock market (NYSEARCA:SPY) continued its unyielding rise higher, China stocks (NYSEARCA:FXI) suddenly faltered in the face of this new reality. The gap between the two has been widening ever since.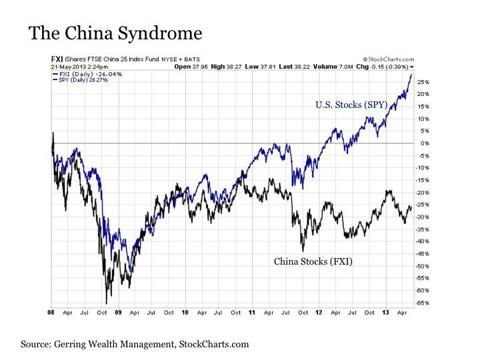 Investors have been left with a bifurcated market as a result of this split. At first, the effects of this slowdown were confined almost exclusively to China. But by the summer of 2011, the fallout effects started to spread in earnest. Thus, while some segments are still climbing higher on the power of central bank stimulus, many others are not.
As would be expected, many of the countries that are most directly exposed to the China economy have struggled in concert. Leading among these are the other BRIC members including Brazil (NYSEARCA:EWZ), Russia (NYSEARCA:RSX) and India (NYSEARCA:EPI), all of which have fallen just as much if not more over the last two years.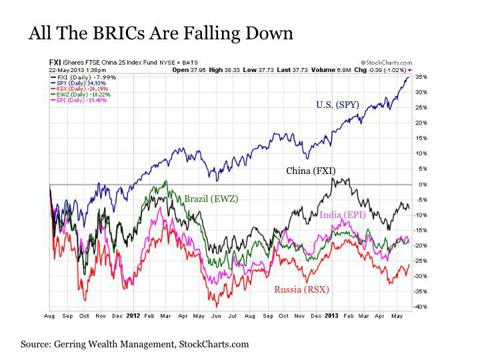 This also includes many of the countries that have benefited for years from providing the broad range of natural resources that had been fueling China's robust growth until recently. These include Canada (NYSEARCA:EWC), Indonesia (NYSEARCA:IDX), South Africa (NYSEARCA:EZA) and Chile (NYSEARCA:ECH).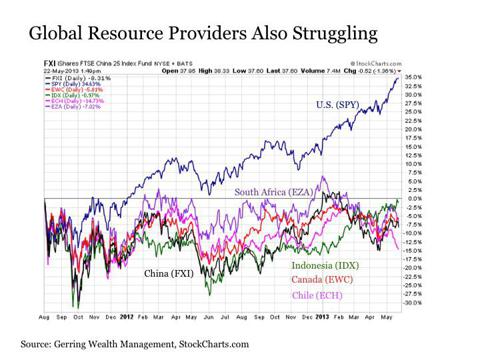 It has also certainly not paid in many cases to have markets in close proximity to China, as many of its closest neighbors such as South Korea (NYSEARCA:EWY), Taiwan (NYSEARCA:EWT) and Singapore (NYSEARCA:EWS) have also suffered.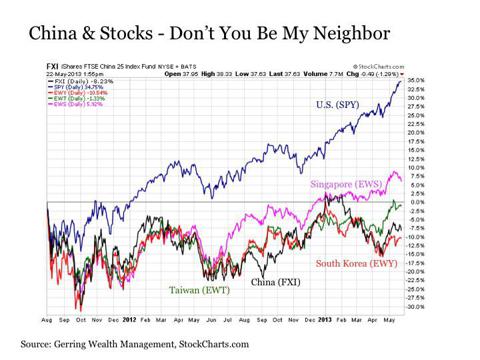 The impact of recent weakness in China has also spilled directly over into the commodities markets. Copper is among the leading examples in this regard. And not only has the price of the red metal itself plunged over the last two years, so too have the shares of leading copper producers such as BHP Billiton (NYSE:BHP), Freeport McMoRan (NYSE:FCX) and Rio Tinto (NYSE:RIO).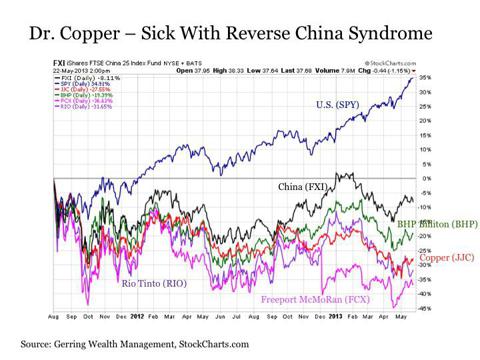 A variety of other key metals have also taken it squarely on the chin including iron ore, steel, aluminum, nickel and rare earth metals. Companies negatively impacted include U.S. Steel (NYSE:X), Alcoa (NYSE:AA), Vale (NYSE:VALE) and Molycorp (MCP).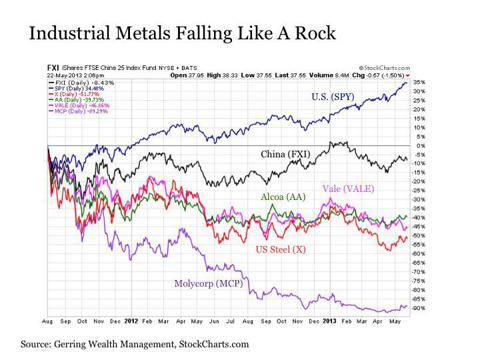 And while oil prices and the companies most closely tied to it such as Occidental Petroleum (NYSE:OXY) first moved higher with the U.S. stock market following the split, the sector jumped ship by the summer of 2012 and joined the China path lower.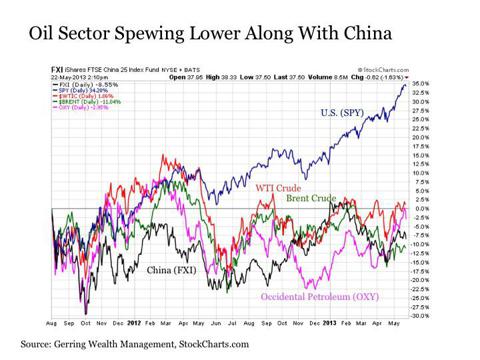 The fallout effects from the China slowdown are in fact directly impacting a variety of U.S. companies. For example, major industrial machinery producers such as Caterpillar (NYSE:CAT) and Joy Global (NYSE:JOY) have struggled just as much if not more than Chinese stocks. And those companies that help ship products worldwide such as Expeditors International (NASDAQ:EXPD) and C.H. Robinson Worldwide (NASDAQ:CHRW) have also followed suit.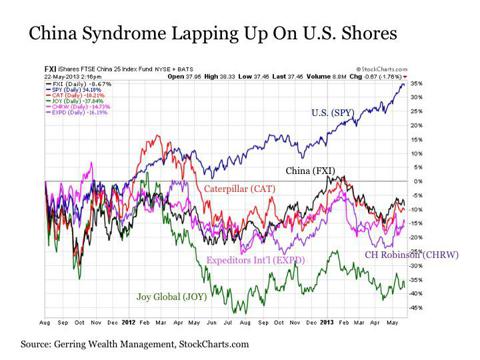 So while the central bank stimulus continues to flow and the U.S. stock market recently joined by Japanese stocks (NYSEARCA:DXJ) continue to celebrate, not all boats are being lifted. In fact, many countries and sectors around the world have been struggling for nearly two years now with no relief in sight. And while the debate is likely to continue about the accuracy of Chinese economic data, one has to look no further than the asset markets in so many places around the world to see that the country and its various partners is struggling with fundamental weakness in a very big way. And all of this is occurring at a time when the global economy is being flooded with liquidity, which makes this price weakness all the more disconcerting.
Now the optimist would look at this situation and draw the following conclusion. While this weakness is unfortunate for those economies, markets and companies being directly impacted, it is a positive because it is keeping commodities prices low and inflationary pressures in check as a result. And this continues to provide the U.S. Federal Reserve and other global central bankers the flexibility to supply even more stimulus into the financial system, which of course is good for stock prices. Furthermore, this bifurcated market presents opportunity, as those markets and sectors that have trailed over the last two years offer even more upside potential as they catch up to the pace set by the U.S. stock market as the global economy recovers. After all, we have already seen selected markets like Australia (NYSEARCA:EWA) and automakers like General Motors (NYSE:GM) and Ford Motor (NYSE:F) break away from the China path to race ahead and join U.S. market strength, so it is only a matter of time before others are bound to follow. And at worst, perhaps we have simply arrived at a point in the global economy where the U.S. and China economies and their markets have decoupled from one another.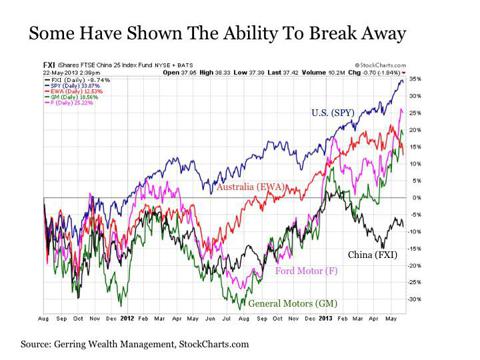 Perhaps some if not all of these optimistic themes will play themselves out. But the primary challenge associated with these conclusions is that economic growth remains lackluster at best and in recession at worst across the many areas of the globe including the U.S. where markets are still surging higher. And while the injection of monetary stimulus certainly feels good in the short-term, recent history has shown that these sugar highs quickly wear off with a most unpleasant reality in its place.
Thus, the realist might view this situation with a bit more pessimism. While U.S. stocks along with selected other global markets continue to surge higher, this move has occurred with scant economic growth and persistently weakening revenue and earnings trends. And beyond these selected pockets of strength, the rest of global economy including China and those that are closely related to it has clearly been dealing with some significant challenges over the past two years that have gone largely ignored in the U.S. to this point. And just as it was the case in "The China Syndrome," the 1979 feature film, summarily dismissing these major warning signals as simply nothing to worry about is not only a bad approach to risk management, but it may ultimately lead to a decidedly negative outcome for the U.S. stock market before it's all said and done.
None of this is to suggest that investors should not own stocks in the current environment. Nor does it mean that investors should not be bullish on stocks. Far from it, as I continue to hold a meaningful allocation to stocks as part of a broadly diversified and hedged portfolio strategy and assign an above average probability that they will continue higher over the near-term with an inevitable pullback or two along the way. Instead, it is intended to serve as a reminder of the critical importance of managing risk to protect against the downside. And the next time you hear someone on your television utter the following absolutely ridiculous statement - "I honestly can't come up with anything to worry about to keep stocks from going higher" - your eyebrow should be raised, as it suggests that if nothing else that this person is clearly not taking the time to think hard enough about risk. For it is all around us in the current market environment.
Disclosure: I am long F. I wrote this article myself, and it expresses my own opinions. I am not receiving compensation for it (other than from Seeking Alpha). I have no business relationship with any company whose stock is mentioned in this article. I am long stocks through broadly diversified ETFs such as VIG, VXUS and DVY as well as a number of individual stocks.
Disclaimer: This post is for information purposes only. There are risks involved with investing including loss of principal. Gerring Wealth Management (GWM) makes no explicit or implicit guarantee with respect to performance or the outcome of any investment or projections made by GWM. There is no guarantee that the goals of the strategies discussed by GWM will be met.