By Todd McDonald, analyst
Overview
Salesforce.com (NYSE:CRM) is scheduled to report Q1 2014 earnings after the close of trading on Thursday, May 23. A conference call will follow at 5:00 p.m. ET. The actual results are typically released at 4:05 p.m. ET.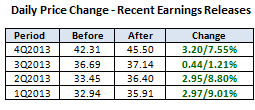 Outliers and Strategy
Non-GAAP Earnings Per Share: For the first quarter 2014 period, Salesforce previously said it expects to report non-GAAP EPS of approximately $0.40 to $0.42, which translates to $0.10 to $0.11 after the 4-for-1 stock split. The current Street estimate is $0.10. (Source: Yahoo Finance.)
Revenues: Revenue is projected to be in the range of approximately $882 million to $887 million. The consensus on the Street is $887.08 million with estimates as high as $892.6 million.
Adjusted Earnings Per Share Guidance (Q2 2014): In most cases, Salesforce provides earnings guidance for the upcoming quarter that tends to have a direct impact on the direction of the share price. The current estimate is $0.12.
Adjusted Earnings Per Share Guidance (FY 2014): In the Q4 2013 earnings release, Salesforce.com gave guidance for FY 2014 in the range of $1.93 to $1.97. After a 4-for-1 stock split, this equates to approximately $0.48 to $0.50 per share -- which is right in line with Street estimates.
Revenues Guidance: In the Q4 2013 release, the company issued revenues guidance in the range of $3.82 billion to $3.87 billion. The current Street estimate is toward the high end of the range, at $3.87 billion.
Implied Volatility: The average move for the past eight quarters has been approximately 7%. Options premiums are pricing in a bit more of a move this quarter, at about 7.5%.
Recent News
Technical Review
Salesforce.com has underperformed the broader market YTD (up about 10% vs. S&P 500 gains of about 18%). The RSI is currently at an oversold level, signaling the potential for a near-term pullback. The all-time high was set just a few days ago at $47.58, which should be used an initial point of resistance. The next level to watch should be near $49, which is the high end of the range of implied volatility. Should earning disappoint, look for support near $44, followed by the 50-day SMA near $43.
Summary
Salesforce.com is just shy of its 52-week high, thanks in part to an improving economic backdrop, an attractive valuation, transparent and consistent billings growth, and a strong enterprise push into cloud services. Given the recent run-up, the upcoming report has to impress. Look for numbers near the high end of the range, coupled with an increase in FY 2014 revenues and adjusted EPS guidance for a buy signal.
Disclosure: I have no positions in any stocks mentioned, and no plans to initiate any positions within the next 72 hours. I wrote this article myself, and it expresses my own opinions. I am not receiving compensation for it (other than from Seeking Alpha). I have no business relationship with any company whose stock is mentioned in this article.
Disclaimer: By using this report, you acknowledge that Selerity, Inc. is in no way liable for losses or gains arising out of commentary, analysis, and or data in this report. Your investment decisions and recommendations are made entirely at your discretion. Selerity does not own securities in companies that they write about, is not an investment adviser, and the content contained herein is not an endorsement to buy or sell any securities. No content published as part of this report constitutes a recommendation that any particular investment, security, portfolio of securities, transaction or investment strategy is suitable for any specific person.