Executive Summary
The drumbeat of analysts and pundits stating there are no other investments opportunities besides going long stocks has been getting louder and louder, to the point where it seemed that is all I heard from just about everyone as of today.
Whenever someone tells me I have no choice and making a certain investment is a sure bet, I immediately see a huge red flag. This is precisely why I hedged my portfolio by going long volatility via the iPath S&P 500 VIX Short-Term Futures ETN (NYSEARCA:VXX) a couple days back. I also took profits on many of my long positions recently.
I am a contrarian investor at heart. The overbearing bullishness of stock market pundits and the fast and furious rise in the SPDR S&P 500 Trust ETF (NYSEARCA:SPY), PowerShares QQQ Trust ETF (QQQ) and the SPDR Dow Jones Industrial Average ETF (NYSEARCA:DIA) has made me wary of staying long over the summer. In the following sections I will lay out my top three reasons I turned bearish heading into the summer months.
You must take profits to make profits
This is a saying I came up with to remind me to keep a close watch on my positions. I noticed I have a propensity to hang on to my losers too long and sell my winners too soon. By setting hard target prices to take profits at the time I start a position I have vastly increased my performance. With the market up so significantly year to date, take a look at your portfolio and determine if maybe it is time to take some money off the table by selling at least a portion of some of your winners.
Markets never go up in a straight line
I have seen numerous pundits positing that the market is due for a major correction based on the fact that it has run too far too fast with no major pullbacks. Furthermore, I cannot tell you how many times I have heard that the market has been on a tear due to the so called "Bernanke put." When Bernanke was asked today if there was a chance the Fed could begin tapering QE prior to Labor Day, he kind of flinched a little prior to answering. This was not good. Subsequently, the FOMC minutes came out and many of the participants were asking for QE to be tapered in June. This may have been just the news to give market participants a reason to hit the sell button and take profits. If you look at the chart below provided by CNBC it seems that is exactly what they did. This was the largest reversal of fortune for the markets since November of 2008.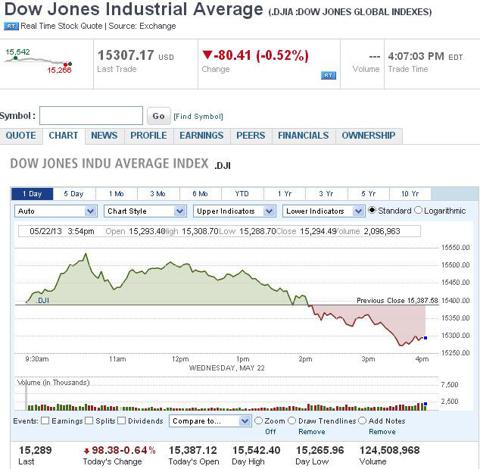 We will have to wait and see what happens, but if Wednesday's midday reaction is a tell, we may be in for a bumpy ride over the summer.
Volatility at all-time lows
Volatility has been at all-time lows recently based on the fact we haven't really had the usual summer bad news out of the Middle East or Europe. Nevertheless, the situation between Syria and Israel seems to be very tense right now. Any escalation in the rhetoric could give people another reason to sell. Secondly, on Monday Italy published data which showed industrial orders were down 10 percent on the year. Several countries in Europe are still in recession. Issues in Europe tend to rise in the summer months. This has been the case for the past three years. Volatility spiked Wednesday as the market began to gyrate on the Fed's statements. This could be a precursor to a full blown summer swoon.
Conclusion
The Fed hinted it would be flexible with the QE program and adjust to economic conditions. With the market at all-time highs and the possibility of a good jobs report coming out this week, they may just ease off or pause the stimulus sooner rather than later. Regardless of the outcome, I say take a look at your portfolio and make the proper adjustments as you see fit. Regardless, I believe a pullback will be healthy for the market and may provide the elusive buying opportunity we all have been waiting for.
Disclosure: I am long VXX. I wrote this article myself, and it expresses my own opinions. I am not receiving compensation for it (other than from Seeking Alpha). I have no business relationship with any company whose stock is mentioned in this article.