A key reversal in the stock market today as higher trade was rejected, and as of this post, it looks like a bearish engulfing candle. Perhaps it was minutes from the FOMC, a misinterpretation of Ben's comments, a reduction in debt purchases… I do not know the catalyst, but a long awaited correction may be underway. It has been a monster run with the S&P higher by 15% YTD and 8% just in the recent leg from 4/18.
My advice remains the same: lighten up on profitable trades and if not willing to get short on a speculative trade, at least establish a hedge to protect your portfolio on a 5-10% correction.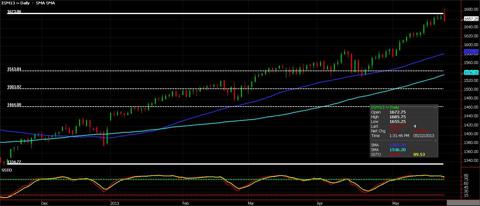 Click to enlarge
Chatter that QE may not be to infinity has market participants re-evaluating if they can fall asleep at the wheel and just continue to pile into equities… that would not be my advised strategy. I do not want to make too many assumptions, as we know what happens... a 38.2% correction drags June futures back near 1545. Gain bearish exposure via ES futures or bearish option strategies. I also advised clients that had open back ratio spreads to buy back their top leg. For example, those short (1)1625 puts should have legged out at a profit and now hold multiple (4) 1575 puts. Clients booked profits on the 1625 leg and are down on the other and looking to capitalize on further depreciation in the coming weeks.
My message is the economy could still improve but if the Fed takes their foot off the gas pedal, I think it would be healthy in the grand scheme of things to see a profit taking led correction. The move I am anticipating is only 140 or so S&P points. There have been several moves of this magnitude since the run up from 2009, but none in the last seven months. In fact, in that time frame, including this week if it proves to be negative, we've only experienced seven losing weeks.
Risk Disclaimer: The opinions contained herein are for general information only and not tailored to any specific investor's needs or investment goals. Any opinions expressed in this article are as of the date indicated. Trading futures, options, and Forex involves substantial risk of loss and is not suitable for all investors. Past performance is not necessarily indicative of future results.
Disclosure: I have no positions in any stocks mentioned, and no plans to initiate any positions within the next 72 hours. I wrote this article myself, and it expresses my own opinions. I am not receiving compensation for it. I have no business relationship with any company whose stock is mentioned in this article.