The week of June 26th was very bad to Boeing (NYSE:BA). After continued reassurance from CEO Jim McNerney that the company's much anticipated (and previously delayed) Dreamliner 787 would be delivered by the 23rd, Boeing once again came up short. To investors, this was simply one slip-up too many… and a company that cannot fulfill promises is a company worth selling.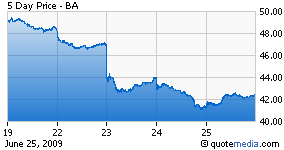 Making matters worse, the next day, the U.S. Department of Defense terminated the land warfare weapons program headed by BA's Integrated Defense Systems unit worth an estimated $160 billion. Thinking that there was no possible way to add more grief onto shares of Boeing, Qantas Airways canceled orders for 15 Boeing 787 Dreamliners after being "disappointed" by Boeing's management.
Shares slid on the day of the initial 787 delay by 6.46%. On the day of the Integrated Defense Systems' falter, the stock fell an additional 5.81%. While this article is being written during a closed market, when we have not seen the activity resulting from the Qantas cancellation, I'd imagine shares won't be off more than 4% more. The point being: Boeing's sell off has created an opportunity for investors… but what kind of opportunity?
Investment research firms are all over the map on this one!
June 23rd:
FTN Equity Capital: Neutral Rating, No Price Target
Stifel Nicolaus: Buy Rating, $59 Price Target
Credit Suisse: Neutral Rating, $39 price target
Jesup & Lamont: Hold Rating, No Price Target
June 24th:
Barclays Capital: Overweight Rating, $60 Price Target
Broadpoint AmTech: Neutral Rating, $39 Price Target
Gabelli & Co: Buy Rating, No Price Target
Oppenheimer & Co: Underperform Rating, $40 Price Target
Sanford C. Bernstein: Market Perform Rating, $40 Price Target
Jeffries: Buy Rating, $52 Price Target
UBS: Sell Rating, $30 Price Target
Morgan Stanley: Equalweight Rating, $50 Price Target
BAS-ML: Buy Rating, $60 Price Target
June 25th:
Jyske Bank: Buy Rating, $69 Price Target
This makes 14 rating adjustments over the past three days: 6 Holds, 4 Buys and 2 Sells with the average target coming to just under $49/share. Put simply: nobody knows whether this stock is cheap or headed much much lower.
The Bear's Case
Boeing no longer has any credibility with investors or myself in its ability to come through. I have been watching this company delay its 787 Dreamliner for years, and management was nearly certain to debut the first flight at the Paris Air Show last week or on Tuesday at the latest. Not being able to accomplish this small feat was astonishingly horrible for the firm, and has prompted calls to fire McNerney… which at this point I am not at all opposed to. It is always better to delay than release a bad product, but enough is enough.
After interviewing a few current and former employees of Boeing, things sound very, very grim. Workers are turning on their own company, even following the deadly workers strike that few seem to remember in a post-recession world. By outsourcing the manufacturing end of the work on Boeing's flagship Dreamliner, the company took a gamble to break from tradition and potentially enjoy cost savings. Now, workers bicker that this mishap is another example of why BA "should have stayed American" in their operations. This is a company that used to pride themselves on building strong wings in particular. By producing planes known for their stability, Boeing was able to make some of the strongest machines ever built. Now, this area of expertise has been undercut and challenged by computer modeling that failed to identify a weak point in the fuselage. This weak area could be a potentially major repair costing Boeing months more time.
Once a company is no longer able to meet quota, order cancellations start to appear as we have seen just a few hours ago with Qantas. While I do not forecast many more cancellations due to the delay, and was honestly quite a bit surprised by the move by Qantas, I could easily be proven wrong… and Boeing's luck has yet to change. Knowing all the bad that has happened to the company over the past week, its tough to imagine shares falling less than the $10 that they have fallen.
The Bull's Case
Jim Cramer stepped in to endorse shares of Boeing a week or two ago at $51/share. Later, after the stock briefly dipped to $50 before exploding higher, Cramer had remarked that investors had that brief window to buy, locking in a fantastic gain. Now that the stock trades in the low-$40s, Cramer fans are left wandering the streets in utter confusion. However, I stand by Jim Cramer and reference my last post on the aerospace industry which I think is truly recovering. Despite this uncontrollable and company-specific news, we can be sure that there are many factors that can drive aerospace higher. To reiterate, a few reasons include: lower jet fuel prices, better hedging scenarios, historically-low inventories, old machinery in need of repair and promising increases in orders.
Boeing was cheap before, and is cheaper now. Despite the fact that management has lost all credibility, we will still see a bounce when the Dreamliner does finally come out. Until then, the company will enjoy strength in bookings from their defense unit. Keep in mind that BA is actually a 52% defense company, with 45.9% coming from commercial aerospace. With guaranteed government revenues, they are trading at an unbelievable discount to their industry peers Lockheed Martin (NYSE:LMT) (PE 10.5x) and Raytheon (NYSE:RTN) (PE 10.9x). They have a too-high 4% dividend yield, with a PE at just 8.75 times earnings. While debt stands at $7.5 billion, Boeing does hold an A+ credit rating, has $3.3 billion in cash on hand and has refinanced so that most of their debt doesn't mature until 2012.
Boeing is a classic American company that I am convinced will eventually make good on their word. A major positive for the firm would be a management shakeup, though it could be short-term disruptive. With a nice 65% increase in aerospace durable goods orders yesterday morning, it's very hard to say that the aerospace trend isn't happening.
Bullish Bankers' Boeing Thesis
While many other analysts have their new opinions in place, there is much to know about aerospace that people end up ignoring. For the bulls, it is typically a case of "look at how high they were trading a year ago" syndrome that simply doesn't work anymore. For bears, it is the sheer volume of bad news that is pouring in on a daily basis. In reality, Boeing should be bought at or under $41. Personally, and for the sake of full disclosure, I have limit orders in place at just above $40. In my mind, this is a "can't lose" scenario once shares drop to these March-low levels.
You don't need technical analysis to make this trade. The future is very bright at Boeing. The defense space alone suggests honest stock price appreciation… and I think that the aerospace unit comes back to life before Airbus, their main competitor, is able to put their competing A380 in the air with any success. The world is waiting for a new, lighter and more flexible plane; with any luck, Boeing will deliver the goods.
-Jim Regan
Disclosure: At the time of this writing, the author holds unexercised limit orders for Boeing (BA) at $40/share. Should the stock price reach this level, the author will be long Boeing and the future success of aerospace.