By Jon Kolb
Public Service Enterprise Group's (NYSE:PEG) future success will be driven by its improving nuclear operations, successful foray into alternative energy sources, the impact of the gas and electric rate settlement, and an ongoing share repurchase program.

Management also sold all of its international assets and diverted the proceeds to reduce debt and capital expansion plans, to focus on growth opportunities in the core U.S. market. The company has also embarked on a $1.6 billion capital expenditures program for new transmission facilities spread over the next five to eight years.

However, the rising cost of coal, higher pension and financial costs, the IRS challenging certain leveraged leases and power-price volatility may partially offset the stock's upside potential.

Looking ahead over the next six months, we expect the stock to generate moderate positive returns for shareholders driven by the ongoing share repurchase program, cash generated from the sale of its international assets and favorable projected year-over-year earnings comparisons.

The utility reported 1st quarter 2009 income from continuing operations of $444 million, or $0.88 per share, up modestly compared to $435 million, or $0.85 per share, for the 1st quarter of 2008.

Likewise, operating earnings for the 1st quarter of 2009 were $482 million, or $0.95 per share, representing an increase compared to 1st quarter of 2008 operating earnings of $438 million, or $0.86 per share.





From 2003 through 2006, the company earned a healthy rate of return on equity in the low-to-mid-teen percentage range. Offsetting an overall increased in revenue per dollar of total assets was an approximately 1% annual decline in operating profit margins. Operating profit margins declined primarily due to warmer weather and a loss of earnings from discontinued operations at Lawrenceburg Energy facility. Net income has also remained stable.

Meanwhile, although financial leverage increased over this multi-year period, the company's cost of debt remained relatively stable. However, ROE fell marginally in 2008 on account of lower margins and greater leverage. Going forward, we expect the company's ROE to fall but remain in the mid-teen percentage range mainly due to improving revenue per dollar of assets.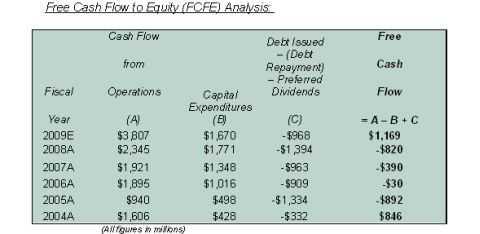 The company's free cash flow to equity declined from an impressive $1.5 billion in 2003 to negative FCFE from 2005 through 2008. FCFE improved in 2006 from 2004-05 yet it remained slightly negative. In 2006, cash flow from operations (CFO) improved significantly over a trough year in 2005 and above levels generated in 2003-04, due primarily to reduced cash collateral posted by the Power subsidiary as well as improved receivables. 2006 cash flow also increased from the sale of the company's interest in RGE and two generating facilities in Poland.

Partially offsetting the gains in 2006 FCFE was due to the company's over two-fold increase in capital expenditures. Since 2004 the company has also been repaying long term debt in-line with the company's objective to keep debt-to-capitalization ratio below 50%. Such large annual debt repayments from 2004-05 also significantly reduced FCFE. Looking ahead through 2009, we expect FCFE to improve mainly due to higher CFO, partially offset by capital expenditures and net debt redemption.

PEG common stock trades at 10.1x our 2009 earnings per share estimate and 10.0x our 2010 EPS estimates, or at the lower-end of the range of its diversified energy utility industry peers and the electric utility industry. Meanwhile, PEG trades in the upper-end of the range of its comparable utility peers with respect to price multiples of sales, cash flow and book value.

Therefore, with conflicting valuation parameters and a mixed outlook, we maintain a market-neutral HOLD recommendation on PEG with a six-month target price of $32.75, or 10.5x our 2009 earnings per share estimate and 10.3x our 2010 EPS estimate. Price appreciation to our near-term valuation target -- with $0.3325 per share quarterly dividend -- represents annualized total return potential of 11.1%.

Newark, New Jersey-based Public Service Enterprise Group, Inc. is a diversified utility holding company that operates through four wholly-owned subsidiaries: Public Service Electric and Gas Company (PSE&G), PSEG Power LLC, PSEG Energy Holdings and PSEG Services Corporation. PSE&G is a regulated utility company providing electric service roughly to 2.1 million customers and gas service to approximately 1.7 million customers in New Jersey.